6/2013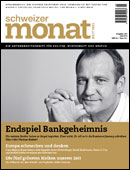 Editorial
Editorial
Der Bürger und die "Bürgerlichen
The citizen and the "bourgeoisie"
Vermittelter Luxus
Mediated luxury
"Exgüsi, enschuldiget Sie..."
Sorry
Vogelgezwitscher
Twittering
Die Bombe
The bomb
Der Chef ist kein Papa
The boss is no daddy
Fetisch Bankgeheimnis?
Fetish bank secrecy?
Szenen einer Ehe zwischen Politik und Grossbanken
Scenes of a marriage between politics and big banks
Auf den Spuren der Dinosaurier
In the footsteps of the dinosaurs
Heilige, Bürger, Bürokraten
Saints, citizen, bureaucrats
"Was passiert, wenn die Gelder kurzerhand abgezogen werden?"
"What happens if the money is quickly withdrawn?"
Das Europa der Menschenrechte
The Europe of human rights
Hier liegt ein Hund begraben
There's the rub
Grüne Bauernschläue
Green shrewdness
Viren, Inflation und Nuklearsprengköpfe
Viruses, inflation, and nuclear weapons
Zur Lage der Politikverdrossenheit
The state of the disentchantement with politics
Ist es angerichtet? Europa schmecken und denken
Is it served? Tasting and rethinking Europe
Was is(s)t Europa?
What does Euroe eat?
Die Super-EFTA
The Super-EFTA
So hat die EU eine grosse Zukunft
How the EU can have a bright future
Experimentierfreudiges Europa
European eagerness to experiment
What the Europeans love to forget
Jede (wirklich jede) Idee hat eine faire Chance
Every (really every) idea has a fair chance
Das Meer in der Stadt
The sea in the city
Sinnlicher, engagierter und besser
More sensual, more dedicated, and better
Der Gast
The guest
Larionows Aufzeichnungen
Larionows records
Die Brücke
The bridge
Nacht des Monats
Night of the month