11/2012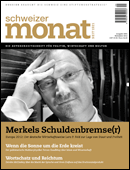 Editorial
Editorial
Strategierat 21: Vorschläge und Vorgehen
Strategic council 21: proposals and procedure
Handeln oder diskriminieren?
To act or to discriminate?
Grenzen? Verschieben!
Frontiers? Move them!
Gesetzesprävention statt Präventionsgesetz
Prevention of laws instead of a law of prevention
Ein Sakrileg
A sacrilege
Hamstern im Bundeshaus
Hoarding in the Federal Palace
Das Finanzloch
The fiscal hole
Freiheit von, Freiheit zu...
Freedom from, Freedom to...
Helvetia ist einsam
Helvetia is lonely
Wenn die Sonne um die Erde kreist
When the sun circles the earth
Sprache ist Heimat
Language means home
Braucht die Schweiz eine Stiftungsstrategie?
Does Switzerland need a strategy for its foundations?
Geben und bewegen
Give and make a difference
Anstiftung zum Geben
Incitement to give
Säen und ernten
Sow and reap
Trödelmarkt? Gestaltende Kraft!
A flea market? A driving force!
Treuhänder der Allgemeinheit
Trustees of the public good
Cinéma
Cinéma
Cinéma
Cinéma
Sinn und Sinnlichkeit
Sense and sensuality
Keine Schöngeister
No bel esprits
Ausverkauf der Philosophen
Sale of philosophers
Nacht des Monats mit Dieter Müller und Klaus-Dieter Sterl
Night of the month with Dieter Müller and Klaus-Dieter Sterl
Sonderthema 7, November 2012
Die verborgene Grosszügigkeit
The hidden generosity