11/2011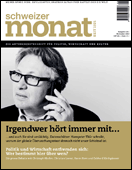 Freiheit ist Freiwilligkeit – oder sie ist nicht
Liberty is voluntariness – or it is not.
Impact ist Impact
Impact is impact
Osteria Berlusconi
Osteria Berlusconi
Unter Nachbarn
Amongst neighbors
Afrikas 9/11
Africa's 9/11
Die Bauernopfer der Sugar-Daddys
The sugar daddys' pawn offers
Auch du bist verdächtig
You are a suspect too
Einigkeit statt Recht und Freiheit
Unity instead of law and liberty
Der Uterusneid des Mannes
The male uterus envy
Zuerst das Fressen, dann die Ökologie
First comes the scoring, then the ecology
Der Mensch und sein Monster
Man and his monster
"Als Bloody Hegde Fund Manager lebt man in einer wunderbaren Welt"
"As a bloody hedge fund manager one lives in a wonderful world"
"…dem ist ein Platz ganz nah beim Erlöser garantiert"
"…that person deserves a place close to the redeemer"
Die Nationalbank als Hoffnungsträger
The Swiss National Bank as the white hope
Vom Geschlecht keine Ahnung
No clue about gender
Schweizer Revolutionär
Swiss revolutionary
Zur Lage der Aufmerksamkeitsgier
The state of the greed for attention
Weniger Staatsangestellte, mehr Freiheit
Less employees of the state, more liberty
Wirtschaftsdemokratie wagen
Daring economic democracy
Wo der Hammer hängt
Who is in charge?
Verflochten und entfremded
Intertwined and alienated
Unerträgliche Leichtigkeit
Unbearable easiness
Felsgeburt
Rock birth
Mut zur Lücke!
Dare the gap!
Der Testosteronbunker von Usedom
The bunker on Usedom
Bünzliges Bümpliz
Petty Bümpliz
Dreihundertdollarsandwich
Three hundert dollar sandwich
Nacht des Monats mit Joel aus Münster
Night of the month with Joel from Münster