7/2014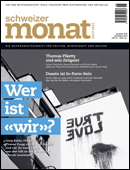 Publizisten und Unternehmer I
Publishers and entrepreneurs I
"Populismus"
"Popupulism"
Unglaubenszweifel
Doubts about disbelief
Analyse
Analysis
Spasspartei im Spassparlament
Parliamentary satire
Am Rande des Chaos
At the edge of chaos
Arkadien und Robotien
Arcadia and Robotia
"Das ist skandalös"
"That is scandalous"
Zur Lage des Erbens
The state of inheriting
Picketty zerpflücken
Pulling apart Picketty
Direktimport
Direct importing
Dasein ist In-Form-Sein
Existence means being in form
Betroffenheit ist nicht genug
Dismay is not enough
Wilhelm Tells Weltreise
Wilhelm Tell's trip around the world
"Die Schweiz wird nie energieautark sein"
"Switzerland will never be energy self-sufficient"
Frau Lorieuthard
Ms Lorieuthard
Rede gegen die Weltretter
Speech against world saviours
Welche Anreize können Staaten zum Sparen bewegen?
Which incentives can bring states into a saving modus?
Kein Recht auf Vergessen
No right to be forgotten
Lasst sie dampfen!
Let them vape!
Wo ist die liberale Erzählung der Schweiz
Where is Switzerland's liberal narrative?
Frischekur für die Volksseele
Refurbishment for the people's soul
Seid sportlich!
Be sportive!
Ich erinnere uns
I remember us
Volksbefragung
People's poll
Freihändig
Freehand
Redefreiheit
Freedom of speech
A place, a garden, some time
Wachs-Tum und Freiheit
Wax and growth
Bilder vom heiligen Bill
Pictures from holy Bill
Nacht des Monats mit dem Grasshopper Rugby Club Zürich
Night of the month with the Grasshopper Rugby Club Zürich