3/2014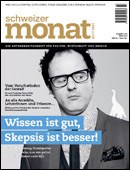 Der "Monat" lebt – und wie!
The "Monat" enters the next stage
Mensch, menschlicher, Unmensch
Human, humane, brute
Von Fischern, Fischen und Ködern
Of fishermen, fishes, and bait
Immigration
Ab in den Steuerhimmel!
Off to the tax heaven!
"Ich glaube nicht an diesen Hokuspokus!"
"I do not believe in this hocus-pocus!"
Haarschnitt gefällig?
Fancy a haircut?
Zur Lage des Wohlstands
State of our wealth
Was tun mit völkerrechtswidrigen Iniativen?
What to do with initiatives that violate international law?
Küchenkompromiss
Compromise at the kitchen table
(Un-)Freiheit in der Schweiz
Freedom and bondage in Switzerland
Wozu eigentlich Ökonomen?
Why economists?
François und die Turteltauben
François and the love-birds
Transparenz ja – aber lieber bei den anderen!
Transparency, please – but preferably for others!
Ich versteh' die Welt nicht mehr
The world? I do not understand it anymore
Buhmann oder Vorbild?
Scapegoat or role model?
Kulturbudgets: Transparenz ohne Rappenspalter
Culture budgets: Transparency without penny pinching
Glauben ≠ Wissen
Belief ≠ Knowledge
Mythos: Gender
Myth: Gender
Mythos: Gewalt
Myth: Violence
Mythos: Steuerbelastung
Myth: Tax burden
Myth: Gleichgewicht
Myth: Balance
Mythos: Individualismus
Myth: Individualism
Kammerjäger
Exterminator
Freiheit, die sie meinen
Freedom which they mean
Das Dia des Dialogs
The dialogue's dia
Der Agent der kleinen Dinge
The small things' agent
Thinking creatively: From Darwin to BioArt
Die Kunst der Stunde: Performance art
The art of the hour: Performance art
Nacht des Monats mit Min-Uk Kim
Night of the month with Min-Uk Kim