2/2014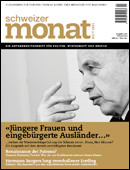 Der Papst, Schumpeter und die Spitze des Wortes
The Pope, Schumpeter, and the power of words
Drogen gegen die Verblödung
Drugs against dumbing down
Der Schlüssel an der Kirchentür
The key at the church door
Die Kündigung
Quitting
Empfindungen der Freiheit I
Perceptions of freedom I
Es wird besser und besser und besser
It gets better and better and better
"Die Staatshasser sind zu Etatisten geworden"
"The loathers of the state have become statists"
Anschwellende Einfalt
Turgescent simplicity
Zur Lage des Leben-und-Sterben-Lassens
The state of let live and let die
Bitcoin: Anfang vom Ende?
Bitcoin: The beginning of the end?
I wo, Vater der Pille!
No way, father of birth control!
Von unfreien Freiern
Of unfree punters
"Democracy is crisis"
Welchen Staat würden Sie kaufen?
Which state would you buy?
Humanismus für Roboter
Humanism for robots
Hort der Pioniere
Refuge of the pioneers
Das hässliche Entlein als Flaggschiff
The ugly duck as a flagship
"Meine Position ist unkündbar"
"My position is not subject to notice"
"Der richtige Familienname reicht nicht"
"The right family name is not enough"
Wir sind die 88 Prozent
We are the 88 percent
Väter und Söhne...
Fathers and sons...
Zürich
Zurich
Barzels Universalroman
Barzel's masterpiece
Von der Küche ins Museum
From the kitchen into the museum
Hilfe, ich hasse Kunst!
Help me, I hate art!
Deutschland...
Germany...
Nacht des Monats mit 21 Kreditkarteninhabern
Night of the month with 21 credit card owners