Sarajevo Notebook 37-38 (2012)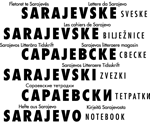 37-38 (2012)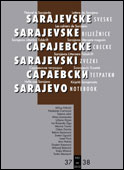 Summary
/
Sažetak
U prvom licu
First Person Singular
Sve te pesnikinje!
All these poets
Uvodnik
Introduction
Dnevnik
Diary
Dnevnik čitanja 2011, još jednom, ipak
Diary 2011, once again, still
Dokumenti
Documents
Srpska književna laž
A Serbian literary lie
Šta nam je donela "Srpska književna laž"?
What has a "Serbian literary lie" brought us?
Tema Broja: Susjedstvo Riječi -- Klasici Drugih
Main theme: The neighbourhood of words -- the classics of others
Mrtvi bijeli muškarci?
Dead white males?
Plus d'un: narativni kolektivi Danila Kiša
Plus d'un: narrative collectives of Danilo Kish
Vešovićeva poezija kao kartografija apsurda, melanholije i nostalgije
Vešović's poetry as a map of the absurd, melancholy and nostalgia
Kanonski tekstovi i interkulturni pisci "u regiji"
The canonical texts and intercultural writers "in the region"
S klasicima srođen, njima ulančan
One with the classics, bound to them
Klasik je klasik kad ga prihvati drugi
Classic is a classic when it is accepted by the other
Klasici drugih
The classics of others
Manufaktura
Manufacture
Sor Huana Ines De La Kruz ili La Poesía la poseía
Sor Juana Inés de la Crúz or La Poesía la poseía
Dve pripovetke
- Neočekivano
- Kod kuće u inostranstvu -- pokušaj integracije
Two short stories
- The Unexpected
- At home, abroad -- the attempt to integrate
Snijeg za dvoje
A Snow for two
Ženski književni kanon?
Female literary canon?
Apsurd kazne
The absurd penalties
Odakle dolazimo, ko smo, kuda idemo?
Where do we come from, who we are, where are we going?
Kino
Cinema
Uloga oznake "totalitariza" u konstituisanju polja "istočne umetnosti"
The role of "totalitarianism" in the constitution of the "Easter art" field
Čovek sa jednim krilom
A man with a single wing
Pjesme
Poems
Drugo pismo iz 1920 godine
Another letter from 1920
Zemlja anđela
The land of angels
Estetika bola
The aesthetics of pain
Pesme
Poems
U Narodnom pozorištu
In a National Theatre
Hodanje po oblacima
Walking on the clouds
Kolekcija jesen/zima
Autumn/Winter collection
Pjesme
Poems
Pesme
Poems
Kratke priče
- Ispovijest
- Ulazak kroz izlazna vrata
- Ko je, dođavola, J. Tabisz?
- Hotline
Short stories - Confession
- Entering through the exit door
- Who, the hell is J. Tabisz?
- Hotline
Pjesme
Poems
O srpskom stanovištu: mi pa mi
About Serbian point of view: we so we
Jedan traktat o melankoliji & Šehićeva Knjiga o Uni
About melancholy and Šehić's Book about Una
Kazališna predstava kao primjer interferencije političke ideologije i estetskog načela
Theatrical performances as an example of the interference of political ideology and aesthetic principles
Istražujući svete prostore
Exploring sacred places
Moj Izbor
My choice
Dnevničke Bilješke (27. 10. 1991. -- 1. 12. 1991)
Diary notes (27. 10. 1991. -- 1. 12. 1991)
Pasoš Filip Larkin
Passport Phillip Larkin
Izabrane pjesme
Selected poems
Filip Larkin
About Philip Larkin
Oni Koji Dolaze
The coming ones
Pjesme
Poetry
Razigrani Vjetar
Playful wind
Portret Slikara Slikarstvo Silvestera Plotajsa Sicoea
A Portrait of a painter Silvester Plotajs Sicoe
Divlji u srcu
Wild at heart
Buntovnik? Ako tako želiš
A rebell? If you want so
Pesme
- * * *
- ručna pesma
- krik strasti
- * * *
- moj grad
- čarobnjak
- slatke pesma
- magenta
- * * *
- san
- divlja i mlada
- srce
- vatra
- žirafa
- ritam zečjeg srca
- belo
Poems - ***
- Hand song
- Passion cry
- ***
- my city
- wizzard
- cute poem
- magenta
- ***
- dream
- wild and young
- heart
- fire
- giraffe
- rhythm of rabbit's heart
- white