Sarajevo Notebook 47-48 (2015)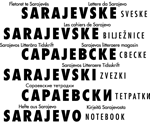 47-48 (2015)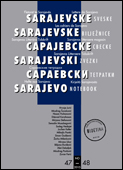 U Prvom Licu
First person singular
Život usred života: zašto i kako je nastajala bioetika?
Life in the midst of life: Why and how have bioethics developed?
Dnevnik
Diary
Dnevnik čitanja
The Diary of Reading
Časopis Borec
Magazine Borec
Jovanu Ćirilovu s pijetetom i dubokim poštovanjem
For Jovan Cirilov with reverence and deep respect
Knjiga o demonu zla
A book about the demon of evil
Eolska harfa Tanje Kragujević
Aeolian harp of Tanja Kragujevic
Mišel Goslar: Jursenar - biografija - Kako bi otužno bilo biti srećan
Michelle Goslar: Yourcenar - Biography - How sad it would be to be happy
Miodrag Pavlović: Takozvani mrtvi
Miodrag pavlovic: the so-called dead
Otkrijmo novu, nepoznatu književnu zonu
Lets discover new, unknown literature zone
Još jednom o Marku Vešoviću
Once again about Marko Vesovic
U slavu hrabrih i borbenih
(Nemoć očiglednog Mirjane Miočinović)
In honor of the brave and combat
(Powerlessness of the obvious of Mirjana Miočinovic)
Simon Simonović: Tursko groblje
Simon Simonovic: Turkish cemetary
Margerit Jursenar: Snovi i sudbine
Marguerite Yourcenar: Dreams and destinies
Bogomil Đuzel: Ostrvo na kopnu
Bogomil Djuzel: Island on the mainland
Dijalog
Dialogue
Mehanika fluida
The mechanics of fluids
Dve pesme na dan
Two poems a day
Tema broja
Bioetika - Urednik Hrvoje Jurić
The main theme
Bioethics - Editor Hrvoje Jurić
Priroda kao kompleksan fenomen
The nature as a complex phenomenon
Neka bioetička i biotehnološka razmišljanja o položaju i ulozi životinja u savremenom tehnološkom društvu
Some of bioethics and biotechnological thinking about the position and the role of animals in modern technological society
Hommage smrti životinje: nestajanje životinje iz okoliša, nestajanje čovjeka iz teorije
Homage to the death of animals: the disappearance of animals from the environment, the disappearance of a man from theory
Elisabeth de Fontenay 'Bez uvrede po ljudski rod'
Elisabeth de Fontenay 'No offense to the human race'
Antički koreni modernih zalaganja za "dostojanstvo" i "prava" životinja
The ancient roots of modern advocacy of "dignity" and "rights" of animals
Biljni svijet u tradiciji muslimana
Plant life in the tradition of Muslims
Sarajevo, grad spreman za et(ni)čko čišćenje
Sarajevo, the city is ready for ethnic cleansing
Dotaknuti život: (ne)mogućnosti bioetičke rasprave o lovu
Touching lives: The (im)possibility of bioethical debate about hunting
Kultiviranje humanosti i bioetika
Cultivating humanity and bioethics
Etika istraživanja sa ljudima i izazovi principa pravednosti i solidarnosti
The ethics of research with people and challenging principles of justice and solidarity
Bioetika u biotehnološkoj eri. Kultorološki odgovor
Bioethics in the Biotechnological Era. A Cultural response.
Diskontinuiteti de-reontologizacije bioetike u savremenoj umetničkoj praksi - slučaj Zorana Todorovića
Discontinuities de-re-onthothelogication of bioethics in contemporary art practice - the case of Zoran Todorovic
Paralelni režimi postojanja i samodovoljnost vrste - totalitarizam antropocentričnog koncepta duše u Maloj sireni Hansa Kristijana Andersena
Parallel modes of being and self-sufficiency types - totalitarianism anthropocentric concept of the soul in the Little Mermaid by Hans Christian Andersen
Anatomija pitekofobije: mentalna geografija King Konga
Anatomy of pitecphobics: The mental geography of King Kong
Na raskršću ljubavi, morala i empatije: odnos prema životinjama u književnosti (Dostojevski, Kundera, Kuci)
At the crossroads of love, morality and empathy: Treatment of animals in literature (Dostoevsky, Kundera, Coetzee)
Manufaktura
Manufacture
Gitara je moje oružje (Viktor Hara - ikona antifašizma i angažovane pop kulture)
The guitar is my weapon (Victor Jara - an icon of anti-fascism and engaged pop culture)
Miris straha (odlomak iz romana)
The scent of fear ( excerpt from a novel)
Kada je Branko čuo ohridske trubadure
When Branko heard troubadours from Ohrid
Nadin stolnjak
Nada's tablecloth
Lipicaneri idu na scenu
Lipizzaner go on stage
Pesme
Poems
- Nisam ti našao grob
I didn't find your grave
- Vreme šaputanja
Time of whispering
- Pisanje te spasilo
Writing has saved you
- Neki drugi ti
Another you
- Izgubili smo se
We are lost
- Dođoše varvari
Barbarians have come
- Uskoro, a možda i sutra
Soon, maybe tomorrow
- Bezosećajan
Insensitive
- Skrhan posle buđenja
Devastated after waking
Konac pamučne majice pod pazuhom
The thread cotton shirt under his arm
"Muško pismo" - Radmili Lazić
"Man's letter"
- Paranoja
Paranoia
- Glava kuće
Head of the home
- Glava kuće 2
Head of home 2
- Telefon
Telephone
- Deset muških zapovesti ženi
Tem man's commandments to woman
Bosanskohercegovačke naracije o izmještenosti: relativiziranja prostorno-vremenskog ukorjenjivanja i (re)lokacijska retorika doma
BH narrative of displacement: relativization pro-cancellation-time rooting and (re) location rhetoric home
Rosa damascena in Bosnia Argentaria
Poezija
Poetry
- Nebo
Sky
- Leptir
Butterfly
- Sjeme
Seed
- Feniks
Phoenix
- Put
Road
- Ja
Me
- Strah
Fear
- Kuća
House
Drsko crveni karmin
Outrageously red lipstick
Pet pjesama
Five poems
- Prvak svijeta
World champion
- Ptičica
Dicky-bird
- Opis stepeništa
The description of stairway
- Dvorište
Courtyard
- Najveći
The greatest
Božja vučica
God wolf
Crteži Vilijama Blejka - Poezija
The drawings of William Blake - Poetry
- Crteži Vilijama Blejka
The drawings of William Blake
- Konačište tame. Megaron
Lodging darkness. Megaron
- Bog u ogledalu
God in the mirror
- Zima
Winter
- Remizov
- Klepetalo
Calpper
- Gospod umire s nama
Lord dies with us
- Avlija
Courtyard
- Pasija po Mateju
Pasija po Mateju
- Progledaćete freske lelujave
You will see again pendulous frescos
Poezija
Poetry
***
- Zbogom iluzije
Farewell illusions
- Sudari stvarnosti
Collisions of reality
***
- Bivanja
Gettings
- Reverzibilnost(i)
Reversibilities
***
***
- Basso Continuo
- La follia
***
- Gefirofobija
Gefyraphobia
- Musica sacra
- Obitelj
Family
Pjesme
Poems
- Zaziv bazgi
Invocation of elderberry
- Lov
Hunt
***
- Ugar
Fallow
- Zadnja košnja
Last mowing
***
1.
2.
3.
5.
Vrati se i kaži zbogom
Return and say goodbye
Decembar u Zenici
December in Zenica
In memoriam
Tomaž Šalamun / Igor Isakovski
Na ničijem tragu
On no one's traces
Otišao je onako kako je živeo: s blagim osmehom
(In memoriam Tomaž Šalamun)
He went the way he lived: with a gentle smile
(In memoriam Tomaž Šalamun)
Prijatelji i pesnici
Friends and poets
Bebe (su smrznuti oluci iz podzemlja)
Babies (frozen gutters from underground)
DNK zapis o DNK poezije
DNA record about DNA poetry
Pesme
Poems
- Pleme od dvoje
A tribe of two
- Odloženo reagovanje
Postponed reaction
- Plava senka
Blue shadow
- Svi ćemo umreti
All of us will die
- Smrt ima kosu od morske trave
Death has a hair of seaweed
- Nežna pesma
Tender poem
- Zalegao nad stihovima
Lie down over verses
- Smisao jedne noći
The meaning of one night
-Kako da napišeš pesmu
How to write a poem
- Dobro
Goodness
- Zaseo
To seat one self
- Pismo od testa i ptičja pesma
Letter of thepastry and bird song
*** (lep sam vojnik…)
*** ( I am a good looking soldier…)
* (mi…)
* ( we…)
*** (preko krzna miševa…)
*** ( over mice's fur…)
*** (vagoni krcati licima tutnjaju…)
*** (wagons loaded with faces thunder…)
Mi smo krug, neviđen, sakriven
We are a circle, unseen, hidden
Pasoš/putovnica
Iranska književnost
Passport
Iranan literature
Osvrt na poeziju Alija Abdolahija
Thoughts on the poetry of Ali Abdollahi
Pjesme - izbor i prijevod: Namir Karahalilović
Poems - selected and translated by Namir Karahalilović
- Vjetar i stablo
Wind and bole
- Polovina okrenuta Suncu
A half turned towards the sun
- Stablo, vrh, vodoskok
Tree, peak and fountain
- Šljemovi
Helmets
- Vrabac i voz
Sparrow and train
- Jednonožni sto
One-legged table
- Kasarnska pjesma
A poem of the caserne
- Minijatura
Miniature
- Ljubav
Love
- (Haiku)
- Drevni historičar
Ancient historian
- Kuća žalosti
House of morning
- Šahist
Chess-player
- Igra
Game
- Pjesma o Suncu
A poem about the sun
- Nebo
Sky
- Crno more kroz prozor aviona
Black sea through plane's window
- Istina
Truth
- Ova sjenka
This shadow
- Pokraj tebe
Beside you
Tri kapi krvi
Three drops of blood
Moj Izbor
Jochen Kelter - izbor i prijevod: Sinan Gudžević
My choice
Jochen Kelter - selected and translated by Sinan Gudzevic
Bilješka o autoru
About the author
Dogodine u Sarajevu
Next year in Sarajevo
Pokušaj povlačenja
The attempt of withdrawal
Posljednje proljeće
The last spring
Panonska nizina
Pannonian plain
Bio bih tučano zvono
I would be the dinging bell
U maju
In May
Glupa stvar
Silly thing
Jesenje nebo
Autumn sky
Onze Novembre
Čistilišta
Purgatory
Kao u životu
As in life
Diotima
Andaluz
Približavanje svijetu
Approaching the world
Laura
Jezik poezije
The language of poetry
Volgine širine
Stihovi
Rhymes
Jesen 89.
Autumn 89
Pjesma o biblioteci
A poem about a library
Oktobar na Jamajci
October in Jamaica
Daleke sedamdesete
Way back in seventies
Dvaput 11. septembar
Twice 11. September
Slijedeće godine u Jerusalemu
Next year in Jerusalem
Za Novu godinu
>For the New Year
Le Beujolais Nouveau est arrivé!
Ptičji živi zid
Bird's living wall
Beograd, Oktobar 1984
Belgrade, October 1984
Neprekidno
Continually
Zagreb
Gladio
Struck
Portret slikara
Slikarstvo Biljane Đurđević
A portrait of a painter
The arts of Biljana Djurdjevic
Permanentnost na slikama Biljane Đurđević
The permanence in the paintings of Biljana Djurdjevic