1/2015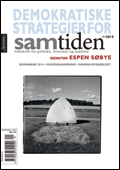 Leder: Demokratiske strategier
Editorial: Democratic strategies
Om fotografen og fotografiene
About the photographer and his photographs
Norske romaner 2014
Norwegian novels 2014
Maskinen – til et fotografi av Espen Tveit
"The Machine" – a poem inspired by a photograph by Espen Tveit
Fagorganisering i det 21. århundret
Trade Unions in the 21st century
Statsbudsjettet 2015: Høyre på glid?
The state budget 2015: Is the Norwegian conservative party changing their position?
Noen norske hoppbakker
Some Norwegian ski jumps
Pikettys dystre spådom og inntektsfordelingen i Norge
Piketty's gloomy predictions and income distribution in Norway
Nye tall for minoriteter 1865–1910
New figures for minorities 1865–1910
Kampen om kystfisket i Finnmark
The fight about fishing by the coast of Finnmark
Hva var kjent om jødeutryddelsene før Donaudeportasjonen?
What was known about the Holocaust before the Donau deportation?
Jubileumsåret oppsummert
The Centenary Year summed up