39-40 (2012)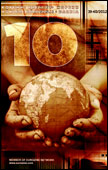 10 godini na "Koreni"
Roots' 10th anniversary
Vovednik: Kon ovoj broj
Introduction: About this issue
Ambient
Ambience
Vo slava na antichkite Makedonci
In praise of ancient Macedonians
Me|u politikata i vistinata
Between politics and truth
Ekumena, poligemija ,Islam
Ecumena, poligemy, Islam
Koreni i prijatelite
Roots and friends
Deset godini na "Paradigma" i "Koreni"
Roots' and Paradigm's 10th anniversary
Sreken i sploten Balkan
Happy and united Balkans
Koreni -- uspeshna kumanovska prikazna
Roots -- successful story from Kumanovo
Ohrabruvawe za jazichnata tolerancija
Encouraging lingual tolerance
Esej za Arso
An essay about Arso
Za sebe, za Kumanovo, za "Koreni"...
On himself, about Kumanovo, about Roots...
Pat za duhovno obedinuvawe na Balkanite
The way to a spiritual uniting of the Balkans
Kwjizhevnost i kultura -- mostovi me|u narodima
Literature and culture -- bridges between people
Chasopis Koreni -- sinonim za kvalitet i inventivnost
The magazine Roots -- a synonym for quality and imagination
Hrvatska suradwa
Croatian cooperation
"Koreni" 40 izdanie
Roots' 40th issue
Suradnja Varazhdinskog knizhevnog drushtva i "Koreni"
The cooperation between the Varazhdin literary circle and Roots
Priset za edno prijatelstvo ili nezapirlivo chekorenje
Reminiscing a friendship or unstoppable walking
Primer za gradenje na odnosi
An example of relations building
Knizheven Mozaik
Literary Mosaic
Slika za Zapadot i nashiot narativ
An illustration of the West and our narrative
Chudesen med
Wondrous honey
Zujka
Zujka
Burhan
Burhan
Let 555
Flight 555
Poezija
Poetry
Misli, Verba, Tvojata sloboda, Par
Thoughts, willow, your freedom, the couple
Pse kaq bukur me hesht
Why do you ask me so kindly
@ivot, Misli
Life, thoughts
Landzida lumi
Sick world
Vrisok na horizontot
A scream on the horizon
Martovski Esei Na "Koreni"
March essays -- Roots 2012
Koj- Drugiot?
Who? The other one?
Raka kon Drugiot -- proshka ili milostina
Hand to the others -- forgiveness or charity
Tri Alberove priche
Three Albert's stories
Inkluzija i ekslizija
Inclusion and exclusion
Raka kon Drugiot
A hand to the other
Manifest za dobrinata
A manifesto on kindness
A hand to the other -- a hand to the world of the heart
Sloboda u modernom drushtvu
Freedom in modern society
Taa vecher
That evening
Ruka prema Drugome
A hand to the other
Ruka prema Drugome
A hand to the other
Podadena raka na somilos
The hand of mercy
Mladi Eseisti
Young essayists
Prevedena Literatura
Translated literature
Aerodynamics for girls
Aerodionamika na devojki
Sestrata na mojata`ena
My wife's sister
10 godini na "Koreni": Likovi, Nastani, Recenzii, Minato...
Roots' 10th anniversary: Events, people, reviews, the past...
Crkvata "Sveti Nikola" vo Kumanovo
The church St. Nikola in Kumanovo
Osvrt vrz knigata "Romite vo Evropa" od R. Rushidovski
A review of the book "Gypsies in Europe" by R. Rushidovski
Galerija na likovi
Kumanovskiot boem Trajko Loparski
A gallery of characters
The Kumanovo bohemian Trajko Loparski
Vecher So Boja Na Vino 2012
Evening with the colour of wine 2012
Prilozi
Supplements
Karposh, kralj Kumanova
Karposh, the king of Kumanovo
Ilustrirana Hronika -- Paradigma 2002-2012
Illustrated chronicles -- Paradigm's 10th Anniversary 2002 - 2012