Revue Internationale des Livres et des Idées 16 (2010)

16 (2010)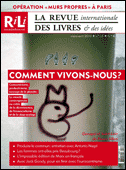 Neutraliser le genre ?
L'accrochage des collections du musée national d'Art moderne consacré aux artistes femmes
à propos de Camille Morineau (dir.), elles@centrepompidou. Artistes femmes dans les collections du musée national d'Art moderne ; et de l'exposition elles@centrepompidou, 27 mai 2009 -- 21 février 2011
Comment vivons-nous ? Décroissance, "allures de vie" et expérimentation politique.
Entretien avec Charlotte Nordmann et Jérôme Vidal
à propos de Stéphane Lavignotte, La décroissance est-elle souhaitable ?
Une écologie de gauche aux USA
à propos de Joel Kovel, The enemy of nature. The end of capitalism or the end of the world?
Arne Næss et la deep ecology : aux sources de l'inquiétude écologiste
à propos d'Arne Næss, Écologie, communauté et style de vie
Gavagaï
Les luttes des "indigènes" en Bolivie : un renouveau du socialisme ?
à propos d'Álvaro García Linerí, La Potencia plebeya. Acción colectiva e identidades indígenas, obreras y populares en Bolivia
Produire le commun. Entretien avec Filippo Del Lucchese et Jason E. Smith
à propos d'Antonio Negri, Commonwealth
Saint-Loin
La fin du monde est-elle vraiment pour demain ?
à propos de Jared Diamond, Effondrement. Comment les sociétés décident de leur disparition ou de leur survie
L'histoire pendulaire de Jack Goody
à propos de Jack Goody, The Eurasian miracle
éditer Marx et Engels en France : mission impossible ?
à propos de Miguel Abensour et Louis Janover, Maximilien Rubel, pour redécouvrir Marx, et de diverses éditions de Karl Marx, Le Capital
Spinoza et la précarité de l'émancipation
à propos d'André Tosel, Spinoza ou l'autre (in)finitude
Noir Comment, Métro en Mélanésie (18 janvier 2010)