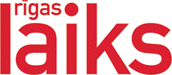 2/2013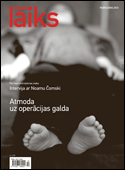 Redaktora sleja
Editorial
Commentary
Slikta anekdote
A bad joke
On the absurd comedy starring Gérard Depardieu, Francoise Hollande, and Vladimir Putin.
Impērijas ķemme
Empire's comb
Jorge Luis Borges once characterised the Falklands war between the United Kingdom and Argentina as "two bald men fighting over a comb". Today, thirty years after the conflict, "the two men are as bald as before, but the comb is still stirring passions," says the author.
Finanšu heroīns
Financial heroin
The U.S. economy has averted a fall over the "fiscal cliff". Fiscal cliff, financial heroin, government shutdown... What lies behind these and many other economic metaphors?
Antisemīti un ņufīši
Antisemites and Newfies
"Is someone who opposes Israel's foreign policy an antisemite? If I criticize a black president, am I a racist?" Artis Svece explores the traps of argumentation.
No mīļotajiem nešķirieties
Don't part from your loved ones
What seemed to be an innocent tweet made by an ex-employee of the Latvian Foreign Service against the ritualistic New Year's Eve watching of Elder Ryazanov's romantic comedy "The Irony of Fate" (1975) provoked an unexpected torrent of indignant comments. Why do some people hate the old Soviet movies while others are eager to watch them over and over again?
Politics
Mīts par trako mullu
The mad mullah myth
On the dangers of misunderstanding Iran. Translated from Harper's, November 2012.
Interview
Problemātiskā vēsture
The problematic history
Ieva Lešinska talks with the American historian Timothy Snyder about the mass killings in Eastern Europe during the Stalin's regime and the Nazi occupation.
History
Kurš sliktāks - Hitlers vai Staļins
Hitler vs. Stalin: who killed more?
"The total figure of civilians deliberately killed under Stalinism, around six million, is of course horribly high. But it is far lower than the estimates of twenty million or more made before we had access to Soviet sources." Translated from The New York Review of Books, 10.03.2011.
Interview
Domājoša matērija
Thinking matter
"What is the most important thing we still don't know about the brain?" -- "Just about everything." Arnis Rītups talks to the American linguist Noam Chomsky about language, mind, and the brain.
Territory
Gazai uzbrūk
Gaza under assault
"An old man in Gaza held a placard that read: "You take my water, burn my olive trees, destroy my house, take my job, steal my land, imprison my father, kill my mother, bombard my country, starve us all, humiliate us all, but I am to blame: I shot a rocket back."" On the latest upsurge of Israeli violence in Gaza. Translated from chomsky.info.
Consciousness
Atmošanās
Awakening
What can the so-called anesthesia awareness (waking up during a surgery) tell us about consciousness? Translated from The Atlantic, January/February 2013.
Essay
Blefa kultūra
The great swindle
British philosopher Roger Scruton writes about fake ideas and fake emotions that have elbowed out truth and beauty from high culture. Translated from Aeon Magazine.
Interview
Acis vienmēr vaļā
Eyes ever open
"I have the Scheherezade syndrome. I need to tell a story, or I die." Uldis Tīrons talks to the Latvian animator Signe Baumane.
Cinema
Tempļa celtniecības politika
The politics of building the temple
On Davis Sīmanis's documentary "Chronicles of the Last Temple" (2012).
Licence tikt nogalinātam
Licence to be killed
On the cinematographic evolution of James Bond from the perfect agent to "simply Bond".