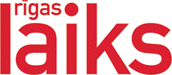 11/2012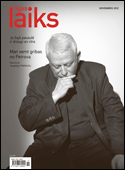 Redaktora sleja
Editorial
Letter From Madrid
Adīšanas stunda
The Knitting Hour
A group of amateur knitters get together in a cafe in downtown Madrid to discuss knitting and the looming specter of unemployment.
Commentary
Eiropas praids starp Rībenu un Klintoni
Europride between Rībena and Hillary Clinton
US Ambassador's economic argument regarding the planned Europride event in Riga in 2015 has sparked criticism from Latvia's ex-Minister of Culture Ingūna Rībena. Europride is not about economic benefits but human rights, argues Mārtiņš Vanags.
Diezgan pelēcīgs laiks
A rather drab time
It's been 50 years since the Beatles released their first single, Love Me Do, and James Bond made his first appearance on the big screen. These two events mark the opposite polarities of the revolutionary 1960s, says Kiril Kobrin.
Maldinošs skaidrojums
A misleading interpretation
A recent article in Scientific American claims that the common interpretation of Heisenberg's uncertainty principle has been proved false. Has it really?
Valodas absolūtā vara
The absolute power of language
On language as the only legal weapon polititians have to conquer and execute power.
Tauriņu privātā dzīve
The private life of butterflies
On artist Damian Hirst's latest exhibition at Tate Modern in London and its condemnation by PETA (People for the Ethical Treatment of Animals) for killing 9,000 butterflies.
Round Table
Satversmes nerakstītais teksts
The unwritten text of the Constitution
Round-table discussion on the hard core of the Latvian Constitution. Should it be made unchangable or should it be left open for change through legal procedure?
Interview
Reklāmas guru pēdējā reize
Advertising guru's last turn of the wheel
Arnis Rītups talks to Neil French, one of the most famous and inspiring advertising copywriters on the planet.
Nature
Seju aklums
Face-blind
Neurologist Oliver Sacks writes about prosopagnosia, or the inability to recognize faces and places Translated from The New Yorker.
Book
Jaunais
The new one
Review of the new Bible translation published in October by the Latvian Bible Society.
Theatre
Lido dzērves. Kurš zina, kurp viņas lido
The cranes are flying. Who knows where they are flying
Ieva Struka interviews Elmo Nüganen, one of Estonia's most renowned theatre directors.
Territory
Ja šajā pasaulē ir draugi un vīns
If there are friends and wine in this world
On the Seven Sages of the Bamboo Grove, a group of 3rd century Chinese Taoist scholars, poets, and musicians who gathered in a bamboo grove to drink wine and converse.
Interview
Žeņas nav. Žeņa ir
My films will not corrode
Uldis Tīrons talks to the Latvian film director Yevgeny Pashkevich. His latest movie "Gulf Stream Under the Iceberg" has been submitted by the Latvian film authorities for this year's foreign language Oscar competition.