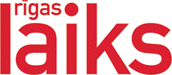 6/2012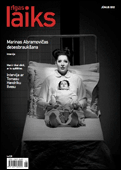 Redaktora sleja
Editorial
Letter
Vēstule no Petropavlovskas-Kamčatskas
Letter from Petropavlovsk-Kamchatsky
Adam Gonya takes a dive into the cold waters and the cultural peculiarities of Russia's Far East
Commenatary
Garā nakts pirms uzvaras dienas
A long night before the victory day
Why hasn't world war II yet ended for some people?
Kamēr valstī nevaldīs filozofi
Until philosophers don't rule the state
Latvia's Minister of Culture Žanete Jaunzeme-Grende recently claimed that she, along with Plato, believed states should be ruled by philosophers. What consequences would Plato's political theory, if implemented, have for the culture of Latvia?
Ne tas Čaplins
Not that Chaplin
On archpriest Vsevolod Chaplin's unorthodox views on the introduction of sharia courts in Russia.
Neizārstētais kultūras noriets
The incured decline of culture
Kam viņa ir visskaistākā?
Who is the most beautiful of all?
In an internet poll held by the British travel company First Choice, Latvia has surprisingly come out as the world's most beautiful tourist destination
Interview
Ar Igaunijas prezidentu Tomasu Hendriku Ilvesu sarunājas Ieva Lešinska.
Ilves, the proud Estonian
Ieva Lešinska interviews Toomas Hendrik Ilves, the president of Estonia
Territory
Atbruņojot Viktoru Butu
Disarming Victor Bout
The rise and fall of the world's most notorious arms trafficker. Translated from New Yorker
Art
Mana sirds ir salauzta
My heart is broken
Yegor Yerochomovich talks to the New York-based Serbian performance artist Marina Abramovic
Music
Kas ir mierīgs prāts
What is a quiet mind?
Interview from 1963 with John Cage by Jonathan Cott covering several aspects of Cage's creative process and aesthetics
Theatre
Komentāra komentārs
A commentary of commentaries
A review of Alvis Hermanis's production "Onegin. Commentaries" at Jaunais Rīgas teātris (New Riga Theatre)
Cinema
Aparāts dvēseles saprašanai
An apparatus for the understanding of the soul
On the history of the relation between cinema and consciousness