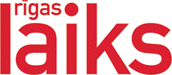 1/2014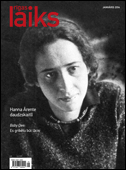 Redaktora sleja
Editorial
Commentary
Eiromaidana gudro meklējumos
In search of the learned elders of Euromaidan
On the "invisible hand" behind the pro-Europe protests in Kiev
Nākotnes nav. Tikai skaidrība
There's no future. Just clarity
Do the young people have future in the Marxist sense of the word?
Franču jautājums
The French question
On the recent French law criminalizing the clients of prostitutes
Neatminamos laikos
In times immemorial
British archeologists' three-year expedition in Nepal has produced a discovery putting Buddha's birth 300 years earlier. American archeologists have recently found a stone-tipped spear dating 280,000 years ago. What should we make of history, which is constantly being rewritten?
Šimpanžu tiesības
Chimpanzee rights
Legally speaking, animals are "things", not "persons"
Are the efforts of organizations like 'The Nonhuman Rights Project' to change that absurd status?
Politics
Ārente un banalitāte
Arendt and banality
On Hannah Arendt, German-Jewish thinker and political theorist
And "Hannah Arendt", Margarethe von Trotta's new film
Cosmology
Zvaigžņu putekļi katastrofas gaidās
The stardust in anticipation of a catastrophy
Arnis Rītups talks with Sir Martin J. Rees, British cosmologist and astrophysicist, about the limits of scientific cognition
War
Dronu karotāja grēksūdze
Confessions of an American drone operator
He killed countless people, but he never left his computer
Round table
Torpēda nāk
Torpedo is coming
The public round table discussion on the subject "How is a museum of contemporary art possible?" featuring Sarah Wilson, Professor at the Courtauld Institute in London, Annie Cohen-Solal, French academic and writer, and Marcos Novak, American architect, artist and a pioneer in the field of virtual architecture, took place on November 9, 2013 in Riga as part of the "Rigas Laiks" Festival
Interview
Esmu radīta bezcerībai
I wasn't cut out for anything but hopelessness
An interview with Baby Dee, American performance artist, multi-instrumentalist, singer-songwriter, and transgender street legend
Personal story
Gandrīz pilnīgs aplis
A nearly perfect ring
Poetry
Tā aizrauj elpu
It takes your breath away
Ilmārs Šlāpins talks to American poet and critic Edward Hirsch about the art of reading and writing poetry
Aging
Mastrojanni un Gasmans. Lielais vecums
Mastroianni and Gassman. The great old age
Eugenio Scalfari, journalist and editor of the Italian newspaper La Repubblica, converses with Marcello Mastroianni and Vittorio Gassman about how it feels to be over 70 Translation from La Repubblica, 6 July 1996
Ekphrasis
Pelēcīguma bauda
Enjoyment of the grey
On Arturs Bērziņš's exhibition "Mind Works" at Riga Art Space