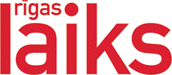 9/2014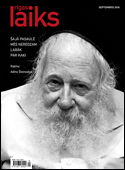 Redaktora sleja
Editorial
Commentary
Pašizolācijas alas un pilsētas
Caves of self-isolation and cities
Šaurais koridors
The narrow corridor
Nelabums
Nausea
Lego pasaule
The world of Lego
Politics
Vairāk panka!
More punk, less hell!
On Jón Gnarr and his team of anarcho-surrealists who governed the city of Reykjavik for four years
Putin
Brālis 3
Brother No. 3
On Ben Judah's book "Fragile Empire: How Russia Fell In and Out of Love with Vladimir Putin"
Economics
Ciema idiots neo-stulbuma laikmetā
A village idiot in the age of neo-stupidity
Interview with the Swedish economist and author Kjell Nordström
Society
Prizma
The Prism
Photography
Nejaušā izdošanās
When things accidentally fall into place
Arnis Rītups talks with Boris Mikhailov, one of the leading photographers from the former Soviet Union
Interview
Ko var gribēt no kartupeļa
What can you expect from a potatoe
Lolita Tomsone converses with Rabbi Adin Steinsalz, a world-renowned teacher, philosopher, social critic and prolific author
Documenta
Pjotra Pavļenska nopratināšana
The interrogation of Petr Pavlensky
Dialogue between the Russian anarchist artist Petr Pavlensky and a police interrogator following his action "Liberty" in Saint Petersburg in support of Euromaidan
Ekphrasis
Tvaika panks un grezele
Steampunk and a hag
On Juris Utāns's artwork "Citizen of the Republic of Latvia".