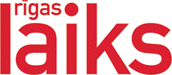 4/2013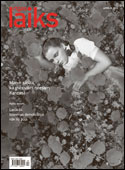 Redaktora sleja
Editorial
Commentary
Nepiedienīgs piedāvājums
Inapropriate offer
Do the British intend to involve the Balts and the Northerners in a common conspiracy? Ivars Ījabs on the UK Prime Minister David Cameron's recent visit to Riga.
Māksla tautai un buržuāzijai
Art for the public and the bourgeoisie
Kiril Kobrin's comment on the theft of Banksy's Slave Labour in London and subsequent Miami bidding of 500,000 pounds.
Nevainojama reputācija
Impeccable reputation
Mārtiņš Vanags's comment on what we really mean when we say that someone has an impeccable reputation.
Nomudžināts un sunīts
The language of blasphemy
On National Alliance's proposed amendment to the Criminal Law of Latvia to regard acts of desecration of the Latvian language as equal to those of other national symbols.
Dieva vēl nav
There is no God yet
"The first cyborg is much closer than we think." Juris Lorencs on Ray Kurzweil, Google's December newcomer to the board of directors.
Ideology
Īpašās metodes
Enhanced interrogation techniques
Ieva Strazdiņa on the highly contrasting reviews of Kathryn Bigelow's Oscar nominated film Zero Dark Thirty.
Interview
" I don't believe in the false consciousness of the masses and in the all-knowing intelectuals who claim that knowledge as a right to rule," says the renowned American political philosopher Michael Walzer in his talk with Arnis Rītups.
Economy
Market man
What did Adam Smith really believe? Translated from The New Yorker
Interview
Does anyone in Latvia need architecture that is human?
Arnis Ritups' talk with architect Vladimirs Neilands
Mountains and waters
Pakāpties augstāk miglā un lietū
Climbing higher in mist and rain
Kaspars Eihmanis's essay on mountains, waters, and Chinese traditional poetry
Literature
Personal story
Mana māsa Migrēna
My sister Migraine
"Headaches can be pulsating, pulling, throbbing, pinching, and mauling, as if a cage had been set on your head, as if the brain is being pulled apart."
Cinema
Dorotijas moments
Dorothy's moment
The Wizard of Oz -- a gay manifesto, a theosophical treatise, a politico-economic allegory, or simply a fairy tale?