3/2013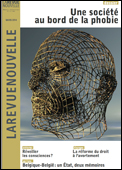 édito
editorial
Réveiller les consciences? Article disponible gartuitement
Raising awareness?
le mois
this month
Qui a peur du méchant étudiant?
Who's afraid of the evil student?
PAC. Compromis à l'européenne
CAP. European-style compromise
"Pas de rosaire dans mes ovaires". La réforme espagnole du droit à l'avortement
"Keep your rosaries off my ovaries." The spanish reform of abortion right
Italie. Vit-on l'après-Berlusconi?
Has Italy entered the post-Berlusconi era?
Tout est bon dans la votation?
Is everything good in the Swiss direct democracy?
Chili. Les défis de Michelle Bachelet
Chile. Michelle Bachelet's challenges
Anna Langfus, romancière de la Shoah et Goncourt oublié
Anna Langfus, novelist of the Shoah and forgotten Goncourt Prize
Théâtre. Des héros, mise en scène de Wajdi Mouawad
"Des héros", a play by Wajdi Mouawad
billet d'humeur
opinion
Manuel de savoir-vivre sur les forums en ligne
Handbook for everyday life on Internet forums
dossier
main theme
Une société au bord de la phobie
Society on the verge of phobia
Éloge de la phobie
In praise of phobia
Qui a peur des homosexuels ? Violence et subjectivité
Who's afraid of homosexuals ? Violence and subjectivity
Islamophobie, les acteurs associatifs
Islamophobia, the role of civil society
L'islamophobie, nouveau garant de l'ordre social?
Islamophobia, a new guardian of the social order?
Reconnaitre les victimes ne suffit pas
Recognition for victims is not sufficient
Peur et environnement. Qui vit sans phobie n'est pas si sage qu'il croit
Fear and environment. Th one who lives free of phobias is not as wise as he things
Quel phobique êtes-vous?
What kind of phobic are you?
un livre
book review
Belgique-België : un État, deux mémoires, d'Olivier Luminet
Olivier Luminet's "Belgique-België : un État, deux mémoires"
italics
italique
La mort d'un chat
Death of a cat