La Revue nouvelle 9-10/2014

9-10/2014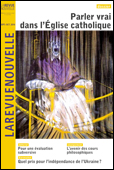 édito
editorial
Pour une évaluation subversive
For a subversive evaluation
le mois
this month
Bombardements de Gaza et conquêtes de l'État islamique, une aubaine pour les dictatures du Moyen-Orient ?
The Gaza bombings and the Islamic State conquests, godsends for Middle Eastern dictators?
Colombie. Signer un accord ne signifie pas construire la paix
Columbia. Signing an agreement doesn't mean building peace
La défaite d'Écolo en perspective
A look at Écolo's defeat
The crisis of the democratic system
La vie dure des experts
Hard times for experts
billet humeur
opinion
Le suicide du journalisme
Journalism's suicide
dossier
man theme
Parler vrai dans l'Église catholique
Straight talking within the Catholic Church
Actualité du modernisme
Modernism on the agenda
Jacques Leclercq, à contrecourant
Jacques Leclercq, against the current
Réflexions sur l'Église
Thoughts on the Church
En cheminant avec Joseph Comblin
At José Comblin's side
L'Église catholique est-elle réformable ?
Can the Catholic Church be reformed?
un livre
book review
La fin des sociétés, d'Alain Touraine
Alain Touraine's La fin des sociétés
articles
articles
Dans le miroir des familles afghanes
Afghan refugee families as our mirrors
Créer du commun. L'avenir des cours philosophiques
Creating commons. The future of philosophy at school
Référendum écossais
Scotland's referendum
Euromaïdan, quel prix pour l'indépendance de l'Ukraine ?
Euromaidan, what price for the independance of the Ukraine?
Avignon 2014. Les intermittences du théâtre
Avignon 2014. The theatrical intermissions
italique
italics
Le journal de Virginie -- 1914
Virginie's diary – 1914
Some of the articles can be accessed for free on
La Revue nouvelle
's
website