8/2014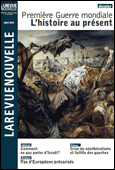 édito
editorial
Comment ne pas parler d'Israël ?
How not to speak about Israel ?
le mois
this month
La crise du néolibéralisme et la faillite des gauches. Le cas français
The crisis of neo-liberalism and the failure of the Left. The French case
La Politique commune de pêche sous les tropiques
The common fishing policy in the tropics
États-Unis - Amérique latine : une relation à reconstruire
USA - Latin America : a relation to rebuild
Les cent ans de Beau-Vallon
The Beau-Vallon women psychiatric clinic's 100th anniversary
Waterloo, l'ultime bataille, d'Hugues Lanneau
Waterloo, the last battle, a documentary film by Hugues Lanneau
billet d'humeur
opinion
Florence Aubenas, usagère du rail
Florence Aubenas, railroad service user
le dossier
main theme
Première Guerre mondiale, l'histoire au présent
First World War, history in the present
Le mois d'août 1914
The month of August 1914
Enjeux mémoriels de la Grande Guerre en Belgique
Memory issues of World War One in Belgium
Le cavalier seul de la Flandre
The lone ranger attitude of Flanders
Histoire, mémoire et réconciliation
Que s'est-il passé en Belgique en aout 1914?
History, memory and reconciliation
What happened in Belgium in August 1914 ?
1914-1918 : pour aller plus loin...
1914-1918 : going further...
un livre
book review
Mondialisation : qui gagne et qui perd ?
Essai sur l'économie politique du développement, d'Arnaud Zacharie
Globalization: Who wins and who loses?
Essay on the political economy of development by Arnaud Zacharie
articles
articles
Marxisme et totalitarisme. Le goulag est dans la pomme
Marxism and totalitarianism. The Gulag is in the apple
Pas d'Européens précarisés en Belgique
No poor European nationals in Belgium
Les Italiens au Congo, entre émigration et colonialisme
Italians in Belgian Congo, between emigration and colonialism
La dette, miroir d'une civilisation
Debts, mirrors of civilizations
Paternité et masculinité à l'époque victorienne
Fatherhood and manhood in Victorian England
italique
italics
Malabar Blues
Malabar Blues
Some of the articles can be accessed for free on
La Revue nouvelle
's
website