4/2015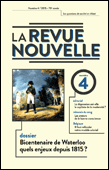 Éditorial
Editorial
La dépression est-elle le copilote de la modernité ?
Is depression the modern world's copilot?
Le mois
This month
Cette fois, Juncker avait raison
Juncker was right, this time
France. PS : la révolution néolibérale conservatrice et le "scénario italien"
France. PS: the neo-liberal conservative revolution and the "Italian scenario"
Les minerais du sang ou les avatars de la bonne conscience
Mines of blood, or good conscience's avatars
Colombie : le déminage, premier visage de la paix à venir
Colombia: mine-clearing, first step of peace to come
Billet d'humeur
Opinion
Cellule familiale
Family cell
Dossier
Main theme
Bicentenaire de Waterloo, quels enjeux depuis 1815 ?
Waterloo bicentenary, what issues since 1815?
Waterloo 1815-2015, mémoire et bicentenaire
Waterloo 1815-2015, memory and bicentenary
Waterloo, comme si vous y étiez !
Waterloo, as if you were there!
"Histoire vivante" entre science et loisir
"Living history" between science and leisure
Pour aller plus loin : évènements, lieux et lectures
Further readings, events and places
un livre
book review
"Le médecin qui soignait des postes de radio" L'ethnocentrisme critique de Michael Singleton
"Le médecin qui soignait des postes de radio" Michael Singleton's critical ethnocentrism
Articles
Articles
Donbass, des siècles de cohabitation pacifique
Donbass, centuries of peaceful cohabitation
Il faut refonder notre modèle salarial
We need to reinvent our wage system
Italiques
Italics
Le fantôme de Leyde
The ghost from Leiden
Some of the articles can be accessed for free on
La Revue nouvelle
's
website