5/2015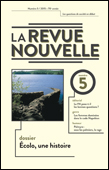 Éditorial
Editorial
Le FN pose-t-il les bonnes questions ?
Does the extreme right ask the right questions ?
Le mois
This month
L'école est-elle une entreprise publique ?
Are schools mere public enterprizes ?
"Makers"
"Makers"
La boite de Pandore est ouverte
Burundi. Pandora's box has been opened
La gueule de bois pour la communauté internationale
Burundi. Hangover for the international community
Faire taire les voix des sans-voix
Burundi. Hushing the voice of the voiceless
Billet d'humeur
Opinion
Palmyre : sous les palmiers, la rage
Palmyra : under the cobblestones lies rage
Dossier: Écolo, une histoire
Main theme: The Belgian ecological party, a history
1970-1990 : l'écologie politique et La Revue nouvelle
1970-1990 : political ecology in La Revue nouvelle
Pourquoi le Vert n'est-il pas encore dans le fruit ?
Why didn't the Greens make it yet ?
Comment créer une nouvelle modernité "verte" ?
How to create a green modernity ?
Écolo, la démocratie comme projet, de Benoît Lechat
Écolo, la démocratie comme projet, by Benoît Lechat
Article
Article
Les femmes dominées dans le code Napoléon
Dominated women in the Napoleonic Code
Italique
Italics
Un voyage en autocar
A coach trip
Some of the articles can be accessed for free on
La Revue nouvelle
's
website