7/2015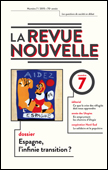 Éditorial
Editorial
Ce que la "crise" des réfugiés doit nous apprendre
What we ought to learn from the refugee "crisis"
Le mois
This month
Syndicats et conscience de classe
Trade unions and class consciousness
La sherwoodisation ou l'obsolescence de la cité
Hiding in Sherwood or society's obsolescence
Crise en Chine. Un cadrage tiers-mondiste
Crisis in China. A Third-World approach
"Année des Utopies". En empruntant les chemins d'Utopie
"Année des Utopies". Walking the ways of Utopia
Billet d'humeur
Opinion
La société des voyous
A thugs' society
Dossier
Main theme
Espagne, l'infinie transition ?
Spain, the infinite transition ?
La nuée indignée, ambitions et limites
The indignated crowd, limits and ambitions
Podemos, une nouvelle manière de concevoir la politique
Podemos, a new way of conceiving politics
La guerre civile espagnole vue par la presse étrangère
The Spanish civil war as seen through the foreign press
Guerre civile et dictature, une mémoire encombrante
Civil war and dictatorship, such a cumbersome memory
Franco est mort il y a quarante ans
Franco died forty years ago
Un livre
Book review
Het land dat nooit was, par Maarten Van Ginderachter, Koen Arts, Antoon Vrints
Het land dat nooit was, by Maarten Van Ginderachter, Koen Arts, Antoon Vrints
Articles
Articles
Le solidaire et le populaire
The united and the popular
Littérature vietnamienne francophone. Récits de vie et quête de soi
Vietnamese French language literature. Life stories and self-discovery
Italique
Italics
Antichambre du crépuscule
Last stop before dusk
Some of the articles can be accessed for free on
La Revue nouvelle
's
website