2/2014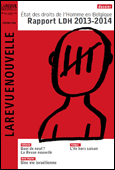 édito
editorial
Quoi de neuf ? La Revue nouvelle
What's new ? La Revue nouvelle
le mois
this month
Le chèque de l'indécence
The impropriety cheque
France. Une loi martiale numérique
France. A digital martial law
Espagnols au bord de la crise de nerfs
The Spanish on the verge of a nervous breakdown
L'héritage de Karski et l'antisémitisme polonais
Karski's legacy and polish antisemitism
billet d'humeur
opinion
IVG : ne pas se tromper de combat
Abortion : not getting the right fighting
dossier
main theme
Rapport 2013-2014 sur l'état des Droits de l'Homme en Belgique
2013-2014 Report on the advancement of Human Rights in Belgium
Droits économiques, sociaux et culturels : deuxième génération, première importance
Economic, social and cultural rights : second generation, first importance
Justice en souffrance
Justice in pain
Belgique, terre d'écueils
Belgium, welcome into the land of pitfalls
Enfants : des SAC à malice ?
Mischievous sanctions against youngsters'mischiefs
Le bruit des droits qui craquent
The sound of cracking rights
Derrière les barreaux
Behind the bars
Les technologies à l'assaut de la vie privée
ICT's attack against private life
La Belgique en 2013 : combien de droits fondamentaux SACrifiés ?
Blegium in 2013 : sacrificing fundamental rights
Chronologie 2013 des droits humains en Belgique
2013 chronology of Human Rights in Belgium
question en débat
debating
Printemps arabe et islam : la révolution illusoire ?
Arab spring and Islam : illusory revolution ?
Ni révolution ni illusion, contre le déterminisme historique, en islam comme ailleurs
Not a revolution, not an illusion : against historical determinism, in Islam as anywhere elese
un livre
book review
Le capital au XXIe siècle, de Thomas Piketty
Thomas Piketty's Capital in the Twenty-First Century
articles
articles
Ariel Sharon, une vie israélienne
Ariel Sharon, an israeli life
italics
italique
La chasse à la souris
Mousehunt
L'ile hors saison
The island off-season
Some of the articles can be accessed for free on
La Revue nouvelle
's
website