1/2015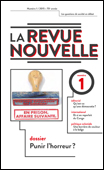 Éditorial
Éditorial
Editorial
Qu'est-ce qu'une démocratie ?
Le mois
This month
"Grève au finish" : autopsie d'un fantôme
Strike in the railroad sector : autopsy of a ghost
Nucléaire et centralisme
Atom and centralism
Too big to fail… le secteur automobile aussi ?
Too big to fail… the car industry as well ?
Et si on reparlait du Congo
How about discussing Congo afain ?
"Les Juifs ont ramené la civilisation en Allemagne"
"Jews brought civilization back in Germany"
Expositions d'art et d'histoire à Bruges. Actualiser le passé de la Grande Guerre
Art and history exhibitions in Bruges. Actualizing the history of WW1
Billet d'humeur
Opinion
Fouetter une chatte
From the she-wolf to the hoar
Dossier
Main theme
Punir l'horreur ?
Punishing horror ?
Témoigner pour la défense
Testifying for defence
Gérard, Énos et Jacques, une fable rwandaise
Gérard, Énos et Jacques, a fable from Rwanda
Une Justice tue
Justice in silence
La CPI face à ses victimes
ICC facing its victims
Le droit à la vérité ne peut intervenir en temps de guerre
Right to truth is impossible in times of war
Le traitement pénal des crimes du passé : au-delà de la rétribution
Criminal treatment of past crimes : beyond retribution
Comment devient-on génocidaire ?
How to become a genocidaire ?
un livre
book review
False Self. The Life of Masud Khan, de Linda Hopkins
"False Self. The Life of Masud Khan" by Linda Hopkins
Articles
Articles
Notre Congo/Onze Kongo. Colour bar à la belge
Notre Congo/Onze Kongo exhibition. Colour bar the Belgian way
Suspicion et criminalisation des chômeurs
Susecting and criminalizing the unemployed
Italique
Italics
Sidi Marabout
Sidi Marabout