La Revue nouvelle 6-7/2014

6-7/2014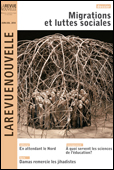 édito
edito
Élections. En attendant le Nord
Elections. Waiting for the North
le mois
this month
La dégressivité renforcée des allocations de chômage : quel effet sur la pauvreté ?
Lessening unemployment benefits : what impacts on poverty ?
Ces autorités universitaires qui déconstruisent l'Europe
Europe deconstructed by university authorities
Le débat politique télévisé, une mission impossible
Political debates on TV : mission impossible
Campagne électorale. Didier Reynders s'excuse
Election campaign. Didier Reynders's apologies
Pays émergents : moteurs des énergies renouvelables ?
Emerging countries : driving forces for renewable energies ?
Abdication de Juan Carlos ou le Games of thrones ibérique
Juan Carlos'abdication, or the spanish Game of Thrones
The growing euroscepticism of the western Balkans
Damas remercie les jihadistes
Damascus is grateful to the jihadists
Hervé Cnudde (1939-2014)
billet d'humeur
opinion
La démocratie digérée devient-elle de la merde ?
Does digested democracy turn into shit ?
dossier
main theme
Migrations et luttes sociales
Migrations and social struggles
Citoyens sans-papiers
Illegal citizens
La moralisation des étrangers
The moralization of foreigners
De quoi "sans-papier" est-il le nom ?
What does "illegal immigrant" stand for ?
Politiques extérieures de l'UE. Le migrant comme autre radical
EU foreign policies. The immigrant as radical figure of otherness
L'Europe obsédée par ses frontières. Production politique des clandestinités
Europe obsessed by its borders. Political production of illegals
Des murs à l'engagement
From walls to engagement
Israël. Résistance des immigrés érythréens et soudanais
Israel. Resistance by Erythrean and Sudanese migrants
Les freins de l'engagement dans la lutte
Obstacles to engagement into the struggle
Des visages, des figures, rendre visible l'invisible
Faces and figures. Letting the invisible be seen
Démocratie et politique de l'hospitalité
Democracy and hospitality policies
un livre
book review
La traversée des Alpes. Essai d'histoire marchée, d'Antoine de Baecque
Antoine de Baecque's "Crossing the Alps. Essay of walked history."
article
À quoi servent les sciences de l'éducation ?
What's the use of education sciences ?
italique
italics
Drôle de suite
Strange suite