91 (2013)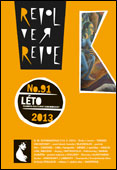 Summary
(cs)
(en)
Anna Magdalena Schwarzová (14. 3. 1921)
Sestra Magdalena
Sister Magdalena
Krchovský
Nové básně a etudy (2011-2013)
New poems and etudes (2011-2013)
Mrtví mohou, ba musí tančit
Dead can, in fact must dance
Metropolis - industriální kresby
Metropolis - industrial drawings
Socha
Anagramy (duchum)
Anagrams (to the spirits)
Rozhovor o Anagramech
Interview about the Anagrams
My a On / 2012
Us and Him / 2012
Limeriky
Limericks
Výstřižky 88
Clippings 88
Němec
Dobré dílo a velká voda
A good work and a big flood
Photographs
Fotografie
Torres
K románovému debutu Justina Torrese
About Justin Torres' novel debut
My, zvířata
We, the animals
Blexbolex
Blexbolex, Katalog světa
Blexbolex, Catalogue of the world
Z prací
Selection of works
O Zemi nikoho a obrazech, které jsou všech...
About the no man's land and paintings that belong to all...
Čaroděj / Filmy
The Sorcerer / Films
Nezávislost byla samozřejmostí
Being independent was a given
1984 (z filmu na motivy románu George Orwella)
1984 (extract from a film based on George Orwell's novel)
Asfalty aneb Krása oprav
Asphalts or The Beauty or reparations
Scenáristická Dílna/III.
Screenwriting Workshop/III.
Z prací studentů KSD FAMU pro RR vybírá Martin Ryšavý. Petr Babák představuje (Duši)
From the work of students of FAMU's Scriptwriting and dramaturgical department, selected for RR by Martin Ryšavý. Petr Babák introduces (The Soul)
Lem/Mrożek
Korespondence
Correspondence
Ateliéry 2013/XXXIV.
Ateliers 2013 / XXXIV.
Projekt Viktora Karlíka a Karla Cudlína
A project by Viktor Karlík and Karel Cudlín
Kubišta
"Náš" Bohumil Kubišta očima amerických historiků umění
"Our" Bohumil Kubišta as seen through the eyes of American art historians
Couleur
Uvidíš radost a hovno (nad výstavou a monografií Ivana Sobotky)
You"ll see joy and crap (on Ivan Sobotka's exhibition and monograph)
The code of Balabán's poetics (on the third volume of Jan Balabán's complete works)
Ulické román-dokument (o knize Daniel Stein, překladatel)
Ulická's novel-document (about the book Daniel Stein, translator)
Dekonstrukce lásky (k románu Jeffreyho Eugenidese Hra o manželství)
The deconstruction of love (about Jeffrey Eugenides' novel The Marriage Plot)
Ibsen: cynicky a rychle (o Nebeského inscenaci Eyolfka v Divadle v Dlouhé)
Ibsen: cynically and quickly (about Nebeský's staging of Eyolfek in Theater V Dlouhé)
Nejen o literárním kánonu z Texasu (Harry Ransom Center v Austinu)
Not only about the literary canon of Texas (The Harry Ransom Center in Austin)
Rodinná věda Emmanuela Todda (o knize Původ rodinných systémů)
Emmanuel Todd's family science (about the book The Origin of Family Systems)
Zapomnění jako nástroj, nebo úděl (nad Hulíkovou knihou Kinematografie zapomnění)
Oblivion as tool or as fate (about Hulík's book The Cinematography of oblivion)
Géniovi pomocníci aneb Karel Malich v Jízdárně Pražského hradu
The Genius' assistants or Karel Malich in Prague Castle's Riding hall
Prezident literát (k inauguračnímu projevu Miloše Zemana)
A president man of letters (about Miloš Zeman's inauguration speach)
Doba bronzová
The Bronze Age
Zvláštní Příloha
Special Supplement
Jedna věta
One sentence