97 (2014)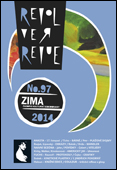 Summary
(cs)
(en)
Emanuel Mandler (2. 8. 1932 – 21. 1. 2009)
Jde o to, co ze sebe člověk nakonec udělá
It's what one makes of oneself that matters
Basjuk
Proč znovu skládat rozbitý prostor?
Why assemble the broken space again?
Obrazy
Paintings
Playoff
Naivní sezóna (ukázka z románu)
A Naďve Season (extract from a novel)
Lipavský
Práce venku je pro mě nezastupitelná (s Matějem Lipavským hovoří Viktor Karlík)
Working outside is irreplaceable to me (interview with Matěj Lipavský led by Viktor Karlík)
Malby
Paintings
Kradařina, Reportáž (povídky)
Thievery, Reportage (short stories)
Čejka
Tereza a Juraj Horváthovi představují slovem a obrazem slovenského grafika
Tereza and Juraj Horváth introduce, through words and pictures, the Slovak graphic designer Palo Čejka
Plážové dojmy z poesie (Básníci čtou básníky)
Beach Impressions on Poetry (Poets reading poets)
Svátek
Daidalův únik z labyrintu
Daedalus' escape from the labyrinth
Kinetické plastiky
Kinetic sculptures
představuje (Vojta sám na horách ve Varšavě)
introduces (Vojta alone in Warsaw's mountains)
Americký Jih
The American south
Současný americký Jih třikrát jinak
Three views on today's American South
Jsou tak sladcí
They're so sweet
Jak si vyrobit otroka
Who to build your slave
Zvedací most
The Lift-Bridge
Knižní edice / Díl čtvrtý
Book editions / Fourth part
Kapka, Máj, "Malá řada" MF, Kolumbus
Kapka, Máj, MF's "Small collections", Kolumbus
Fuchs
Jürgen Fuchs a my
Jürgen Fuchs and us
Protokoly o výsleších (listopad 76 – září 77)
Protocols on Interrogations (November 76 – September 77)
Ateliéry 2014/XL.
Ateliers 2014/XL.
(projekt Viktora Karlíka a Karla Cudlína)
(a project by Viktor Karlík and Karel Cudlín)
Jindřich Pokorný (12. 4. 1927 – 23. 8. 2014)
Řeč na pohřbu v Břevnovském klášteře 3. září 2014
Eulogy pronounced at the Břevnov monastery on September 3rd, 2014
Za Jindřichem Pokorným – Publikace Jindřicha Pokorného (výběr)
In memory of Jindřich Pokorný –Jindřich Pokorný' publications (selection)
Oním nezaměnitelným způsobem
In that unmistakable way
Couleur
Vyprávěj (k básním Olgy Stehlíkové a poezii v dnešních literárních časopisech)
Narrate (on Olga Stehlíková and poetry in today's literary magazines)
Na cestě k modernosti Nicholase Sawického (o nové monografii Osmy)
On the road to Nicholas Sawicki's modernity (on the Osma new monograph)
Rekonstrukce, revitalizace, relikvie (k vystavování v současných Čechách)
Reconstruction, revitalisation, relics (on exhibitions in contemporary Czech Republic)
Falše románového hédonismu (k románům Miloše Urbana Přišla z moře a Petra Stančíka Mlýn na mumie. Převratné odhalení komisaře Durmana)
Forgeries of novelistic hedonism (on the novels She Came from the Sea by Miloš Urban and A Windmill for Mummies. The Ground-Breaking Discovery of Commissioner Durman by Petr Stančík)
Breviář hloupých bratří (o knize Breviář Reguly Pragensis aneb Jak zapřahat vůz před koně)
Dum brothers' breviary (on the book The Regula Pragensis Breviary or How to harness the cart before the horse)
Krutá dobrodružství Borise Viana (k překladům Jiřího Dědečka)
Boris Vian's cruel adventures (on Jiří Dědeček's translations)
Prokletí až do konce? (o knize Evy Zábranové Flashky)
A curse up until the end? (on Eva Zábranová's book Flashky)
Chagall vs. Reynek (k dalším aktivitám tandemu Sklenář + Fuxa)
Chagall vs. Reynek (on the new activities of the Sklenář + Fuxa tandem)
Zvláštní příloha
Special supplement
Jedna věta
One Sentence