92 (2013)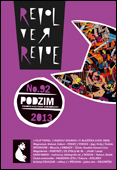 Summary
(cs)
(en)
Přemysl Blažíček (16. 4. 1932 – 26. 4. 2002)
Osamělý kritik Přemysl Blažíček
Solitary critic Přemysl Blažíček
Velká krajina (malby)
The big landscape (paintings)
Prózy
Prose
Kde je, ó smrti, osten tvůj?
O Death, where is thou thorn?
Můj přítel H.
My friend H.
Směna
Work shift
Dyž mě pustili, tak sem si dal dvě deci
When they let me out, it took two things
Místa soukromé adorace
Places of orivate adoration
Z prací
Selection of works
Básně Jaromíra Jágra (výbor Lukáše Hrdého)
Jaromír Jágr's poems (selected by Lukáš Hrdý)
Wagenbreth
Jak daleko se dostat a zůstat sdělný
How far can you go and still be conveying something
(s Henningem Wagenbrethem hovoří Juraj Horváth a Jan Čumlivski)
(Henning Wagenbreth interviewed by Juraj Horváth and Jan Čumlivský)
Z prací
Selection of works
Henning Wagenbreth
Henning Wagenbreth
Samorosty aneb Lesk a bída
Driftwoods or splendours and miseries
Moucha
Někdy je lepší někde nebýt než tam být
Sometims it's better not to be somewhere than to be there
(s Miloslavem Mouchou hovoří Petr Hořejš)
(Miloslav Moucha interviewed by Petr Hořejš)
Z díla
Selection of works
Ze stolu M. M./ I. (Petr "Peťák" Lampl)
From M. M.'S table/ I. (Petr "Peťák" Lampl)
Úvodem
Introduction
Rozervaný beatník Peťák
Torn Up Beatnik Peťák
Krutá ohrožení II.
Cruel Threats II.
Na konci cesty
At the road's end
A je nás dost
And there's enough of us
Ateliéry 2013/XXXV.
Ateliers 2013/XXXV.
Roman Trabura (projekt Viktora Karlíka a Karla Cudlína)
Roman Trabura (a project by Viktor Karlík and Karel Cudlín)
Scenáristická Dílna/Iv.
Screenwriting Workshop/Iv.
(z prací studentů KSD FAMU pro RR vybírá Martin Ryšavý)
(From the work of students of FAMU's Scriptwriting and dramaturgical department, selected for RR by Martin Ryšavý)
Petr Babák představuje (Šperk z kudlibabky)
Petr Babák introduces (A Jewel from kudlibabka)
Sado-maso
Časopis Sado-Maso – "artový" samizdat osmdesátých let
The Sado-Maso Magazine – "art house" samizdat of the 1980's
V podstatě šlo o dárek
It was fundamentally a gift
(rozhovor s Blumfeldem S. M., Čarodějem, H&H, Řehořem Samsou, LšD...)
(Interview with Blumfeld S. M., Čaroděj, H&H, Řehoř Samsa, LšD...)
Underground v undergroundu
Being the underground's movement underground
(rozhovor s Pablem de Sax, André Betonem, Lazarem Berlinem)
(interview with Pablo de Sax, André Beton, Lazar Berlin)
Bibliografie časopisu Sado-Maso
Bibliography of the Sado-Maso magazine
Česká Uměnověda A Padesátá Léta
Czech Art Criticism And The 1950'S
Kupředu jdeme... (interpretace české předválečné avantgardy v padesátých letech)
Forward we march... (on the 1950's interpretation of Czech pre-war avant-gardes)
Couleur
Filip Topol († 19. 6. 2013)
Mám tu čest (řeč nad rakví Filipa Topola)
I have the honour (speech above Filip Topol's grave)
Rudolf Dzurko († 23. 6. 2013)
Ruda Dzurko
Barbar Ruda Dzurko
Ruda Dzurko the Barbarian
K Zlatým šedesátým (Juráčkův Deník na jevišti)
On the Golden Sixties (the staging of Juráček's Diary)
Jasná slova proti lžím, iluzím a kýčům (nad knihou Kritiky a glosy Zbyňka Hejdy)
Clear words against lies, illusions and kitsch (on Zbyněk Hejda's book Criticism and essays)
Klam a mam jsou roky a dny (k Otevřenému deníku Jana Vladislava)
Years and days are but illusions and delusions (on Jan Vladislav's Open Diary)
Zápolení s otevřeným hledím (k Otevřenému deníku Jana Vladislava)
Struggling with one's visor up (on Jan Vladislav's Open Diary)
Já, Edáček (o knize Eduarda Limonova)
I, Edáček (on Eduard Limonov's book)
Banda moulů (k románu Toma Rachmana Imperfekcionisté)
A bunch of twerps (on Tom Rachman's novel The Imperfectionists)
Škrtni, co se nehodí (Bowieho The Next Day a Jonathan Barnbrook)
Strike out what's out of match (Bowie's The Next Day and Jonathan Barnbrook)
Ondřej Němec a Magorova cesta
Ondřej Němec and Magor's way
O Švejkovi s porozuměním
On Švejk with understanding
Profesor Prečan na bitevním poli
Professor Prečan on the battlefield
Jan Lopatka (k dvacátému výročí smrti)
Jan Lopatka (for the 20th anniversary of his death)
Cena Revolver Revue Za Rok 2012: Ondřej Němec
The 2012 Revolver Revue Prize: Ondřej Němec
Zvláštní příloha
Special supplement
Jedna věta
One Sentence