Res Publica Nowa 19 (2012)

19 (2012)
In-between city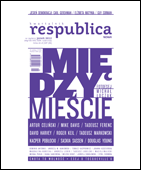 Międzymieście
In-between City
Prawo do miasta, prawo do polityki
Right to the city, right to politics
Kto jest odpowiedzialny za miasto?
Who is in charge of the city?
Ja jestem odpowiedzialny za miasto
I am in charge of the city
Ani miasto, ani wieś
Neither city, nor village
Prawo do wyobraźni
Right to imagination
Kto zbuduje arkę?
Who will build the ark?
Urbanizacja przemocy
The urbanisation of violence
Nasza wspólna nieprzysiadalność
Our common unsitinablity (?)
Fotoesej
Photographic essay
Fotografie/photographs: Michał Łuczak
Tekst/text: Maciej Malicki
Komentarz/commentary: Jędrzej Sokołowski
Kultura
Culture
Takie sobie miasta
Middling cities
PRL: Przestrzenie niespełnionych możliwości
People's Republic of Poland: space of unfulfilled possibilities
Pisarz, to znaczy mężczyzna. Philipa Rotha katalog rozkoszy
A writer means a man. Philip Roth's catalogue of pleasure
Społeczeństwo/Reportaż
Society/Coverage
Meksyk tricolor
Tricolor Mexico
Europa dyskutuje
Europe on debate
Konserwatysta w niepewnym świecie
A conservatist in an uncertain world
Polityka/Idee
Politics/Ideas
Problem Tocqueville'a: prawdziwa wolność jako godność
Tocqueville's problem: true freedom as dignity
W obronie amerykańskiego marzenia
In defense of the American dream
Wiosna w Chinach
Spring in China
Res musica
Res musica
Polityka pieśni i dźwięku. O Corneliusie Cardew
Politics of song and sound. About Cornelius Cardew
Książki
Books
Wykłady o filozofii politycznej Kanta
Lectures on Kant's political philosophy
Polityczny sceptycyzm i polityczna utopia Brunona Schulza
Bruno Schulz's political scepticism and political utopia
Poezja
Poetry
Jaką masz historię? Sandra Cisneros I aktywne poszukiwanie języka opowieści
What story have you got? Sandra Cisneros and the active search for a tale's language
Wiersze Sandry Cisneros w przekładzie Natalii Małek
Sandra Cisneros' poems in Natalia Małek's translation
Ekonomia
Economics
Linie uskoku
Fault lines
Kocham kryzys!
I love the crisis!
Miasto mówi murami
Says city walls
Niebieskim sprayem...
In blue spray...