Res Publica Nowa 22 (2013)

22 (2013)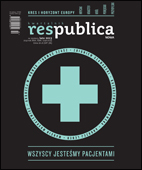 Kto posiada moje ciało?
rozmowa ze zbigniewem szawarskim
Who owns my body?
Conversation with Zbigniew Szwarski
Zdrowieć, zbawiać, produkować. Przekształcenia władzy medycznej
w czasach nowożytnych katarzyna pękacka-falkowska, marcin moskalewicz
To recover, to redeem, to produce
Conversions of the medical rule in the modern age
Medycyna i nowoczesność
z andrzejem lederem rozmawia marcin moskalewicz
Looking for the lever
About complicated relations between power, knowledge and medicine
Państwo i medycyna
z tomaszem szaszem rozmawia paul kurtz
Paul Kurtz talks with Tomasz Szasz
The state and medicine
Kultura
Culture
Będzie boleć tylko jeśli zechcesz
Historia bólu jako władzy niechcianej
It will hurt only if you want
The history of pain as the unwanted power
Opowieść i doświadczenie choroby
Czy chorzy na raka mają coś do powiedzenia w swojej sprawie?
The story and experience of illness
Do cancer patients can decide for themselves
Muzeum – przestrzeń edukacyjna?
Museum – An educational area?
My będziemy leczyć ludzi zdrowych, czyliż to nie dość?
Reklamy leków na przełomie XIX i XX wieku
We will treat only healthy people, isn't it enough?
Advertisements for medicines at the turn of XIX century
Polityka/idee
Politics/Ideas
Utopia jako realizm
Kryzys myślenia europejskiego
The crisis of European thought
Europejska tożsamość Ukrainy
European identity of Ukraine
Społeczeństwo/ Reportaż
Society/reports
Nie odbieram, przyjmuję
z katarzyną oleś rozmawia sylwia szwed
I don't take, I receive
Sylwia Szwed talks with Katarzyna Oleś
DNA miasta
City's DNA
Zarządzanie oczekiwaniami. o kulturze, pieniądzach, mieszkańcach i polityce
z robertem palmerem rozmawiają artur celiński i łukasz medeksza
Expectations management
Artur Celiński and Łukasz Medeksza talk about culture, money, citizens and politics with Robert Palmer
Kto tworzy pomysł na miasto
Whose ideas build up the city
Lekcja plastyki
Art lesson
Fotoesej
Photo-essay
Wyniki wyszukiwania dla hasła "medycyna"
Search results for "medicine"
Res Musica
Przerwana lekcja muzyki
Interrupted music lesson
Książki
Books
Kod zdrowia
The health code
Władza eksperymentu
The power of experiment
Testując rzeczywistość
Testing the reality
Poezja
Poetry
Ciało jest intuicyjne, język jest rozumowy
z małgorzatą dawidek gryglicką o czytaniu, językach i tekstach wizualnych rozmawia justyna czechowska
Body is intuitive, language is rational
Justyna Czechowska talks about reading, languages and visual texts with Małgorzata Dawidek Grylicka
Ekonomia
Economy
Ile za nerkę, ile za dializę
How much for a kidney, how much for dialysis?
Miasto mówi murami
The city speaks in walls
Powstanie ponownie...
It will raise again...