Res Publica Nowa 26 (2014)

26 (2014)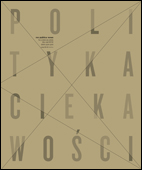 Polityka ciekawości
The politics of curiosity
Punkt wyjścia
A starting point
Pocztówka z Niestambułu
Requiem for Istanbul
Kosmopolityzm i banalna geografia zła
Cosmopolitanism and the geographies of freedom
Gilles 1, 2, 3
Dokumenty histerezy
Documentation of hysteresis
W ostatnią noc tysiąclecia
Millenium Eve, a chapter from London Orbital
Przysięgam, że to widziałem
I swear I saw this
Fabrykacje
Fabrications
Kultura
Gdzie nie występują wypchane rekiny
O czeskiej artystycznej kałuży i jej rybach
Where stuffed sharks don't live
On the Czech artistic puddle and its fish
O cywilizacji próżniaczej
About the leisure civilisation
Na pomorzu, czyli gdzie właściwie
Konstruowanie i doświadczanie przestrzeni na Pomorzu Środkowym
In Pomerania, but where exactly?
Structuring and experiencing the space in Middle Pomerania
Społeczeństwo
Do pracy przez granicę
European commuters
Swoboda migracji?
The freedom of migration?
Cyfrowi argonauci
Cyber-Argonauts
Przerażający upływ czasu
Intimidating time lapse
O mieście z mieszkańcami
About the city with its citizens
Polityka
Władza i medycyna. Debata wokół numeru "Res Publiki Nowej"
Power and medicine: Discussion around the issue of Res Publica Nowa
Książki
Niewygodna potrzeba legitymizacji
Uncomfortable need of legitimacy
Bałkańska kładka. Eseje o literaturze "jugosłowiańskiej Atlantydy"
Balkanska brv, Eseji o književnosti "jugoslovanske Atlantide"
Res Musica
Czeski i słowacki wirus alternatywy
Czech and Slovak virus of alternative
Miasto Mówi Murami
Uszanuj ludzką głupotę
Respect human foolishness