Res Publica Nowa 25 (2014)

25 (2014)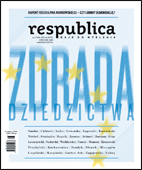 EUROPA
EUROPE
Rozmowa z Marcinem
In the face of Europe
Bez demokracji
Without democracy
Kwestia wyobraźni
A matter of imagination
Bezkresny horyzont
Europe neverending
Sublimacja wśród barbarzyńców
Sublimation amongst barbarians
September 1, 1939
Racje podstawowe
Basic reasoning
PROWOKACJE
PROVOCATIONS
Europa jako wyobrażenie, wola i profanacja
Europe as idea, will and profanation
Od Haiti po Nową Hutę
From Haiti to Nowa Huta
Rozpoznawanie nieoczywistości
In recognition of the unapparent
Na rozdrożu
At the crossroads
ANKIETA
SURVEY
Nowa i stara
New and old
Choroba na schyłek
On the decline of disease
Trzecia droga
A third way
Nieczytelny krajobraz
An unclear outlook
Zimne imperium
A distant empire
Wypalona
Burnt out
Sytość i nuda
Satiety and boredom
Mit jedności i rzeczywistość rozproszenia
The myth of unity and the reality of dispersion
Pytania o przyszłość
Questions about the future
RAPORT
REPORT
Labirynt uczuć. Europejczycy wobec demokracji
An emotional labyrinth: Europeans and democracy
NOWE OBLICZA DEMOKRACJI
NEW FACES OF DEMOCRACY
Nowa polityka w Europie Środkowej
The new politics of Central Europe
Internet zmieni politykę
The Internet will change politics
Ćwiczenie wyobraźni
Mission imagination
Republika to nie tylko demokracja
The republic isn't the only form of democracy
EUROMAJDAN
Kres polityki sąsiedztwa
The end of neighborhood policy
Jak wspierać Kijów i nie ulegać złudzeniom
How to support Kiev without succumbing to illusions
Odzyskiwanie demokracji
Regaining democracy
KULTURA
CULTURE
Rozsadzić pewność
Out of the comfort zone
Utracony kod
The lost code
Słowo, które nada sens demokracji
The word that gives meaning to democracy
SPOŁECZEŃSTWO
SOCIAL
Europa - śledztwo w sprawie dalszego ciągu
Europe. An investigation into what will happen next
EKONOMIA
ECONOMIC
Do końca daleko
A long way to the end
Z nierównościami będzie inaczej
Income inequalities are not going to disappear anytime soon
VARIA
MISCELLANEOUS
Jest lepiej
It gets better
Marcinowi Królowi na siedemdziesiątkę
For Marcin Król on his 70th birthday
Ocalić nadzieję
The hopes and strengths of Europe
SZKOŁA ESEJU
ESSAYS
Swoboda i nienaganność
Freedom and impeccability
Kryzys ducha. Fragmenty
An existential crisis. Fragments.
KSIĄŻKI
BOOKS
Problemy z ekscentryczną Unią
Na marginesie Kulturowych wartości Europy
Hansa Joasa i Klausa Wiegandta
Problems with an eccentric Union.
On the cultural margins of European values
by Hans Joas and Klaus Wiegandt
Dawaj i bierz
Give and take
Zmierzch cywilizacji
The end of days
Tyrania ekonomii
The tyranny of the economy
POEZJA
POETRY
Literatura ukraińska - mission impossible?
Ukrainian literature - mission impossible?
*** (mężczyzna zakochuje się…)
*** (man falls in love…)
Praca nad błędami
Working on mistakes
Autoportret bez zazdrości
A self-portrait bereft of jealousy
*** (Żółta…)
*** (Yellow…)