12/2009
Gemeinsam Einsam - Die Slawische Idee nach dem Planslavismus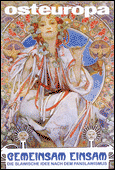 Heftbeschreibung
/
Abstracts
(de)
(en)
Die Slawische Idee nach dem Panslawismus
The Slavic idea after Pan-Slavism
Idee und Interesse
Idea and interest
Slavizität
Identitätsmuster, Analyserahmen, Mythos
Slavicity
Patterns of identity, framework of analysis, myth
Hej Slované!
Die Slawische Idee bei Tschechen und Slowaken
Hej Slované!
The Slavic idea among Czechs and Slovaks
Martyrium für die Nation
Der slawische Balkan in der ostmittel-europäischen Malerei des 19. Jahrhunderts
Martyrdom for the nation
The Slavic balkans in the painting of the 19th century
Ungar, Slawe, Gorale, Slowake
Jánosík als mythischer Volksheld
Hungarian, Slav, Goral, Slovak
Jánosík as mythic folk hero
Historische Mission und Pragmatismus
Die slawische Idee in Polen im 20. Jahrhundert
Historical mission and pragmatism
The Slavic idea in Poland in the 19th and 20th centuries
Die "sowjetische Rus'" und ihre Brüder
Die slawische Idee in Russlands langem 20. Jahrhundert
"Soviet Rus'" and its brothers
The Slavic idea in Russia's long 20th century
Eine taktische Waffe
Der sowjetische Panslawismus. Dokumentation
A tactical weapon
Soviet Pan-Slavism: a documentation
Kommunismus und slawische Idee
Von der Kommunistischen Balkanföderation zum gesamtslawischen Komitee (1920 -- 1946)
Communism and the Slavic idea (1920 -- 1946)
From the Communist Balkan Federation to the All-Slavic Committee
Von Brüdern und Schwestern
Das Allslawische Komitee in Moskau 1941 -- 1947
On brothers and sisters
The All-Slavic Committee in Moscow 1941 -- 1947
Aufstieg und Fall der Slawischen Idee
Das Slawische Komitee in Bulgarien 1944 -- 1991
The rise and fall of the Slavic idea
The Slavic Committee in Bulgaria, 1944 -- 1991
Unter Brüdern
Die Sorben und die slawische Solidarität im 20. Jahrhundert
Among brothers
The Sorbs and Slavic solidarity in the 20th century
Malerei und Literatur
In, mit oder gegen Europa
Slawische Modelle der Nationalkultur
In, with, or against Europe
Slavic models of national culture
Versklavtes Slawentum
Messianismus und Masochismus bei Mickiewicz
Enslaved Slavdom
Messianism and masochism in Mickiewicz
Kunst und Weltfrieden
Alfons Muchas Slawisches Epos
Art and world peace
Alfons Mucha's "The Slav Epic"
Moralische Migräne
Krleza, Krizanic und die (süd)slawische Idee
Moral migraines
Krleza, Krizanic, and the (South)Slavic idea
Figuren der Einheit
Rhetorik und Realität der südslawischen Integration
Figures of unity
Rhetoric and reality of south Slavic integration
Slawen(dis)kurs
Die deutsche Slawistik und ihr Gegenstand
Slavic (dis)course
German Slavic studies and its subject-matter
Aufstieg, Fall, Wiederbelebung
Entwicklungslinien der Slawenforschung
Rise, fall, revival
The lines of development in Slavic research
Die slawische Idee im 21. Jahrhundert
Alter Slowake!
"Vernünftiger Staatshistorismus" statt "Slawenbeschwörung"
You old Slovak!
"Rational state historicism" instead of Slavic invocation
Fragmente der Einheit
Ostslawisches Gemeinschaftsdenken in der Ukraine
Fragments of unity
The idea of an East Slavic community in Ukraine
"Der reinste slawische Stamm"
Identitätsbildung à la bielarusse
"The purest Slavic people"
Identity formation à la bielarusse
Potemkin im Netz
Slovio und die Pseudo-Panslawen
Potemkin in the internet
Slovio and pseudo-Pan-Slavs