2-3/2009
Freiheit im Blick. 1989 und der Aufbruch in Europa [Freedom within sight. 1989 and Europe's new start]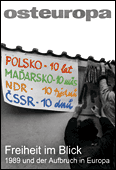 Heftbeschreibung
/
Abstracts
(de)
(en)
1989 and the spirit of time
Momentaufnahme
Verteidigung der Freiheit
Reflexionen über 1989
Defence of freedom
Reflections on 1989
Ohne Prügel und Waffengetöse
Notizen aus der Wende: Dez. '88--Jan. '89
Without beatings and gunfire
Notes from the turning point: Dec. '88 – Jan. '89
Geburtsmale
Wie die "Revolution" zum "Umbruch" verkam
Birth mark
How the "Velvet Revolution" degenerated into a "regime change"
Die in der Kälte wohnten
Die litauische Dissidenz 1953--1980
Those who lived in the cold
The Lithuanian dissidence 1953–1980
Geschichte
History
Die Ameisenhändler vom Bahnhof Zoo
Geschichte im Abseits und vergessene Europäer
The "merchant ants" of Zoo station
On history on the sidelines and forgotten Europeans
Don Quichottes Sieg
Bürgerrechtler und die Revolutionen von 1989
Don Quixote's victory
The civil rights activists and the revolutions of 1989
Der verschwundene Schatten
Der Regimekollaps der CSSR im Vergleich
The shadow that disappeared
The collapse of the Czechoslovak regime in comparison
Polnischer Bürgerkrieg
Der unaufhaltsame Abstieg des Kommunismus
Polish civil war
The unrelenting decline of communism
List der Geschichte
Perestrojka, Mauerfall und das Ende der UdSSR
History's cunning
Perestroika, the fall of the Berlin Wall, and the end of the Soviet Union
Blick zurück nach vorn
Russland zwischen Geschichte und Globalisierung
Looking back to the future
Russia between history and globalisation
Abschied von einer Illusion
Die Solidarnosc und die konfliktfreie Gesellschaft
Taking leave of an illusion
Solidarnosc and the idea of a society free of conflict
Die Freiheit ist nicht maskulin
Die tschechische Frauenbewegung vor und nach 1989
Freedom is not masculine
The Czech women's movement before and after 1989
Der große Wandel
Polen auf dem Weg zum "Runden Tisch"
The great transformation
Poland on the road to the "round table"
Teufel und Weihwasser
Der Papst und die Erosion des Kommunismus
The devil and holy water
John Paul II and the erosion of communism
Geist
Spirit
Von der Irrenanstalt nach Europa
Über die Obsession der Geschichte
From the asylum to Europe
On the obsession of history and the irresistible desire to provoke the controllers
A reading room
Literature in east central Europe since 1989
Erbarmen, Erbarmen!
Verstehen Sie die Welt, Herr Professor?
Mercy! Mercy!
Professor, do you understand the world?
Dynamik und Verharren
Europäische Öffentlichkeit und ihre Grenzen
Dynamism and persistence
A European public and its borders
"Literatur, von der wir geträumt hatten!"
Das Buch und die Ambivalenzen von 1989
"The literature of which we dreamed"
The book and ambivalent outcomes of 1989
Berlin
Drei Gedichte
Berlin
Three poems
"Ich begreife nur den Menschen, der stürzt"
Osteuropäische Einflüsse in H.H. Grimmlings Werk
"I understand only the man who falls"
East European influences in the work of H.-H. Grimmling
Der Umbruch
1989 im polnischen Film
The turning point
1989 in Polish film
Grenzfälle
Eine Gebrauchsanweisung
Borderline cases
Instructions for use
Zeit
Time
Wer hat Angst vor Osteuropa?
Nationalismus und EU-Integration nach 1989
Who ist afraid of the "new Europe"
Nationalism and European integration since 1989
Rebellion der Ungeduldigen
Populismus in Ostmitteleuropa
Rebellion of the impatient
Populism in east central Europe
Wirtschaftswunder und Staatsverschuldung
Zur politischen Ökonomie Ostmitteleuropas
Economic miracle and national debt
On the political economy of east central Europe
Vom Sowjetsatellit zur Westintegration
20 Jahre tschechische Europapolitik: Eine Bilanz
From Soviet satellite to integration with the West
Twenty years of Czech Europe policy: a balance
Die Mauer in den Köpfen
Die Erinnerungskultur spaltet Europa
The walls in people's heads
Memory culture divides Europe
Große Linien
Zur Historisierung des Wandels um 1989
Sweeping lines
On the historicisation of the transition around 1989