1/2014
Im Namen des Volkes. Revolution und Reaktion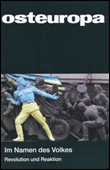 Heftbeschreibung
/
Abstracts
(de)
(en)
Operation "Russische Krim"
Wer zuerst schießt, verliert
Operation "Russian Crimea"
Who shoots first loses
Krieg und Frieden
Die "Euro-Revolution" in der Ukraine
War and peace
The "Euro-revolution" in Ukraine
Staatskrise in der Ukraine
Vom Bürgerprotest für Europa zur Revolution
State crisis in Ukraine
From citizens protest for Europe to revolution
Unheilige Allianz
Putin und die Werte
Unholy alliance
Putin and values
"Soft Power" und Imagepflege aus Moskau
Leichtes Spiel für PR-Offensive
"Soft power" and image building from Mos-cow
An easy job for a PR offensive during the media cri-sis
Deutschlandforschung ohne Bücher
Buchlosigkeit in Russland
Research on Germany without books
An absence of books in Russia, hardships for resear-chers
"Finden Sie Optina Pustyn'!"
Russische Literatur in deutscher Übersetzung 2013
"Find Optina Pustyn'!"
Russian literature in German translation in 2013
The movement marches
Ruch Narodowy and Poland's extreme right
Bücher und Zeitschriften
Elena Kropatcheva: Russia's Ukraine Policy against the Background of Russian-Western Competition
Anne Hultsch: Ein Russe in der Tschechoslowakei. Leben und Werk des Publizisten Valerij S. Vilinskij
Philipp Blom, Veronica Buckley, Hg.: Das russische Zarenreich. Eine fotografische Reise 1855–1918
Wladislaw Hedeler, Hg.: Vom Schmieden neuer Menschen. Artikel der Lagerzeitung des Karlag "Putjowka"
Grenzverkehr. I: Literarische Streifzüge zwischen Ost und West. II: Unterwegs. III: Aufbruch – wohin
A.N. Burmejster: Duchovnost' i prosveščenie u istokov russkogo samosoznanija
Michael Kemper, Stephan Conerman, Eds.: The Heritage of Soviet Oriental Studies
Arman Kirakossian, Hg.: Armenija i sovetsko-tureckie otnošenija v diplomatičeskich dokumentach 1945–1946 gg.
Stephen F. Jones, Ed.: War and Revolution in the Caucasus – Georgia Ablaze
Zuzanna Bogumił: Pamięć GUŁagu
Lucian N. Leustean, Ed.: Eastern Christianity and the Cold War, 1945–1991