Neprikosnovennij Zapas (NZ) 75 (1/2011)

75 (1/2011)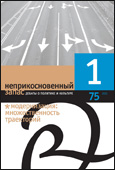 Политическое воображаемое
Political imaginary
К новому человеку
To the new man
Советские пространства модернизации
Soviet spaces of modernization
Брежневская модернизация: коллективизм и индивидуальность
Brezhnev's modernization: Collectivism and individuality
Интер-Нет! Почему в Советском Союзе не была создана общенациональная компьютерная сеть
Internet! Why hasn't there been any nationwide computer network created in the Soviet Union?
Женщина как инструмент и препятствие:
кинофильмы Юлия Райзмана на фоне советской модернизации
Woman as tool and obstacle:
Films by Juliy Rayzman on the background of Soviet modernization
Интервью "НЗ"
NZ Interview
"При коммунизме у каждого будет самолет"
"Under communism everyone will have an aircraft"
Модернизация регионов: коммуникативный диссонанс
Modernization of regions: Communicative discord
Северный Кавказ
модернизационные перспективы беспокойного региона
The North Caucasus
Modernization perspectives in a troubled region
Модернизация на Северном Кавказе: есть ли решение?
Modernization in the North Caucasus: Is there a solution?
Регионы России: из кризиса -- в модернизацию?
Regions of Russia: From crisis to modernization?
Case study 1
Case study 1
Организация местного самоуправления в России: итоги реформ
Материалы "круглого стола" на конференции "Сабуровские чтения"
Local self-government organization in Russia: Results of the reforms
Materials of a "round table conference" at the "Saburovskie Reading"
Культура политики
Culture of politics
Перспективы демократизации в России
"стратегический" подход (первое приближение)
Democratization perspectives in Russia
A "strategic" analysis (first approach)
Comparative studies
Comparative studies
Модернизация японского тела
от патернализации к национализации
Modernization of Japanese body
From paternalism to nationalization
Почему в Чехии не было модернизации?
Несколько трансформаций и одна нормализация
Why wasn't there any modernization in the Czech Republic?
Several transformations and a single normalization
Модернизация по-белорусски
Modernization: The Byelorussian way
Политика культуры
Politics of culture
Антипопулизм постсоциалистической интеллигенции
Anti-populism of post-socialist intelligentsia
Case study 2
Case study 2
Православие + современные технологии = "Мир"
Orthodoxy + modern technologies = "Mir"
Социологическая лирика
Sociological lyrics
Фанаты и фанатики
Fans and fanatics
Очерки нравов
Moral and more
Власть, церковь и проблема свободы творчества в современной России
Power, the church and the problem of artistic freedom in Russia today
Царицыно: история одной модернизации
Tsaritsyno: History of a modernization
Музей после истории
несколько веков и несколько лет из жизни усадьбы Царицыно
Museum after history
Several centuries and several years from Tsaritsyno manor life
"Тонны воды летят по немыслимым траекториям":
фонтан-аттракцион и новая образность парка Царицыно
"Tons of water flying on inconceivable trajectories":
Fountain-attraction and new visualization of Tsaritsyno Park
Шахматисты на аллеях парка
Chess players in the avenues of the park
Политэкономия повседневности
Daily political economy
О половом воспитании любви к родине
On sexual education of love to the motherland
Вокруг "НЗ"
Around NZ
Реплика по поводу статьи Никиты Соколова ""Русская модернизация" от Медного всадника до железного Феликса"
Polemics about the article by Nikita Sokolov "Russian modernization from the Copper Horseman to Iron Felix"
Модернизация и симуляция. Ответ государственному жителю
Modernization and simulation. Answer to state inhabitants
Обзор журналов
Journals review
Обзор российских интеллектуальных журналов
Russian intellectual journals review
Новые книги
New books
Рецензии
Reviews