Neprikosnovennij Zapas (NZ) 84 (4/2012)

84 (4/2012)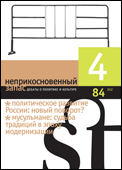 Политическое воображаемое
Political Imaginary
Толчки и движения
Pushes and movements
Политическая теория и практики деполитизации
Political theory and practices of de-politicization
Контрдемократия: политика в эпоху недоверия
Counter-democracy: Politics in an age of distrust
Политическое развитие России: новый поворот?
Political development of Russia: A new twist?
Режим, оппозиция и вызовы электоральному авторитаризму в России
Regime, opposition, and challenges to the electoral authoritarianism in Russia
Улица, власть и оппозиция: от протестной "движухи" к режимной трансформации?
The street, the government and the opposition: From the protest "Hullabaloo" to the regime transformation?
Старое и новое в дискурсе гражданского общества и характере общественных движений
The old and the new in the civil society discourse and social movements' character
Агенты и принципалы: чего ожидать после "вертикали власти"?
Agents and principals: What to expect after "the power vertical"?
Бесполезное достижение? Губернаторские выборы в контексте проблем регионального развития
A useless achievement? The elections of governors in the context of regional development problems
Электоральные фальсификации в России: механизмы, диагностика, интерпретации
Electoral frauds in Russia: Mechanisms, diagnosing, interpretations
Социологическая лирика
Sociological lyrics
Письмо к Льву Рубинштейну насчет обществословия
An open message to Lev Rubinstein
Культура политики
Culture of politics
Арест участниц группы "Pussy Riot" как катализатор художественно-гражданского активизма
"Pussy Riot" arrest as a catalyst of artistic and civic activism
Мусульмане: судьба традиций в эпоху модернизации
Muslims: the fate of traditions in the era of modernization
Власть и фотография: визуальная репрезентация в имперской рамке
Authority and photography: Visual representation in imperial frame
Повседневная жизнь московских мусульман в 1960--1980-х годах
The daily life of Muslims in Moscow's post-war Soviet period
Ингушетия и Чечня: конец тейпов?
Chechnya and Ingushetia: the end of the "Teips"?
Comparative Studies
Большой Кавказ: взгляд из-за океана
Greater Caucasus: A view from the ocean
Интервью "НЗ"
NZ Interview
"Лозунг "Россия для русских!" вообще невозможно воплотить в жизнь". Интервью с профессором Джеффри Хоскингом
"The slogan 'Russia is for Russians!' is unreliazable formula"/ Interview by Andrey Zakharov with Geoffrey Hosking
События и комментарии
Events and comments
Племенная "революция" по-йеменски
Tribal revolution: the Yemeni style
Очерки нравов
Mores and more
Тихая революция
Quiet revolution
Политэкономия повседневности
Daily political economy
О туризме и каннибализме
On tourism and cannibalism
Обзор журналов
Reviews
Обзор российских интеллектуальных журналов
Russian intellectual journals review'
Могут ли женщины получить все, что такое "все" и как этого добиться? Обзор американских феминистских блогов
American feminist blogs