Neprikosnovennij Zapas (NZ) 90 (4/2013)

90 (4/2013)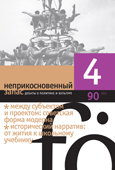 Российская государственность. Монархия и республика
Russian Statesmanship: The monarchy and the republic
Политическое воображаемое
Political Imaginary
Культура политики
Culture of politics
"Загогулины" российской модернизации: смена поколений и траектории реформ
"Meanderings" of Russian modernisation: Changing generations and trajectories of reform
Патримониализм как определяющий фактор развития российского капитализма
Patrimonialism as a decisive factor in the development of Russian capitalism
Между субъектом и проектом: советская форма модерна
Between a subject and a project: The Soviet variety of the modern era
Советская модель как форма глобализации
The Soviet model as a form of globalisation
Харизма разума, изобретенная традиция и советская модель модерна
Charisma of reason, the invention of tradition and the Soviet model of the modern era
Быт или не быт? Лев Троцкий, политика и культура в 1920-е годы
Every day is everyday: Leon Trotsky, politics and culture in the 1920s
"Способностей не имею..." Читатель "Литературной учебы", 1930--1934: социальный портрет в письмах
"No special abilities..." The Literary Studies reader in 1930--1934: A social portrait in letters
Интервью "НЗ"
NZ Interview
Вацлав Гавел и 1968 год. Интервью с послом Чехии в Великобритании Михалом Зантовски
Vaclav Havel and 1968: Interview with the Czech ambassador to Britain Michael Žantovský
Государство, общество и "духовные скрепы"
State, society and "spiritual ties"
Принципы секуляризма
Principles of secularism
Русская православная церковь как часть государства и общества
The Russian orthodox church as a part of the state and society
"Не всякая стрела попадает в цель": технология и Абсолют на Востоке и на Западе
"Not every arrow hits the target": Technology and the absolute in the East and the West
Социологическая лирика
Sociological lyrics
Честное сексуальное
Word of sexual honour
Страницы Алексея Левинсона
Alexey Levinson's column
Политика культуры
Politics of culture
Новые конфигурации политики после квир-философии Джудит Батлер: протестные движения в России и проблемы их осмысления
New configurations of politics informed by Judith Butler's queer philosophy: Protest movements in Russia and problems of their interpretation
Невозможная идентичность: отсутствующий гей-арт и поле современного искусства в стране торжествующей гомофобии
Impossible identity: Missing gay art and the field of contemporary art in the land of triumphant homophobia
Исторический нарратив: от жития к биографии, от биографии к школьному учебнику
Historical narrative: From a life to a biography, from a biography to a textbook
Жизнь протопопицы и "Житие" Аввакума
Life of the Protopope's Spouse and Avvakum's Life
Сосо в Батуме, 1902
Soso in Batum, 1902
Если не будете как дети: деконструкция "исторического" дискурса в фильме Алексея Коренева "Большая перемена"
Become as little children: Deconstructing a "historical" discourse in Alexey Korenev's film Noon Recess
Case Study
Музей СССР в Ульяновске: опыт мифологического проектирования
The USSR museum in Ulyanovsk: A mythological design experience
Вильнюс. Места памяти европейской истории
Vilnius: Memorable places of European history
Обзор журналов
Journal reviews
"Форум новейшей восточноевропейской истории и культуры": Средневековье онлайн?
"Contemporary eastern European history and culture forum": Middle ages online?
Оскар и "Оскар": от убийства до шутки и обратно. Обзор американских феминистских блогов
Oscar and Oscar: From murder to joke and back again, review of American feminist blogs
Новые книги
New books