1-2/2013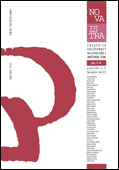 Summary (en)
Suvremena književnost
Contemporary literature
Evolucija ludila
The evolution of madness
Žutokosi (I. dio)
The yellow-haired (part I)
Europa, indiskretna bolest raspadanja
Europe, the indiscrete illness of decay
Nove mjere protiv sile
The new measures against the power
Tri forske
Three poems
Pet zapisa
Five notes
Djevojčica i vrtuljak
A little girl and a merry-go-round
Pjesme
Poems
Magarac
The donkey
XVII. Šoljanovi Dani u Rovinju
Književni opus Krste Špoljara (1930. - 1977.)
17th Šoljan Rovinj Days
Krsto Špoljar (1930-1977): The literary opus
O Špoljaru, "Hrvatskoj baladi", četrdeset godina poslije
On Špoljar, "The Croatian ballad", forty years later
Časopisi Krste Špoljara
Krsto Špoljar and his journals
Motivi otuđenosti u prozi Krste Špoljara
The motifs of alienation in Krsto Špoljar's prose
Natuknice o Špoljaru
Headwords about Špoljar
Nerealizirani književni tjednik Antuna Šoljana
Antun Šoljan's unrealised literary weekly
O nekim aspektima romana "Neprilike s muzom" Krste Špoljara
On some aspects of Krsto Špoljar's novel "Troubles with the muse"
Pravocrtan diskurs: stvarne obmane
A straight line discourse
Usporedba romanâ Krste Špoljara i Antuna Šoljana
Comparing novels by Krsto Špoljar and Antun Šoljan
Novi prijevodi
New translations
Civilizacija komunizma (prev. A. Cvitanović)
The civilisation of communism (translated by A. Cvitanović)
Božica je odgovorila (prev. A. Pataki)
The goddess has answered (translated by A. Pataki)
Rane pjesme (prep. S. Pranjić)
Early poems (recast by S. Pranjić)
Rič hrvatska u vojvodini
The croatian word in vojvodina
Panorama vojvođansko-hrvatske kratke priče od 1990. do 2010.
A panorama of Voivodina-Croatian short stories from 1990 to 2010
Na Svesvete
On All Saints' day
Snivajući pod snijegom
Dreaming under the snow
Bolje
Better
Makovo zrno
A poppy-seed
Kamenčić mali u Kristinoj sandali
A small pebble in Krista"a sandal
Studije i ogledi
Studies and essays
Fakta i zámisli Novecenta
Facts and ideas of the Novecento
Nikola Tordinac – prvi hrvatski prevoditelj Karla Maya
Nikola Tordinac – the first Croatian translator of Karl May
Erotika u "Pjesmi nad pjesmama"
Erotica in "The song of the songs"
Prilozi o zavičaju
Contributions on the native region
Kratka povijest hrvatsko-slovenskog razgraničenja u Istri...
The short history of the Croatian-Slovene demarcation in Istria...
Hrvatska granica u sjeverozapadnoj Istri
The Croatian border in the NW Istria
Sudbina triju javnih spomenika iz austrijskoga razdoblja grada Pule
Three Pula public monuments from the Austrian period and their destiny
Reviews
Kritički pristupi i osvrti
"Rávan zemlje gorom dići"
"Lifting up the plane of the earth with the mountain"
(Igor Šipić: Koljnofski susreti)
"Potoci žubora, gdje svaka pjesma govori svojim jezikom"
(Igor Šipić: The Koljnof Meetings)
"The streams of babble, where every poem speaks its own language"
(Igor Šipić: Pronevjerom oblikâ)
(Igor Šipić: The malversation of forms)
"Povijest ispričana 'odozdo'"
(Mile Stojić: Dunia)
"The bottom-up story of history"
(Mile Stojić: Dunia)
"Filmičan, stilski neuredan roman"
(Nenad Stipanić: Izbacivači Majke Božje)
"The film-like, stylishly sloppy novel"
(Nenad Stipanić: Mother of god and her Bouncers)
"Knjiga stihova riječke poetese sa srcem u Srijemu"
(Ljubica Kolarić-Dumić: Vijenac od čekanja)
"The book of verses by a poetess from Rijeka with her heart in Srijem"
(Ljubica Kolarić-Dumić: The wreath of waiting)
"Pićanska biskupija i Pićanština"
(Zbornik radova: Pićanska biskupija...)
"The Pićan diocese and the Pićan region"
(The book of proceedings: The Pićan diocese...)
"Nužnost razvijanja kulture kritičkoga patriotizma"
(Esad Zgodić: Kultura patriotizma...)
"The necessity of developing the culture of critical patriotism"
(Esad Zgodić: The culture of patriotism...)