1-2/2015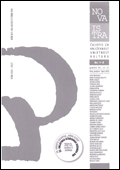 Summary (en)
Društvo i druženje kao način mišljenja
Society and companionship as a way of thinking
Uz obljetnice
On the anniversaries of Nova Istra and the Istrian Branch of the Croatian Writers' Association, instead of the 'occasional' editorial
Pogled unatrag radi pogleda unaprijed "Nova Istra" i Istarski ogranak DHK-a - pogledi "izvana"
Looking back in order to look ahead Nova Istra and Istrian Branch of the Croatian Writers' Association - the views from "outside"
In memoriam
Profesorica Ivezić: Post factum Uz 100. obljetnicu rođenja i 20. godišnjicu smrti
Professor Ljubica Ivezić: Post factum On the 100th anniversary of birth and the 20th anniversary of death
Contemporary literature
Bečanin s otoka Brača
A Viennese from the island of Brač
Širenje domovine
Widening the homeland
Pukotina Koloseum
The Coliseum crack
Ližnjan, ožujak 2014
Ližnjan, March 2014
Žmah tajanstvenega vesmira
The taste of mysterious universe
Pjesme
Poems
Tema: Antun Gustav Matoš (1873-1914)
O stotoj obljetnici smrti
19. "Šoljanovi Dani" U Rovinju
Topic: AGM (1873-1014)
On his death centenary
The 19th Šoljan days in Rovinj
Matoš i hrvatska književnost
Matoš and the Croatian literature
Antun Gustav Matoš - domovina, nacija, identitet
AGM - Homeland, nation, identity
Oko kazališta
Around the theatre
Matoš i Matica hrvatska
Matoš and the Central Croatian Cultural and Publishing Society (Matrix Croatica)
Matoš na Hvaru
Matoš on the island of Hvar
Matošev neprežaljeni Šenoa: postupak kanonizacije
Šenoa, never-to-be-forgotten by Matoš: The procedure of canonisation
Matoševi pogledi na Bosnu i Hercegovinu
Esej o Matošu fra Rajmunda Kuparea
Matoš's views on Bosnia and Herzegovina
An essay on Matoš by Father Rajmund Kupareo
Spomen njemačke književnosti u Matoševoj lirici
The German literature mentioned in the lyrics by Matoš
Novi prijevodi
New translations
I bijaše židovska četvrt u Varšavi
There used to be a Jewish district in Warsaw, indeed (trans. A. Cvitanović)
Dva od dva; dva poglavlja (trans. T. Pliško)
Two from two; Two chapters
Ispovijed
A confession (trans. L. Monica Kmet)
Noć u kojoj se ništa nije dogodilo
The night when nothing happened (trans. L. Monica Kmet)
Studije, ogledi, zapisci
Studies, essays, notes
Esej o podnaslovu: "Todesfuge" Ranka Marinkovića
An essay on the subtitle: Todesfuge by Ranko Marinković
Kritički spoznajni optimizam...
The critical cognitive optimism…
O vidljivom
On the visible
Montaigne: Spoznati se (p)ogledom
Montaigne: Becoming aware of yourself through viewing
Kristijan Barutanski na kanonu cmizdrenja i strijeljanja (: M. Krleža)
Kristijan Barutanski on the canon of whining and shooting (: M. Krleža)
Osjećati se Europljaninom?
Feeling like a European?
Prilozi O Zavičaju
Contributions on the native region
Ni u smrti jednaki! Ili?
(O imenovanju pulskih ulica...)
Even in death unequal, or?
(On naming the streets in Pula...)
Pula u ratovima 20. stoljeća
Pula in 20th century wars
Feljtoni o "toj napuštenoj, od Boga i od ljudi zaboravljenoj Puli"
(Franc-Branko Ancelj: Sto godina pulskih vizura)
Feuilletons on "the abandoned city of Pula, forgotten by God and people"
(Franc-Branko Ancelj: One hundred years of Pula vistas)
Osnovna škola Juršići kao sakupljač i njegovatelj kulturne baštine
The Juršići primary school as a cultural heritage collector and curator
Kritički pristupi i osvrti
Critical approaches and reviews
"Efemerno? Meritorno!"
(Vinko Brešić: Praksa i teorija književnih časopisa)
Ephemeral? Based on the merit of the thing?
(Vinko Brešić: The practice and theory of literary journals )
"Književna zrcaljenja jadranska"
(Valnea Delbianco & Sanja Roić: Razumjeti drugoga)
The Adriatic literary reflections
(Valnea Delbianco & Sanja Roić: Understanding others)
"Nova Bilosnićeva zbirka"
(Tomislav Marijan Bilosnić: Vrt )
A new collection by Bilosnić
(Tomislav Marijan Bilosnić: The garden)
"Roman neiskorištenog potencijala"
(Slavoljub Stanković: Prvaci svijeta!)
A novel with unused potential
(Slavoljub Stanković: The world champions!)
"Pjevati i pisati"
(Alexandre Romanes: Na ramenu anđela)
"Krhkost tijela i oprez prema svijetu"
(Aida Bagić: Tijela su laka meta)
Singing and writing
(Alexandre Romanes: On the angel's shoulder)
The fragility of body and caution to the world
(Aida Bagić: Bodies are easy targets)
"Srce crvene tame"
(Tihomir Dujmović: Hrvatska u raljama djece komunizma)
The heart of red darkness
(Tihomir Dujmović: Croatia in the jaws of children of Communism)
"Interdisciplinarnost sociologije..."
(S. Lavić et al.: Leksikon socioloških)
The interdisciplinary character of sociology...
(S. Lavić et al.: The Lexicon of sociological terms)