3-4/2014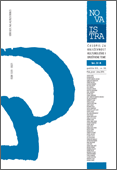 Summary (en)
Veliki rat i ništa manji mir
The big war and no less piece (trans. G. Filipi)
Suvremena književnost
Contemporary literature
Sin otac sin
Son father son
Snijeg u mojim očima
Snow in my eyes
San je moj neprijatelj
The dream is my enemy
Pet pjesama
Five poems
Nedoumice otimača tijela
The body usurper's dilemmas
Snajperist
The sniper
Pjesme
Poems
Novi prijevodi
New translations
Suvremena bugarska kratka priča
Contemporary Bulgarian short story
(trans. I. Primorac)
Etienne
Povratak Teddyja Browna
Teddy Brown's return
Probudi me kada kolovoz završi
Wake me up when August finishes
Pjesme
Poems (trans. Ž. Lovrenčić)
Odisej
Odysseus (trans. V. Begić)
Pjesan o brodogradilištu
The shipyard poem (trans. V. Begić)
Tema: Optimizam
Topic: Optimism
Optimizam kao filozofija održivosti
Optimism as the philosophy of sustainability
Tamna tinta svijetle budućnosti
The dark ink of bright future
Sjeti se vale da si more!
Remember, the wave, you are the sea!
Umišljanje utopija kao modus europskog nihilizma
Getting ideas about utopias as a modus of the European nihilism
OP!TI?MI!ZA?M!
Razmišljanja o životu u umjetnosti
OP!TI?MI!S?M!
Thinking about life in art
Pisanje – ključna riječ u definiciji optimizma
Writing – the key word in the definition of optimism
Izazov rastvaranja
Trpni optimizam ili poetika "Divlje duše" Marije Čudine
A challenge of opening
The passive optimism or poetics of 'The Wild Soul' by Marija Čudina
Život je pred nama: varijacije o optimizmu
Life is in front of us: variations on optimism
O stilovima objašnjavanja i panglosijskoj retorici
Of styles of explanation and Panglossian rethoric
Na putu k svjesnoj utopiji?
On the way to conscious utopia? (trans. S. Širec Rovis)
Optimizam i pesimizam u funkciji palanke
Optimism and pesimism in the function of backwater town
Nagrada "Zvane Črnja" za 2013.
2013 Zvane Črnja Award
Marko Grčić: "Slijepi Argus"
Marko Grčić: The Blind Argus
Obrazloženje: Irvin Lukežić
Citation: Irvin Lukežić
Ogledi i zapisci
Essays and notes
O korisnosti intelektualne povijesti
(Domenico Losurdo: Controstoria del Liberalismo / Protupovijest liberalizma)
On the usefulness of intellectual history
(Domenico Losurdo: The counter-history of liberalism)
Uz stoti rođendan Nicanora Parre
On the occasion of Nicanor Parra's 100th birthday
Feljton jučer, danas...
Feuilleton yesterday, today...
Dobar čovjek i dobar vjernik u pjesničkom izjednačavanju
(Božidar Petrač: Cedulje sestri Klari...)
The good man and the good believer in poetic equalization
(Božidar Petrač: Notes to Sister Klara...)
I divlji postaje pitom
(Aleksa Kokić: U sjenama ravnice
Even a savage becomes gentle
(Aleksa Kokić: In the shadows of plains)
Bilješka o poeziji Amira Brke
A note about Amir Brka's poetry
Tema: Politika i političari
Topic: Politics and politicians
Tko ždere u hrvatskoj politici?
Medijske reprezentacije janjetine u političkom diskursu
Who eats greedily in Croatian politics?
Media representations of lamb meat in political discourse
Govor politike ili varanje metaforom
The speech of politics or cheating with metaphors
Negativni Pigmalionov učinak, ili doba slinavaca
The negative Pygmalion effect, or the time of droolers
Jesmo li guske? Jesmo li anđeli?
Are we geese? Are we angels?
Fragmenti političkog diskursa – posve slučajan izbor
The fragments of political discourse – a random choice, indeed
Politika kao manipulacija
Politics as manipulation
Politika, književnost... Hrvatska
Politics, literature... Croatia
Gleda te u oči i...: percepcija političara u Hrvatskoj
He looks you in the eyes and...: the perception of a politician in Croatia
Političari i politika bez polisa
Politicians and politics without Polis (trans. G. Filipi, G. Starčević)
Teatrokracija i društvo spektakla
Teatrocrazia and the society of spectacle
Odgovornost, ili zašto upravo danas intelektualci?
Responsibility, or why intellectuals today of all days?
Varijacije ironije
Irony variations
Prilozi o zavičaju
Native region contributions
Njemačkojezični periodici koji su izlazili u Puli i na Brijunima tijekom austrijske uprave u Istri
German periodicals published in Pula and on the Brijuni Islands during the Austrian rule in Istria
Vatrometna Pula
The fireworks Pula
Kritički pristupi i osvrti
Critical reviews
"Čuvar vrsne priče"
(Stjepan Čuić: Čuvar srpa i čekića)
The excellent story preserver
(Stjepan Čuić: The hammer and sickle preserver)
"Uz Huysmansov roman 'Na putu'"
With Huysmans's novel En Route
(Joris-Karl Huysmans: En route)
"Ćurićevi ženski likovi"
(Mirko Ćurić: Braća u poniženju)
Ćurić's female characters
(Mirko Ćurić: Brothers in humiliation)
"Suvremena ženska crnogorska poezija"
(D. Ivezić /ed./: "Koret na asfaltu"
Contemporary Montenegrin poetry
(D. Ivezić /ed./: Part of the women's national costume on the asphalt)
"Sidrište u Sredozemlju"
(Pero Pavlović: Humčice, biljčice, slike nebeske)
Anchorage in the Mediterranean
(Pero Pavlović: Small hillocks, small plants, celestial images)
"Čitajući kratke priče"
(Darija Žilić: Klavžar)
Reading short stories
(Darija Žilić: Klavžar: An extinct European bird)
"Novi historiografski pogled na prošlost Dalmacije"
(Josip Vrandečić: Borba za Jadran...)
A new historiographic insight into Dalmatia's history
(Josip Vrandečić: A struggle for the Adriatic)
"Pogled u prošlost Pule"
(Slaven Bertoša: Migracije prema Puli...)
An insight into Pula's past
(Slaven Bertoša: Migrations to Pula...)
"Komunistička monografija Istre ni o čemu"
(Istra u Titovo doba)
The Communist monograph of Istria on nothing
(Istria in Tito's age)