1-2/2014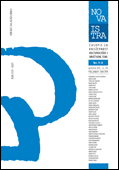 Summary (en)
Prigovor Ministarstvu kulture Republike Hrvatske
An objection to the Ministry of Culture of the Republic of Croatia
Suvremena književnost
Contemporary literature
Lažna priča Ulderika Donadinija i ostale krivotvorine
Ulderiko Donadini's false story and other falsifications
Moja ispisana koža
My skin covered in writing
Imperativi
Imperatives
Čarobni higijenski kvadratići
Magic hygienic little squares
Vatrenjaci
Sprites
Mjesec u komadićima
The fragmented moon
Praznina
The emptiness
XVIII. Šoljanovi Dani U Rovinju
Književni opus Viktora Vide (1913. -1960.)
18th Šoljan Days in Rovinj
Literary work by Viktor Vida (1913-1960)
Autobiografski zapisci Viktora Vide
Viktor Vida's autobiographical notes
Viktor Vida u "Hrvatskoj reviji"
Viktor Vida in Hrvatska revija (The Croatian review)
Vezani i slobodni stih u poeziji Viktora Vide
The bound and free verse in Viktor Vida's poetry
Talijanske teme u Vidinu opusu
The Italian topics in Vida's opus
Viktor Vida – pjesnik, prozaik, prognanik
Viktor Vida – the poet, prosaist, refugee
Interpretacija pjesme "Groblje pokraj mora" Viktora Vide
The interpretation of Viktor Vida's poem Groblje pokraj mora (The graveyard by the sea)
O fikcionalnoj prozi Viktora Vide "Tajno poslanje"
On Viktor Vida's fictional prose Tajno poslanje (The secret mission)
Mediteranizam Viktora Vide
Viktor Vida's mediterraneanism
Pozadina Vidina teksta/polemike "Rasulo Doriana Vlaja"
The background of Vida's text/Polemic Rasulo Doriana Vlaja (The disintegration of Dorian the Vlach)
Kasna poezija Viktora Vide u svjetlu knjige Huga Friedricha "Struktura moderne lirike"
Late Viktor Vida's poetry in the light of Hugo Friedrich's book The structure of modern poetry
Vidina slika Karla Jaspersa
Vida's picture of Karl Jaspers
Kritike i eseji Viktora Vide
Reviews and essays by Viktor Vida
Novi prijevodi
New translations
Sova i kit (prev. B. Brlečić)
Le hibou et la baleine (The owl and the whale) (transl. by B. Brlečić)
Deset pjesama (prep. Ž. Lovrenčić)
Ten poems (transl. by Ž. Lovrenčić)
Buđenje Mahruha (prev. A. Pataki)
Mahruh (Mahruh's waking) (transl. by A. Pataki)
Studije, ogledi, zapisci
Studies, essays, notes
Neuralgična pitanja hrvatske stvarnosti (Ratko Cvetnić: "Povijest Instituta")
Neuralgic issues of the Croatian reality (Ratko Cvetnić: Povijest instituta /The history of the institute)
Patnja i uskrsnuće silovanih vukovarskih logorašica 1991.-1992.
The suffering and resurrection of the raped women camp inmates from Vukovar 1991-1992
Čileanska poezija hrvatskoga podrijetla (prev. Ž. Lovrenčić)
Chilean poetry of Croatian origins (transl. by Ž. Lovrenčić)
Motiv dvojnika u Pamukovu romanu "Bijeli zamak"
The motif of the double in Pamuk's novel Beyaz Kale (The white castle)
Nizeteovi romanistički prinosi
Nizeteo's humanistic contributions
Prilozi O Zavičaju
Native region contributions
Spašavanje djece istarskih Hrvata u Moslavini tijekom Prvoga svjetskog rata
Saving the children of the Istrian Croats in Moslavina during the First World War
Metoda i kulturni sadržaj "Životopisâ.." Pietra Stankovića
The method and cultural content of Biografia... (The Biography...) by Pietro Stanković
Istra u sjećanjima učiteljice: Ana Došen
Istria in the memory of a teacher: Ana Došen
Kritički Pristupi I Osvrti
Reviews
"Osvjetljivanje komunističke prijevare"
(Ivan Grljušić: Komunističke priče)
"Throwing light upon the communist deceit"
(Ivan Grljušić: Komunističke priče / The communist stories)
"Roman obilježen pop-kulturom"
(Irena Lukšić: Očajnički sluteći Cohena)
"The novel marked by pop-culture"
(Irena Lukšić: Očajnički sluteći Cohena / Desperately sensing Cohen)
"Politika i obiteljske tajne"
(Ratko Cvetnić: Povijest Instituta)
"Politics and family secrets"
(Ratko Cvetnić: Povijest institute / The history of the institute)
"Priče s morske strane"
(Milan Osmak: Ovce na južnom vjetru)
"The Seaside Stories"
(Milan Osmak: Ovce na južnom vjetru / Sheep in the southern Wind)
"Knjiga dobrih priča, ali i prosječnih zapisa"
(Enver Krivac: Ništa za pisati kući o)
"The book of good stories but average notes"
(Enver Krivac: Ništa za pisati kući o / Nothing to write home about...)
"Pohvala običnom životu"
(Jana Prević Finderle: Ti još pričaš o nogometu)
"A praise to the common life"
(Jana Prević Finderle: Ti još pričaš o nogometu / You're still talking about football)
"Tematski promašen i filmskoj Puli nepotreban zbornik"
(N. Gilić – Z. Vidačković /ur./: 60 godina Festivala igranog filma u Puli i hrvatski film: zbornik radova)
"A thematically failed collection of papers, not needed to the Pula film city"
(N. Gilić – Z. Vidačković /ed./: 60 godina Festivala igranog filma u Puli i hrvatski film:: zbornik radova / 60 Years of the Pula Film Festival and Croatian film: Collection of papers)
"Jubilarni zbornik" (Buzetski zbornik, sv. 40.)
"The jubilee collection of papers"
("Buzetski zbornik", sv. 40. / The Buzet collection of papers, Vol. 40)
"Zdenac života" Ivana Meštrovića u Zagrebu
(Miljenko Galić – Josip Botteri Dini: Meštrovićev zdenac – u spomen artifeksa)
"The well of life by Ivan Meštrović in Zagreb"
(Miljenko Galić – Josip Botteri Dini: Meštrovićev zdenac – u spomen artifeksa / Meštrović's well – in memory of Artifeks)
U iščekivanju konačne slobode: Jovan Nikolaidis
"Waiting for the ultimate freedom"
(Jovan Nikolaidis: Budim se sa tuđinom u sebi / I wake up with foreign parts in me)