3/2014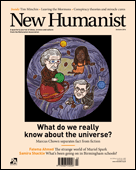 Regulars
Editor's Note
Letters
Author Carys Bray on her strict Mormon upbringing and her debut novel
Dispatches on culture, science, and politics
Is pacifism a humanist value?
Set by Chris Maslanka
Columns
Politics
The enduring appeal of conspiracy theories
Music
The rise and fall of Robin Thicke
Football
The ethics of being a fan
Endgame
Who's the man with the knife in his back?
Features
Society
Extremism or backlash: what really happened in Birmingham's schools?
Cover story
Ten cosmic myths exploded
Interview
How actor and comedian Tim Minchin conquered the world
History
What does it mean to mark the Holocaust, as it slips from living memory?
Environment
Are we more awestruck by human achievements than we are by nature?
Rituals
Non-belief is changing the way we handle death -- but there's still something missing
Culture
Ideas
Literature
The work of Muriel Spark
Television
A Cold War thriller has us cheering for the Soviets
Travel
The occult economy is thriving in South Africa
Books
Jonathan Rée on the secular debt to Christianity
David Wearing on the global South
Yo Zushi on Dylanology
Andrew Copson on the trouble with Islamophobia
Lee Rourke's fiction round-up
Isabel Allende
Poetry