3/2015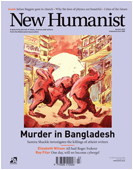 Regulars
Editor's Note
Letters
Nobel-winning physicist Frank Wilczek
Dispatches on science, culture and politics
Set by Chaliapin
Is there such a thing as free will?
Set by Chris Maslanka
Columns
Free speech
What liberals get wrong about offence
Cosmos
The force that binds us
In a word
The meaning of "reform"
Endgame
No photos - I'm partying
Features
Cities
As the world's population grows, how will we live?
Memoir
Years of chronic alcoholism left me with a stark choice
Cover story
How a close-knit group of bloggers found themselves under attack in Bangladesh
Bodies
Technology promises ever more control over the self, but will it liberate us?
Sermon
What happened when an atheist addressed a church congregation
Culture
Television
The strange death of British satire
Literature
Jenny Diski's mission to know herself
Sport
Why do so many people worship Roger Federer?
Film
Corruption, power and lies in turbulent post-Soviet Ukraine
Ideas
Would more careful reading of religious texts help prevent violence?
Books
Niki Seth-Smith on the happiness industry
Lucy Popescu on Jon Ronson and being publicly shamed
Fiona Sampson on poetry's search for pattern and meaning in human life
Andrew Mueller on a history of bizarre sports
Poetry