4/2014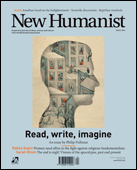 Regulars
Editor's Note
Letters
Campaigner Shami Chakrabarti on liberty
Dispatches on culture, science, and politics
Is there a place for religion in schools?
Set by Chris Maslanka
Columns
Cosmos
Life: the cosmic connection
Celebrities
Revolution, the Russell Brand way
How to watch football
What use is a glorious past?
Endgame
He's still a jolly good Fellow
Features
Interview
Charlie Brooker talks about rationalism, comedy and mental health
Conflict
How should we fight religious fundamentalism?
Conspiracies
Ten hours with David Icke
Cover story
The responsibilities of a writer
Reportage
How Turkey's ruling party has struggled to reconcile Islamic tradition with free-market capitalism
In conversation
Can we imagine a world without work?
Culture
Ideas
Why Enlightenment values are truly global
Television
Utopia and other visions of the apocalypse
Fashion
A feminist history of the handbag
Film
What Pride tells us about class and sexuality
Travel
A journey to China
Books
Francis Beckett on abuse in the Catholic Church
Matthew Adams on a history of severed heads
Houman Barekat on Jewish identity
Joana Ramiro on Angola's forgotten past
Rebecca Swirsky on Mohsin Hamid's essays about the War on Terror
Poetry
The Marker
G. & A. Boden
Les Beaux Jours
Alone