1/2015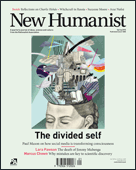 Regulars
Letters
Writer Azar Nafisi on freedom and imagination
Dispatches on science, culture and politics How would you define humanism?
Set by Chris Maslanka
Columns
Politics
In election year, politics is lacklustre
Film
Selma and the history of black British activism
In a word
What does it mean to talk about the "economy"?
Endgame
The power of chance
Features
Reportage
The rise of faith healers and sorcerers in Russia
Cosmos
How the afterglow of the Big Bang was discovered
Knowledge
The greatest accidental scientific discoveries
Rights
Are people dehumanised by immigration systems?
Cover story
Interview
Historian Diarmaid
MacCulloch discusses his new television series on sex and Christianity
Culture
Ideas
Have world religions been the cause of violence through the ages?
Television
Broadchurch, The Leftovers, The Missing: on-screen exploration of loss
Literature
The thrillers of the enigmatic Italian writer Elena Ferrante
Photography
Today, is there still a role for the war photographer?
The last word
A visual response to the attack on Charlie Hebdo
Books
Rory Fenton on the search for meaning in a humanist life
Dawn Foster on poverty and rising inequality
Owen Hatherley on architecture and democracy in postwar Europe
Lee Rourke rounds up the best new fiction
Poetry
The Pelts of Animals
Leopolis (Lviv)
Missing Out