4/2015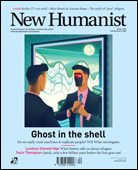 Regulars
Editor's Note
Letters
Leading classicist Mary Beard
Dispatches on science, culture and politics
Set by Chaliapin
What three things should the city of the future contain?
Set by Chris Maslanka
Columns
Cosmos
The secret of rock tides
Politics
Blasphemy and mob killings in South Asia
In a Word
The meaning of "charter"
Endgame
Your couch or mine?
Features
Rights
Learning lessons about the current refugee crisis from those of the 20th century
Cults
The demise of self-proclaimed God Jehovah Wanyonyi
Stars
Forecasting the inevitable and spectacular death of the Sun
Ideas
Is empathy the most underrated force for social and political change?
Justice
Beyond the hyperbole, the reality of sharia law
Leaders
How South Africa shaped Mahatma Gandhi
Cover story
The looming robot revolution
Culture
Fashion
How makeup reshaped the world, as well as cheekbones
Religion
The intellectual hotbed of late antiquity
Television
Why Celebrity Big Brother has got even crueller
Art
A striking new exhibition of black British art
Books
Dawn Foster on life after capitalism
Sarah Ditum on novelising late-'70s Lennon
Rory Fenton tackles humanist heavyweights Dawkins and Grayling
Ray Filar on a transgender memoir
Poetry