Magyar Lettre Internationale 83 (2011)

83 (2011)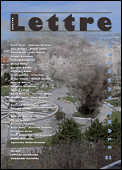 Miłosz
Nem végleges diagnózis
Non-final diagnosis
An interview on Russian, Polish and Lithuanian history and literature first published in Russian in Nowaja Polsza, translated from Tygodnik Powszechny 28/2006
Miłoszhoz
Letters To Miłosz
A legérdekesebb dolgok a végekről jönnek
Best things come from the preiphery
Át a "hideg" frontvonalon
Across the "cold" frontline
A kétkedés előtt öt perccel
Five minutes before doubting
A rabul ejtett értelemről
About the captive mind
Septentrion jövevényei
Visitor from Septentrion
A Kelet-Nyugat dialógusról
On East-West dialogue
Költészetről, távollétről és búcsúról Európától
On poetry, non-presence and a farewell to homeland
Verset a Szabadság Rádiónak
A poem for Radio Freedom
Puszta kézzel a tüzet
To catch the fire with bare hands
Visegrádi Kistotál
Visegard Small Total
A totalitarizmus két változatáról
On two versions of totalitarianism. Excerpt from a longer essay first published in Gazeta Wyborcza issues 26.5.2009, 16.6.2009, entitled "Inhumanity is part of human nature".
Ezekkel akarják felépíteni az új világukat?
Excerpt from the novel Selfbiography of the Evil
Terra nova
Excerpt from the novel Patriarchátu dávno zaąlá sláva / Dawn of Patriarchs
Munkakópia
Excerpt from the novel Working Copy
Brünni történet
Brno story. Transcription of Kafka's Metamorphosis, prepared for the Budapest Transfer Festival
Hunok és szarmaták
Pizza Auschwitz. First published in Gazeta Wyborcza (3.5.2006)
Meg akarod nevettetni Istent?
Do you want to make God laugh? Tell him about your plans
From his latest volume "Zrób sobie raj" (Czarne 2010)
Milyen az igazi európai
Seven commendments for the true European (from his
Diary
, first published in
Przekroj
, see also
salon.eu.sk
Nomádok városa
City of Nomads. First published in Res Publica Nowa 14 (2011)
(Central Europe as a City), a cooperation between the Visegrad journals Host, Res Publica Nowa, Magyar Lettre and Kritika and Kontext
Még jó, hogy kórházban vagy...
Thank heavens you're in the hospital...
First published in Res Publica Nowa 14 (2011)
Kirándulás a legvidámabb barakkból egy másikba
Excursion from one of the joyous baracks to another
Mindenszentek Rádió
Radio All Saints
First published in
Tygodnik Powszechny
, see also
salon.eu.sk
Örökség
Heritage (short story)
Fehér
White (short story)
Miként munkáltak a sors istennői a jó Zsigmond király birodalmában? (regényrészlet)
Excerpt from the novel, a work in progress about Janus Pannonius,
the first Hungarian poet, and the history of the region in the 16th century
Közép-Európa a történelme nélkül (interjú)
An interview with the Polish author by Katarzyna Janowska and Piotr Mucharski, first published in Tygodnik Powszechny
Az aszályos huszadik század (Rövid töprengés afölött, miként van jelen
T. S. Eliot hagyatéka a múlt század cseh és szlovák költészetében)
On differences in Czech and Slovak poetry through the different reception of
T. S. Eliot
Czesław, a vámpír (Beszélgetés Miłoszról a kiadójával)
Czesław, the vampire (conversation with the publisher of Miłosz)
Kommentárok, viták
Commentaries, discussions
Czesław Miłosz útja a magyar olvasóhoz, avagy egyeztetett kultúrpolitika a szocializmusba
The road of Czesław Miłosz to the Hungarian reader, or negotiated cultural politics during socialism
A lengyelek és az orientalizmus. A periféria kulturális tehetetlensége ellen
Said and the Poles. Against the cultural impotency of the periphery
First published in Europa 65 (2005-06-29)
Pozsonyi Közép-Európa fórum a totalitárius struktúrák megújulásáról
Central European Forum on the revival of totalitarian structures (based on the panel discussion "Totalitarian structures: a new lease of life?", Bratislava, November 2009)
www.ceeforum.eu
Tudósítások
Correspondence
A poszt-értelmiségi
The post-intellectual (first published in Polityka, see also salon.eu.sk)
Versengő cseh városok
A tale of three cities. First in Res Publica Nowa 14 (2011)
Hétköznapok folyóval
Everydays with the river
Versek
Poetry
The poetry section is partly a result of the "Visegrad Poetess" and the "Lettre-Vlna" cultural exchange projects
Képek
Illustrations
Lettre arc-kép: Németh Ilona munkáit bemutatja Hushegyi Gábor
The works of Ilona Nemeth Ilona (Dunajska Streda) presented by Gabor Hushegyi (curator of the Slovak National Museum)

Photos of the Visegrad Visibility Art Group (Julia Baier, Daąa Barteková, Csoszó Gabriella, Tomaą Gindl, Barbora Holubová, Somogyvári Kata, Szentesi Csaba, Varró Zsuzsa, Zuzana Zborilová)