Magyar Lettre Internationale 82 (2011)

82 (2011)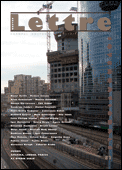 Kornis
Révai Gábor beszélget: Hol voltam, hol nem voltam (részletek egy beszélgetőkönyvből)
Mihaly Kornis on his life
Amerika, London, Parizs
Small step for a man, giant leap for me
New York reportage
Free entry
On London Museums
A látható, a totalizált és a láthatatlan város
Zooming in on Paris
Csernovic (Egy vízbefúlt emlékiratai)
On Tschernowitz (first published in Wespennest)
Káprázat (regényrészlet)
Extracts from the trilogy Orbitor
Városok a magasban
The magic of "the happy years of peace"
The Hungarian urban milieu of the Carpathian Basin -- its past and present, written for the Central Europe as City common English issue of Res Publica Nowa, Host, Kritika & Kontext, Lettre
Képek egy vasútállomásról
Pictures from a train station
Építésznek lenni Közép-Európában
Lucien Hervé ars poeticája
Ars poetica of the photographer Lucien Hervé
Menni vagy maradni?
To stay or to leave? Opening speach at the exhibition of the EL AWAY project, Pecs
AZ ÖTÖDIK SVÁJC
The fifth Switzerland
(published with the support of Pro Helvetia)
Svájc mítosza és mítoszai
Switzerland as a mythos
A forrásnál
At the source
Zöldfülü
Grünschnabel -- excerpt from the novel
Amikor Röbi Schacher megszökött
Excerpt from the novel In April
Meghalt a szerző, éljen a szerző?
Ego-firms in everyday discourse
Hármasban, Viszonyok
Short prose
Duna-kockák 15-16
Danube cubes 15-16
Melankólia barátnőnk
Our friend, melancholy -- essay
Ez a rengeteg élet
So viel Leben (short prose)
Svájci pluri- és multikulturalitás
On pluri- and multiculturalism in Switzerland
A tátongó űr
Excerpt from the novel La beyance
A Kovács-család
Excerpt from the novel Tauben fliegen auf
Az emigrációról
On emigration
Szekeres Dóra beszélgetett: Mit írogattam volna ott Svájcban magyarul? (a litera-interjúból)
"Why should I have written for them in Hungarian there in Switzerland?"
From the last interview with Agota Kristof
Kommentárok, viták
Commentaries, debates
Foucault-ról
On Foucault
Rousseau-ról
On Rousseau
Jegyzetek a sétálókönyvhöz
Notes to the walking book
Mítosz és ész
Mythos and mind
Tudósítások
Correspondence
Tunéziáról
On Tunisia, first published in Esprit
A történelem előreláthatatlanságáról
On the unpredictability of history -- from the German edition of Lettre
Kis esszé a nagy orosz természetről
A small essay on the big Russion nature -- first published in Wespennest
Pécs -- egy félbemaradt modernizációs kísérlet
Pecs -- an unfinished modernization experiment
Versek
Poetry
Képek
Illustrations
Lettra arc+kép: Szigethy Anna képeit bemutatja Mélyi József
The works of Anna Szigethy introduced by József Mélyi
Christoph Rütimann videostilljeiből
From the videostills of Cristoph Rütimann
A borítón Szigethy Anna párizsi fotója
Cover photo by Anna Szigethy from Paris