Magyar Lettre Internationale 79 (2010/2011)

79 (2010/2011)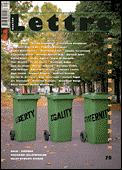 Apám kommunista volt (Lettre-Eurozine-beszélgetés)
Visegrádi belátnivalók
Visegrad visibility -- sight and insights
A szabadság ajándékai
The gifts of freedom
A németek képe a lengyel irodalomban
Homokhegy
A chapter from the novel Piaskowa Góra
Szüret
A short prose text on the Holocaust
De még ha kitalálta is az egészet
(Kapu¶ciński non-fiction)
Műmárvány síremlék
A chapter from the novel Nagrobek z lastryko
A szabadság hidegzuhanya (A cseh irodalom 1989 után)
The cold shower of freedom. About Czech literature after 1989
Hideg földön át
A chapter from the novel Chladnou zemí
Lelketlen ország
A country without soul, an essay
Gerta Schnirch meghurcoltatása
Chapters from the novel
Vyhnání Gerty Schnirch
(
The Expulsion of Gerta Schnirch
)
About the fate of one woman in a shattered world, the guilt of Czechs and Germans, whether forgiveness and mutual understanding are possible
A kakas éve
Extracts from the book Rok kohouta
About difficulties with adopted children
Zsaruk
Short prose
Mácha kísértetei. A többnyelvűség mint irodalmi kánon
The ghosts of Macha. Multilingualism as literary canon
versfordítások és átiratok
A Czech and a Hungarian poet translating and rewriting each others poems
Aztán egyszer csak -- bumm! Nyelvtörvény!
And suddenly BOOM! Language law!
Hviezdoslavval az élet
A chapter from the novel ®ila som s Hviezdoslavom
The life of a Slovak national hero from the perspective of his wife
Göllnerová Gwerkováról
About the life and work of a Slovak feminist between the two wars in Banska Stiavnica
Az Atya nevében (Nemezis)
In the name of the Father A short story about changes in everyday life in Slovakia
Otthon
A chapter from the novel Domov
Sexus solaris
Excerpts from a novel
Solitaire.sk
Excerpts from a play
Duna-kockák
Danube cubes
Excerpt from a book, a series of short poetic prose texts about the Danube translated by Peter Esterhazy
Kelet-nyugati átjáró
East-west passage
A Nyugat történelme keleti szemmel
The history of the west from an eastern perspective
Gombrowiczról
On Gombrowicz
Az elnyomás fővárosa, avagy az európai Kanári-szigetek
Selmecbányáról
All that is solid melts into air -- on Banska Stiavnica
Bársonyos forradalmak
Velvet revolutions
Budapesti előadása
The Budapest talk by Vaclav Havel
Közép-Európa Fórum Pozsonyban a demokrácia gyengüléséről
The Central European Forum in Bratislava on the weakening of democracies
Kommentárok, viták
Discussions, comments
Közép-európai fogadtatásáról
On Central European reception of the work of Peter Nadas from a conference in Bratislava, at the Institute for World Literature of the Slovak Academy of Sciences
Nádas Péter műveinek recepciója Lengyelországban
On the Polish reception
Nádas Péter csehországi fogadtatásáról
On the Czech reception
A szlovák Nádas-recepció
On the Slovak reception
Tudósítások
Correspondence
Fájlok útközben
Files on the way
Nado sebia liubit'!
On his experiences in Kiew
Tájképészet
Transylvania seen from the train window commuting
Képek
Illustrations
Lettre arc-kép: A Public Dialog c. komáromi szlovák-magyar akciót bemutatja Hushegyi Gábor
A Public Dialogue, Slovak-Hungarian artists performances in Komarno/Komarom in October 2010 presented by Gabor Hushegyi, curator of the Slovak National Museum
A Visegrad Visibility Art Group tagjainak fotóiból
From the works of the Visegrad Visibility Art Group (Julia Baier, Marketa Bendova, Csoszó Gabriella, Barbora Holubova, Magdalena Malińska, Rachel Mikos, Christoph Spatschek, Szentesi Csaba, Varró Zsuzsa)
Versek
Poems
Published with the support of the International Visegrad Fund in the framework of the Visegrad Visibility Project of the European Cultural Foundation Budapest