Magyar Lettre Internationale 94 (2014)

94 (2014)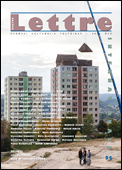 Grendel
Grendel Lajos Pozsony felett a Kalligram-toronyban
Lajos Grendel above Bratislava in the Kalligram tower
Lokálpátria
Nosztalgia és emlékezés a kortárs lengyel regényekben
Nostalgia and memory in contemporary Polish novels
Schulz miatt utaztunk Drahobicsba
We went to Drohobic because of Bruno Schulz
Mangalicacsárdás
Excerpt from a new book of reportages about Hungary
Mi lett volna, ha? (Kontrafaktuális cseh történelmi regények)
What would have happened if…? /Contrafactual contemporary historical novels
Csehek és szlovákok (Martin Juhás…)
Czechs and Slovaks, excerpt from the novel Martin Juhás…
Surmena - a žítkovai bűbájosok
Surmena - excerpt from a novel
Orosz tél, magyar nyár, prágai tavasz
Russian winter, Hungarian summer, Prague Spring
Tyúkszárnyakon – (Kontextusok és szubtextusok Irena Brežna regényében)
On chicken wings, contexts and subtexts in the novel of Irena Brežna
Pozsonyban merre?
Where in Bratislava?
Márai Kassája
Košice of Marai
Val Deák Renáta beszélget az Anasoft Litera szlovák irodalmi díjról
An interview with Katarína Kucbelova about the Slovak literary award ANASOFT
Best of Anasoft Litera
A kortárs szlovák próza tematikus pillérei
Thematic pillars of contemporary Slovak prose
Első és utolsó szerelem
First and last love (excerpt from a novel)
Rendezetlen ügy
Unsolved issue (excerpt from a novel)
1968 traumája és emlékezete Szlovákiában
The trauma and memory of 1968 in the literature in Slovakia
A süket ember háza
House of the deaf man (excerpt from a novel)
Az apa nevében
In the name of the father (excerpt from a novel
Az ötödik hajó
The fifth ship (excerpt from a novel)
Kale topánky
Black shoes (excerpt from a novel)
Kárpátalja
Carpathia (excerpts)
57 km-re Taskenttől
57 km-s from Tashkent (excerpt from a novel)
Visszatérni Genovából
Returning from Genova
Menettérti
Places in the net (excerpt from a novel)
Kommentárok, viták
Commentaries, debates
Pozsonyi konferencia kortárs közép-európai történelmiregény-változatokról
Conference papers from the Bratislava Institute for World Literature on contemporary history novels in Central Europe
A testbe írt történelem (Nádas Péter Párhuzamos történeteiről)
History written int he body (On the novel of Peter Nadas Parallel Stories)
Történetiség és emlékezet Esterházy Péter regényében (Harmonia cćlestis)
Historicity and memory in the novel of Peter Esterhazy
Mágikus realizmus a magyar irodalomban
Magical realism in the contemporary Hungarian literature
Erdély-regények, történelmi alulnézetek
Novels from Transylvania, history seen from below
Tudósításokt
Correspondances
Garcia Márquezről
Ral Iris Radisch beszélgetett
Interview with the Polish writer Joanna Bator
Interjú a lengyel gender-vitáról
Interview with Agnieszka Holland about the Polish gender-debate (first published in Kultura Liberalna, contributed to Eurozine)
A Krím "visszatért"
Memories about the Crimea (first published in the German edition of Lettre Internatonal)
Versek
Poetry
Képek
Illustrations
Lettre arc-kép TomᚠDžadoň munkáit bemutatja Hushegyi Gábor
On the cover the work of the Slovak artist TomᚠDžadoň installed in Kosice "Memory of Folk Architecture"