Lettera internazionale 112 (2012)

112 (2012)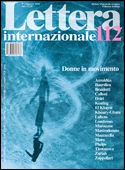 Donne in movimento
Women in mouvement
Fiore violato
Violated flower
Nuove riflessioni sul dominio maschile
New thoughts about the male dominance
Donna: nomade e plurale
Woman nomadic and plural
Ricordi di una donna, memorie degli italiani
Memories of a woman, memories of Italians
Una storia tra tante
A story among many
Disobbedisco e ti porto al mare
I disobey and take you to the sea
Donna italiana: digitale o analogica? (intervista di Biancamaria Bruno)
Italian woman: digital or analogical?
Il viaggio delle donne è appena iniziato...
The construction of the self in motion...
Attraversare le frontiere
Crossing borders
Scivoliamo scivoliamo con il pianeta
Slipping, slipping away with the planet
Con la pioggia, anche la follia
Rain and madness
È così che le donne crescono...
That's how women grow up
Le donne del Mediterraneo. Tra primavere arabe e crisi
Spring and autumn: the women of the Mediterranean
Immaginario post-sovietico: una prospettiva di genere
On post-Soviet imaginary and global coloniality: a gendered perspective
La questione della donna nell'Argentina
The issue of women in Argentina
Un ponte fra tanti mondi
A bridge among many worlds
Per una frontiera invisibile
For an invisible frontier
Caccia agli angeli
Hunting for Angels
La vecchietta che cercava le stelle
The old lady who was looking for the stars
Gli artisti di questo numero
Mariapia Borgnini, Christiane Löhr, Gea Casolaro, a cura di Aldo Iori
I libri
Recensioni a cura di Tiziana Bartolini, Madel Crasta, Stefano Lusa, Marco Maurizi