Lettera internazionale 110 (2011)

110 (2011)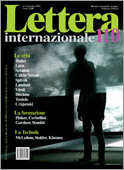 Le crisi
Crises
Lavoratori usa-e-getta
From and against precarity
Keynes è morto. Viva Keynes
Keynes is dead. Long live Keynes
L'economia irreale
Unreal estate
I confini d'Europa. Il Mediterraneo e i resti degli imperi
The Mediterranean Sea and the remains of the empires
Sciopero generale
General strike
Attualità dell'indignazione. Movimenti e potere destituente
Indignados: social movements and destituent power
La libertà politica è un bene fragile
All citizens have the duty to be loyal to the republic and to uphold its "constitution and laws"
Un'idea dell'Italia. Cultura e politica dello storicismo
A short story of italian historicism
1861-2011: l'Italia e l'economia internazionale
1861-2011: Italy and international economy
Virgilio presso gli Sciti
Virgil in Scythia
La formazione
Education
Domare il diavolo in noi
Taming the davil within us
Scienza e autodeterminazione. Le basi neurocognitive della modernità e il declino della religione
Science and self-determination: the neurocognitive origins of modernity and the decline of religion
Cinque Menti per il futuro
Five minds for the future
ć
Lunga è la via della liberazione dal dolore
Getting rid of pain is a very long way
La Technik
Technik
La lettura e il futuro dell'identità privata
Reading and the future of private identity
Metamorfosi della trasparenza. WikiLeaks, Tiqqun e oltre
The transformation of transparency: WikiLeaks, Tiqqun and beyond
Benvenuti nell'era ibrida
Welcome to the hybrid age
The artists of this issue
Muta Imago, Ciriaco Campus, Giuseppe Varchetta.