Lettera internazionale 120 (2014)

120 (2014)
Europa ai margini [Europe at its margins]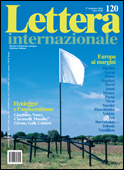 Cambiare Europa o cambiare l'Europa?
How to change Europe?
Il caso Grecia
The Greek case
Il sintomo greco
The Greek symptom: Debt, crisis and the crisis of the left
Il confronto con l'Antico
Modern and ancient Greeks: a comparison
Alla ricerca della tomba del super re
The quest for the superking's grave
Il caso Albania
The Albanian case
Fare il contadino della poesia
A farmer of poetry
Valori di scarto
A bargain of waste
Ma l'Albania guarda a Occidente?
The Albanian Islam
Il caso Ucraina
The Ukraine case
L'Ucraina tra due mondi
Ukraine between two worlds
Ucraina e disinformazione
Ukraine and misinformation
Diari e memorie del Maidan
Diaries and memoirs of the Maidan
Quando c'era il Muro
Il 1989 e l'imprevedibilitā della Storia
1989 and the unpredictability of history
Caserme abbandonate
Abandoned barracks in Central Europe
Tutta la veritā sul caso Mercader
The truth about Ramon Mercader
Compagna Ana. Il paradosso Pauker
The Pauker paradox: Anti-semitism and communism
La colpa antisemita
Xenofobia, antisemitismo e i Quaderni Neri di Martin Heidegger
Xenophobia, anti-semitism and Martin Heidegger's Black Notebooks