3/2015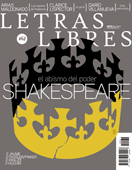 Dossier: Shakespeare: el abismo del poder
Dossier: Shakespeare: the abysm of power
El poder de Shakespeare
Shakespeare's power
De Ricardo III: Habla lady Ana (versión de Jordi Doce) y El sueño de Clarence (versión de Pedro Poitevin)
From Richard III: Speaks lady Ana (version by Jordi Doce) and Clarence's dream (version by Pedro Poitevin)
Coriolano, el antipopulista trágico
Coriolanus, the tragic antipopulist
El científico y el moralista (entrevista con Steven Pinker)
The scientific and the moralist (an interview with Steven Pinker)
Dramatis personae
Interview
Darío Villanueva: "La RAE no es solemne, elitista ni distante"
Spreads
Los animales se divierten
Animals have fun
Sergio Pitol, niño ruso
Sergio Pitol, russian kid
Poetry
Arp incognita y Acantos (versions de Aurelio Aisain)
Arp incognita and Acanthus
Spreads
¿Quién mató a Marcel Reich-Ranicki?
Who killed Marcel Reich-Ranicki?
Poetry
Mujer cuervo
Crow woman
Spreads
Últimos progresos
Last advances
Short Story
Navidad
Christmas
Books
La transición española y la democracia y Corrupción política. Los costes de la democracia, de Javier Pradera
Spain's transition and democracy and Political corruption. Democracy's costs
Después del invierno, de Guadalupe Nettel
After the winter, by Guadalupe Nettel
El impostor, de Javier Cercas
The pretender, by Javier Cercas
El complejo de Telémaco, de Massimo Recalcati
The complex of Telemaco, by Massimo Recalcati
1986. Cuentos completos, de Rodrigo Rey Rosa
1986. Complete stories, by Rodrigo Rey Rosa
Pompa y circunstancia, de Ignacio Peyró
Pomp and circumstance, by Ignacio Peyró
País. Poesía reunida (1981-2011), de Yolanda Pantin
Country. Collected poetry, by Yolanda Pantin
Arts and media
Cine: mística y lascivia del deporte
Film: mysticism and lust of sport
Música: la canción no es la misma
Music: it's not the same song
Cine: roger ebert: al centro de la película de su vida
Film: roger ebert: to the center of the film of his life
Comic: como hombres y como bestias
Comic: like men and beasts
Current events
Podemos: Much more than just a marriage of minds
Ciencia: La importancia de la diversidad
Science: The importance of diversity
Literatura: Pedro Lemebel, la belleza de las espinas
Literature: Pedro Lemebel, the beauty of thorns
Economía: La deuda infinita
Economics: The infinite debt
Columns
Diario infinitesimal: A la deriva
Infinitesimal journal: Adrift
Sinapsis: ¿Dónde estamos?
Sinapsis: Where are we?
Aerolitos: Placeres en reposo
Aerolites: Pleasures in rest
Saltapatrás: La contraseña asesina
Saltapatrás: The killing password