11/2015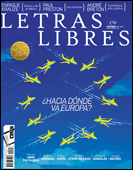 Dossier
Features
¿Hacia dónde va Europa?
Where is Europe headed?
En defense de Europa
In Defense of Europe
Breve historia del futuro europeo
A brief history of the European future
¿Quién manda en Europa?
Who rules Europe?
Entrevista con Miguel Otero-Iglesias
An interview with Miguel Otero-Iglesias
Refugiados: el precio de la inacción
Refugees: The cost of inaction
Interview
Paul Preston: "Franco no era fascista. Era algo peor"
Paul Preston: "Franco was not a fascist. He was something worse"
Poemas
Poetry
Está negro el volcán
The volcano is dark
Sobre una gota de rocío
On a drop of dew
La gran serpiente negra
The big black snake
La puerta
The door
Convivio
Spreads
Noche y día de México
Night and day of Mexico
André Bretón: el lugar y la fórmula
André Bretón: The place and the formula
Las transformaciones modernas del arte y del surrealismo
Modern transformations of art and surrealism
Baldaquino
Short story
La pecera
The fishbowl
Reportaje
Feature
Qué quiero decir con México
What I mean by Mexico
Libros
Books
Tierra negra, de Timothy Snyder
Black Earth, by Timothy Snyder
Una sensación extraña, de Orhan Pamuk
A Strangeness in my Mind, by Orhan Pamuk
Capitalismo canalla, de César Rendueles
Miserable Capitalism, by César Rendueles
Roland Barthes, de Tiphaine Samoyault
Roland Barthes, by Tiphaine Samoyault
La otra hija, de Annie Ernaux
The other daughter, by Annie Ernaux
Cuentos completos, de E.L. Doctorow
Complete short stories, by E.L. Doctorow
Artes y letrillas
Arts and current affairs
Política: La broma infinita
Politics: The infinite jest
Cine: Rosebud: Exilio y deriva
Film: Rosebud: Exile and drift
Cine: Toronto 2015: el cine que vendrá
Cinema: Toronto 2015: The new movies coming
Fotografía: Josef Koudelka
Photography: Josef Koudelka
Viñeta
Cartoon
Literatura: El efecto Bukowski
Literature: The Bukowski effect
Premio Nobel de Literatura: Svetlana Alexievich
Política: El león Cecil y la pacificación de las costumbres
Politics: Cecil the lion and the pacification of customs
Literatura: El maelstrom
Literature: The maelstrom
Filosofía: Creencias de hoy
Philosophy: Today's beliefs
Viaje: Una escocesa en México
Travel: A Scottish woman in Mexico
Columnas
Columns
Diario infinitesimal: Mística
Infinitesimal journal: Mystic
Sinapsis: ¿Pactar con narcos?
Sinapsis: Negotiate with the narcos?
Aerolitos: No sabría decirle
Aerolitos: I wouldn't know how to tell you
Saltapatrás: Inútil defensa de Isis
Saltapatrás: Useless defense of Isis