7/2015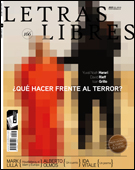 Dossier
Features
¿Qué hacer frente al terror?
How to deal with terror?
El teatro del terror
The Theatre of Terror
La gran ilusión francesa
France's Grand Illusion
El terrorismo en la narcoguerra
Terrorism in the Narco-war
Interview
Lorin Stein: "Somos descubridores de nuevos continentes"
Lorin Stein: "We are discoverers of new continents"
Spreads
Slouching towards Mecca
A favor de la complejidad
In favour of complexity
Libros de administración
Books about management
Short story
768.786 euros
Poetry
Dos poemas (versiones de Lasse Söderberg)
Dos poemas (versions by Lasse Söderberg)
Breve historia de los tíos del norte
A brief story of the uncles of the north
Accidentes nocturnos
Nighttime accidents
Feature
Los sueños irrealizables del comandante Daniel Ortega
The unrealistic dreams of commander Daniel Ortega
Books
El cura y los mandarines, de Gregorio Morán
The priest and the bureaucrats, by Gregorio Morán
Reformemos el islam, de Ayaan Hirsi Ali
Heretic: Why Islam Needs a Reformation Now, by Ayaan Hirsi Ali
Racimo, de Diego Zúñiga
Cluster, by Diego Zúñiga
El barrio, de Gonçalo M. Tavares
The neighborhood, by Gonçalo M. Tavares
La invención del paraíso, de Carlos Granés
The invention of paradise, by Carlos Granés
Cicatriz, de Sara Mesa
Scar, by Sara Mesa
Arts and media
Cine: Georgianas
Film: Georgians
Fotografía: El fuego y la fiesta
Photography: Fire and party
Arquitectura/artes visuales: Le Corbusier y el poema con muros
Architecture/Visual arts: Le Corbusier and the poem made of walls
Current events
Política: Dos organizaciones en busca de votante
Politics: Two organizations in search of a voter
Publishing: El editor sin jactancia
Publishing: The editor without arrogance
Periodismo: Entrevista con Eva Belmonte
Journalism: An interview with Eva Belmonte
Internet: Silicon Valley nos salvará
Internet: Silicon Valley will save us
Literatura: Entrevista con David Grossman
Literature: An interview with David Grossman
Columns
Diario infinitesimal: Genómica
Infinitesimal journal: Genomics
Sinapsis: Democracia en crisis
Sinapsis: Democracy in crisis
Aerolitos: Linchamientos en alta mar
Aerolites: Lynching in high seas
Saltapatrás: La cópula: nueva novela abuela