6/2015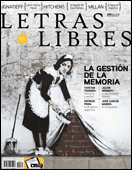 Dossier
Features
La gestión de la memoria
Dealing with the historical memory
"Memory has a power history never attains"
An interview with Tzvetan Todorov
El franquismo: memorias divididas
Franquismo: Divided memories
La casa de Lim
Lim's house
Los pasos previos: una hipótesis de lectura
The previous steps: A hypothesis
Poemas
Poems
Señora Tiresias (versión de Hernán Bravo Varela)
Mrs Tiresias (Hernán Bravo Varela's version)
Letras sueltas
Luna de barro
Convivio
Spreads
Saul Bellow, el gran asimilador
Saul Bellow, the great assimilator
El héroe que necesitaba Europa
The hero Europe needed
Éxito, ejido y forajido
Cuento corto
Short story
Ejercicios narrativos
Narrative exercises
Reportaje
Feature
Separados por un mismo idioma: El Mercado del libro en español
Divided by the same language: the Spanish book market
Libros
Book reviews
El país de la guerra, Fuga de materiales y Museo de la Revolución,
de Martín Kohan
The country of war, Fugue of materials and Museum of the Revolution,
by Martín Kohan
Trastos, recuerdos. Una biografía de Wisława Szymborska,
de Anna Bikont y Joanna Szczęsna
Dusty keepsakes. A biography of Wisława Szymborska,
by Anna Bikont y Joanna Szczęsna
10:04, by Ben Lerner
When the facts change, by Tony Judt
Gran Cabaret, by David Grossman
Te vendo un perro, de Juan Pablo Villalobos
I sell you a dog, by Juan Pablo Villalobos
Sobre el plagio, de Hélène Maurel-Indart
About plagiarism, by Hélène Maurel-Indart
Yonqui de la guerra y Bumf, de Joe Sacco
War Junkie and Bumf, by Joe Sacco
Castillo interior, de León Felipe
Interior castle, by León Felipe
Artes y medios
Arts and media
Cine: Cine local
Film: Local cinema
Música: El segundo acto de Christina Rosenvinge
Music: The second act of Christina Rosenvinge
Medios: Internet gratuito para todos: ¿un sueño?
Media: Free internet for everyone: a dream?
Letrillas
Current events
Periodismo: Petkoff, el resistente
Journalism: The resistant Petkoff
Política: Hambre de desierto
Politics: Hunger for desert
Literatura: Roberto Arlt: el odio de las bestias
Literature: Roberto Arlt: the hatred of the beasts
Europe: ¿Quién teme al TTIP?
Europe: Who fears TTIP?
Privacidad: Los filtradores de secretos
Privacy: The leakers of secrets
Columnas
Columns
Diario infinitesimal: Boceto a lápiz de mi padre
Infinitesimal journal: A pencil sketch of my father
Sinapsis: Inmortales melancólicos y salvajes
Synapsis: Melancholic and wild immortals
Aerolitos: La novela invertebrada
Aerolites: The spineless novel
Saltapatrás: La diosa como esfera
Saltapatrás: A goddess as a sphere