5/2015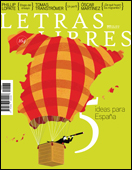 Dossier: Ideas para España
Dossier: Ideas for Spain
¿Problema territorial? Dos por el precio de uno
¿Territorial problem? Two for the price of one
El mercado laboral español: una breve historia, un oscuro futuro y una alternativa
Spanish labour market: a brief history, a dark future and an alternative
Reformas posibles en nuestros impuestos
A possible reform of our taxes
Justicia: asignatura pendiente
Justice: an unfinished business
El atasco de la educación y cómo salir de él
The educational gridlock and how to end it
Interview
Philip Lopate: "Este es un buen momento para el ensayo"
Philip Lopate: "This is a great time for the essay"
Spreads
Se requiere experiencia
Experience necessary
¿De qué huyen?
What are they escaping from?
Alfred Kazin, el judío de Nueva York
Alfred Kazin, the New York Jew
Vocabulario musical
Musical vocabulary
Short story
Un gorila responde
A gorilla answers
Poetry
La nieve
The snow
Feature
Tomas Tranströmer: Esto es lo que estaba tratando de decir
Tomas Tranströmer: This is what I have been trying to say
Books
El monstruo ama su laberinto, de Charles Simic
The Monster Loves His Labyrinth, by Charles Simic
Génesis, de Félix de Azúa
Genesis, by Félix de Azúa
Jacques Offenbach y el París de su tiempo, de Siegfried Kracauer
Jacques Offenbach and the Paris of His Time, by Siegfried Kracauer
Guardar la casa y cerrar la boca, de Clara Janés
To keep the house and shut the mouth, by Clara Janés
Blitz, de David Trueba
Blitz, by David Trueba
Para llegar al otro lado, de Vladímir Lórchenkov
The good life elsewhere, by Vladímir Lórchenkov
Selva negra, de Valérie Mréjen
Black jungle, by Valérie Mréjen
¿Por qué España?, de Anna Caballé Masforroll y Randolph Pope
Why Spain?, by Anna Caballé Masforroll and Randolph Pope
Sobre el Estado, de Pierre Bourdieu
About the state, by Pierre Bourdieu
Arts and media
Cine: El cuadro robado
Film: The stolen painting
Artes Plásticas: ¿Dónde está Sebald?
Visual Arts: Where is Sebald?
Datos: La muestra y el universo
Datos: The sample and the universe
Current events
Edición: El algoritmo y la auctoritas
Publishing: The algorithm and the auctoritas
Literatura: Entrevista con Lydia Davis
Literature: An interview with Lydia Davis
Cine: La lámpara Freybo y el cine que nos hará mejores
Cinema: The Freybo lamp and the cinema that will make us better persons
Literatura: El poder del pingüino
Literature: The power of the penguin
Medios: Entrevista Con Basilio Baltasar
Media: An interview with Basilio Baltasar
In Memoriam: Eduardo Galeano (1940-2015)
In Memoriam: Eduardo Galeano (1940-2015)
Columns
Diario Infinitesimal: Deberes éticos superiores
Infinitesimal Journal: Greater ethical duties
Sinapsis: Psalmanazar el arrepentido
Sinapsis: Psalmanazar the repentant
Aerolitos: La ventana del corazón
Aerolites: The window of the heart
Saltapatrás: Quiero ser tu voz
Saltapatrás: I want to be your voice