4/2015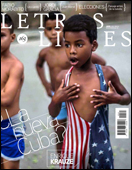 Dossier: ¿La nueva Cuba?
Dossier: ¿The new Cuba?
¿La nueva Cuba?
The new Cuba?
"Fidel, ¿por qué no desapareces?" Entrevista inédita con Carlos Franqui
"Fidel, ¿why don't you disappear?" An exclusive interview with Carlos Franqui
Entrevista
Interview
Flemming Rose: "La minoría más importante que debe proteger una democracia es el individuo"
Convivio
Spreads
De vidas y biografías
On lives and biographies
Ver criaturas y no cosas
To see creatures and not things
San Basilio ecologista
San Basilio environmentalist
The next stop (short story)
Poemas
Poems
Dos poemas
Two poems
Biografía literaria
Literary biography
Poemas
Poems
Reportaje
Feature
La orquesta impensada
The unexpected orchestra
Libros
Books
Antología personal, de Ricardo Piglia
Personal anthology, by Ricardo Piglia
Diarios de la Revolución de 1917, de Marina Tsvietáieva
Diaries from the 1917 Revolution, by Marina Tsvietáieva
Llamada perdida, de Gabriela Wiener
Missed call, by Gabriela Wiener
Octavio Paz en su siglo, de Christopher Domínguez Michael
Octavio Paz in his century, by Christopher Domínguez Michael
Smart, de Frédéric Martel
Smart, by Frédéric Martel
Big Time: la gran vida de Perico Vidal, de Marcos Ordóñez
Big Time: the great life of Perico Vidal, by Marcos Ordóñez
Libros peligrosos, de Juan Tallón
Dangerous books, by Juan Tallón
Reparar a los vivos, de Maylis de Kerangal
To fix the living, by Maylis de Kerangal
Artes y medios
Arts and media
Cine: Vértigo y psicosis
Film: Vertigo and psicosis
Animación: La vida animada
Animación: The animated life
Música: Las seis lunas de Chano Pozo
Música: The six moons of Chano Pozo
Letrillas
Current affairs
Política: Paisaje antes de la batalla (electoral)
Politics: Landscape before the electoral battle
Literatura: John Clare o la "otra tradición"
Literature: John Clare and the "other tradition"
Carta desde Caracas: El tiempo de los inusuales
Dispatches from Caracas: The moment of the "uncommons"
Literatura: El poeta que devoraba rosas
Literature: The poet who devoured roses
Economía: El mundo con Bitcoin
Economics: The world with Bitcoin
Columnas
Columns
Diario Infinitesimal: Psalmanazar el impostor
Infinitesimal Journal: Psalmanazar the pretender
Sinapsis: El tumor verde
Sinapsis: The green tumor
Saltapatrás: Un guijarro de sol
Saltapatrás: A cobblestone of sun