40 (2012)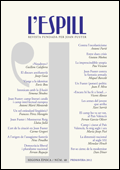 Special Issue: "Nosaltres, els valencians a half century later"
Número especial: "Nosaltres, els valencians mig segle després"
Editorial
Mig segle després
A half century later
Contra l'escolasticisme
Against scholasticism
Entre dues crisis
Between two crises
La imprescindible utopia
The imperative utopia
Joan Fuster contra la fantasia armada
Joan Fuster against the armed fantasy
Un Fuster (potser) polític
A (perhaps) politician Fuster
"Encara hi ha fe a Israel..."
"There is still faith in Israel..."
Les armes del jovent que arriba
Weapons of the new youth
El camp ho va ser tot, al País Valencià
Countryside was everything, in Valencia
"Nosaltres"?
"We"?
Camp i ciutat al País Valencià, fa mig segle i ara
Town and country in Valencia, a half century ago and now
Viatge a la identitat: encara Joan Fuster
A journey towards identity: still Joan Fuster
El discurs antifusterià: una anàlisi
The discourses against Joan Fuster: an analysis
Intoxicats amb la illusió
Intoxicated with the illusion
Joan Fuster: camp literari català i camp intel·lectual europeu
Joan Fuster: Catalan literary ground and European intellectual ground
Fuster: el somni d'un sol estàndard lingüístic?
Fuster: the dream of a unique linguistic standard?
Joan Fuster i Montserrat Roig cara a cara
Joan Fuster and Montserrat Roig, face to face
L'art de la citació en l'obra de Joan Fuster
The art of quotation in Joan Fuster's work
A l'origen de l'assagisme fusterià
At the origins of Fuster's essay
Democràcia liberal i pluralisme nacional
Liberal democracy and national pluralism
La dimensió nacional al segle XXI
National dimension in the 21st Century
Fer-se càrrec de la modernitat
Assuming modernity
Publicacions de i sobre Joan Fuster, 2002-2012: una guia bibliogràfica
Publications by and on Joan Fuster, 2002-2012: a bibliographic guidelines