48 (2014/15)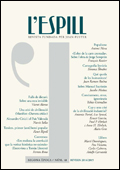 Editorial
Editorial Address
Tots som Grècia
We are all Greece
Els noms del poble i algunes derives populistes
The names of the people and some populist derivations
"L'olor de la carn cremada". Una reflexió sobre l'obra de Jorge Semprún
"The smell of burned flesh". A reflection on the work of Jorge Semprún
Cartografia literària:quan l'espai esdevé temps
Literary cartography: when the space turns into time
Què queda de les humanitats després de les guerres culturals?
What remains of humanities after the cultural wars?
Què és un mestre? (Notes sobre Manuel Sacristán)
Who is a master? (About Manuel Sacristán)
Tersites, primer (anti)heroi popular
Tersites, the first popular (anti)hero
Coneixement, error i ignorància. Una apologia (parcial) de l'escepticisme
Knowledge, mistake and ignorace. A (partial) defence of scepticism
Alexandre Cirici i el País Valencià
Alexandre Cirici and the Land of Valencia
Dossier : Cap a un col·lapse de la civilització industrial?
Towards a collapse of the industrial civilization?
El context del nostre col·lapse
The context of our collapse
Un tombant amb potencial apocalíptic
A divide with an apocaliptic potential
Societat postcarboni, translimitació, davallada, decreixement, col·lapse, sostenibilitat
Post-Carbon society, overshoot, way down, degrowht, collapse, sustainability
És possible evitar un col·lapse de la sivilització global?
Can a collapse of global civilization be avoided?
La consumacio de la potència: l'apocalipsi, una exigència antropològica de tots els temps
Consumation of potence: Apocalypse, an anthropologic demand of all times
Converses
Dialogues
"Em molesta la convicció que la veritat històrica no existeix, que la història és una construcció ideològica sempre".
Entrevista a Tomàs Llorens, per Ferran Bono
"It upsets me the idea that the historical truth does not exist, that history is always a ideological construction"
Interview with Tomàs Llorens, by Ferran Bono
Fulls de dietari: Vicent Alonso, Sobre una neu invisible
Diary pages: Vicent Alonso, Upon an invisible snow
Documents
Manifest "Darrera crida"
The "Last call" Manifesto
Llibres
Books
Crònica raonada d'un gran desgavell (Toni Mollà, La desconnexió valenciana)
A reasoned report on a great disaster (Toni Mollà, The Valencian disconnection)
La identitat com a cultura política (Josep Fontana, La formació d'una identitat. Una història de Catalunya)
Identity as political culture (Josep Fontana, The formation of a identity. A history of Catalonia)
Independència i interdependència (Adolfo Sotleo, De Cataluña y España)
Independence and interdependence (Adolfo Sotelo, On Catalonia and Spain)
Oportunitat de resintonizar (Col·lectiu Ricard Blasco, Reset RTVV)
Time to tune in again (Ricard Blasco Collective, Reset RTVV)