44 (2013)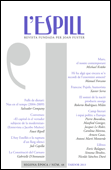 Una situació d'emergència
In an emergency state
Marx, el nostre contemporani
Marx, our contemporary
Hi ha algú que encara se'n recordi de l'extermini armeni?
Does someone still remember the Armenian genocide?
Francesc Pujols, humorista
Francesc Pujols, humorist
El somni de la nació produeix assaigs
The dream of the nation generates essays
L'any Estellés, o la ruptura d'un llarg silenci
Estellés year, or the break up of a long silence
Dossier: Camp literary i espai polític a Europa
Dossier: Literary field and political map in Europe
Existeix una literatura belga?
Does Belgian literature exist?
Literatura nacional i literatures minoritàries
National literature and minority literatures
Es pot parlar d'una literatura austríaca?
Can we speak of an Austrian literature?
Existeix la literatura escandinava?
Does Scandinavian literature exist?
Apories de l'espai literari ibèric
Apories of the Iberian literary space
L'escriptor català i la tradició
The Catalan writer and the tradition
Converses
Dialogues
"El capital és el vertader subjecte de la modernitat". Entrevista a Jacobo Muñoz
"Capital is the true subject of modernity". Interview with Jacobo Muñoz
Fulls de dietari
Diary pages
Salvador Company, Nus en el temps (2004-2009)
Salvador Company, Knot in the time (2004-2009)
Document
La Constitució del Carnaro
The Carnaro constitution
Llibres
Books
Escriure la ciutat, viatjar pel món (Enric Bou, La invenció de l'espai. Ciutat i viatge)
Writing the city, travelling across the world (Enric Bou, The invention of space. City and travel)
La faula de les cigonyes i la xemeneia (Simone Weil, Escrits sobre la guerra; Rachel Bespaloff, De la Ilíada)
A tale of storks and the chimney (Simone Weil, Writings about war; Rachel Bespaloff, On the Iliade)
Clifford Geertz, particularista cultural cosmopolita i escèptic (Clifford Geertz, La interpretació de les cultures)
Clifford Geertz, cultural particularist, cosmopolitan and sceptic (Cliffors Geertz, The interpretation of cultures)