49 (2015)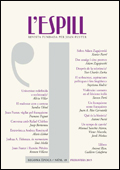 Editorial
Uns resultats electorals històrics
An historical election
Trobar-se en diferents territoris. Sobre Adam Zagajewski
To meet in different territories. About Adam Zagajewski
Dos assaigs i cinc poemes
Two essays and five poems
Després de la tolerància?
After tolerance, what?
El serbocroat avui, entre aspiracions polítiques i fets lingüístics
The Serbocroatian language today. Between political aims and linguistic facts
Vèncer, convèncer i subvencionar. Violència i consens al feixisme italià
To win, to persuade, to subsidize. Violence and consent in Italian fascism
Memòria i ficció. Un franquisme sense franquistes
Memory and fiction. A Francoism without Francoists
Universitat redefinida o reelititzada?
The University, remaking it or new elitism?
El malestar com a certesa
Unrest as certainty
Què és la història?
What is history?
Joan Fuster: "considerado como elemento catalanista" (1963-1969)
Joan Fuster under Francoist observation (1963-1969)
Dossier: Un temps de canvis?
A time of changes?
Canvi de cicle o estancament secular a l'eurozona?
New cycle or secular stagnation in the Eurozone?
La desfeta de l'Antic Règim
The defeat of the Old Regime
El procés sobiranista català en la crisi política espanyola
Catalan independence movement and the political crisis in Spain
Converses
Dialogues
"Per a un novellista resulta més perillós el poder que t'afalaga que el que t'ignora o et persegueix". Conversa amb Rafael Chirbes, per Josep Bertomeu
"For a novelist the power that flatters you is more dangereous than the one that disregards or persecutes you". A dialogue with Rafael Chirbes by Josep Bertomeu
"El fet de viure en un país que no és normal ens ha portat a creure que els novel·listes han de salvar la llengua". Entrevista a Andreu Rossinyol
"Living in a country that isn't normal has moved us to think that novelists should save our language". Interview with Andreu Rossinyol by Alexis Llobet
In memoriam Joshua Fishman (1926-2015)
Documents
Joan Fuster i Ramón Piñeiro, La recerca de Nós os galegos
Joan Fuster and Ramón Piñeiro and the project Nós os galegos
Correspondència Joan Fuster - Ramón Piñeiro
Joan Fuster and Ramón Piñeiro, Letters
Llibres
Books
La persistència de la nació com a construcció (Ferran Archilés, ed., La persistència de la nació. Estudis sobre nacionalisme)
The persistance of the nation as construction (Ferran Archiles, ed., The persistance of the nation. Studies on nationalism)
Boulez entre nosaltres (Pierre Boulez, Per voluntat i per atzar. Entrevistes amb Célestin Deliège)
Boulez between us (Pierre Boulez, By will and by chance. Dialogues with Célestin Deliège)