1/2013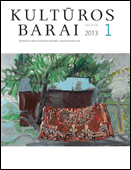 Summary (en)
Problemos ir idėjos
Issues and ideas
Apie atminties selektyvumą ir "maišytų populiacijų" būrius
Su Zygmuntu Baumanu kalbasi Tomas Kavaliauskas
About selective memory, dissidence, and East Central European identity
Tomas Kavaliauskas conducts a conversation with Zygmunt Bauman
Rūpesčiai ir lūkesčiai
Vertimas kaip tarpkultūrinė saviprata
Hermeneutiniai svetimybės file spąstai
Translation as cross-cultural self-understanding
Hermeneutical trap of foreignness
Nuomonės apie nuomones
Kaip peliuko Mikio apsaugos aktas tapo girnapuse kūrėjams po kaklu
Where the protection of author's rights ends and a parasitism begins?
Laškas redakcijai
A letter to the editors
Kūryba ir kūrėjai
Apie istorines iliuzijas ir skardinės spardymą patvory
Su kompozitoriumi Osvaldu Balakausku kalbasi Rūta Gaidamavičiūtė
About historical illusions and kicking can at the wall
Musicologist Rūta Gaidamavičiūtė interviews composer Osvaldas Balakauskas
Laimingas, išmestas į pasaulį
Jono Meko dabartis Londone ir kitur
Happy being thrown to the world
The present of Jonas Mekas in London and elsewhere
Klausimai be adresato "Katedros" tema
Questions without an addressee on the theme of "cathedral"
Vilties žvaigždė
Lino Giedrimo drožinių ir pastelių paroda Akademijos galerijoje
The star of hope
Woodworks and paintings of Linas Giedrimas in Arka gallery
Grafikos fronte kažkas naujo?
Pastabos apie parodą "Grafika. Nuo piešinio iki šešėlio"
Something new in the front of graphics?
The exhibition Graphics from Drawing to Shadow is full of "draught"
"Mes žinomi arba net nežinomi tik čia"
"We are known or unknown only here"
Eilėraščiai
Poems
Pragariškas ir fatališkas buities tirštis. Aušros Barzdukaitės-Vaitkūnienės tapyba
Fatal thickness of everyday life. Paintings of Aušra Barzdukaitė-Vaitkūnienė
Feliksas Jakubauskas: švytėjimai
Feliksas Jakubauskas: Shining
Trauminės patirties vaizdiniai Šejlos Kamerič kūryboje
The images of traumatic experience in the works of Šelja Kamerič
Lietuvių poezijos įvaizdžiai Vitalijaus Mazūro metaforų teatre
Images of Lithuanian poetry in Mazūras' Theater of Metaphors
Man patinka jausti kruviną scenos nuovargį
Su choreografu Ferencu Feheriu kalbasi Edita Grudzinskaitė
"I like to feel bloody exhaustion of stage."
A conversation with one of the most important Hungarian choreographers of contemporary dance Ferenc Feher
Istorijos puslapiai
Ar Lietuva jau suprato, ką jai reiškia turėti Klaipėdą?
Did Lithuania understand what it means to have Klaipėda
Lietuva ir Sąjūdis Helsinkio procese. ESB konferencija Kopenhagoje 1990-aisiais
Lithuania and Sąjūdis in the Helsinki Process: Conference of ESCC in Copenhagen in 1990
Kelionė kaip intelektualinis nuotykis
Dvi spalvos: oranžinė ir geltona. Teravados budizmo reliktai Laose
Two colours: Orange and yellow. The culture of Theravada Buddhism in Laos
Apie knygas
Tieskime rankas per istoriją
Su Ellen Cassedy apie jos knygą "Mes esame čia: Atsiminimai apie Lietuvos Holokaustą" kalbasi Gražina Slavėnienė
To extend a hand through history
Gražina Slavėnienė interviews Ellen Cassedy, the author of the book "We are here: Memories of the Lithuanian holocaust"
Fenomenologinės ir meninės pasaulio patirties paralelės
Parallels of phenomenological and experience of artistic world
Visai nejuokingi skaitiniai
Redundancija
Redundantio