12/2012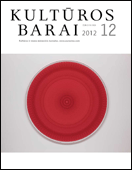 Summary (en)
Problemos ir idėjos
Issues and ideas
Apie teologiją, filosofiją, miestą ir kitus kūrinius, kurie mūsų nemyli
Su Stevenu Schroederiu ir Davidu Breedenu kalbasi Almantas Samalavičius
About theology, philosophy, city and other creations that do not love us
Conversation with philosopher, poet Steven Schroeder and writer and minister David Breeden
Rūpesčiai ir lūkesčiai
Simbolinis apsivalymas: kodėl tam priešinasi net "revoliucijos vilkai"
Su post scriptum Arvydui Juozaičiui
Symbolic cleaning-up: why even "wolves of the revolution" are against It.
With a post-script to Arvydas Juozaitis
Kūryba ir kūrėjai
Tikimybių teorija tik leidžia tikėtis
Su kompozitoriumi Osvaldu Balakausku kalbasi Rūta Gaidamavičiūtė
Theory of probability only allows us to hope
Musicologist Rūta Gaidamavičiūtė interviews composer Osvaldas Balakauskas
Muzika ir Kaulo senis. Paskaita apie Bronių Kutavičių
Music and old man out of bone. A lecture on Bronius Kutavičius
Judesys yra tik forma
Choreografę Birutę Letukaitę kalbina teatrologė Rūta Mažeikienė
Movement is the only form
Theatre critic Rūta Mažeikienė interviews choreographer Birutė Letukaitė
Kaip apčiuopti minios sielą? Trys parodos NDG
How to catch the soul of the mob? Three exhibitions in the National Art Gallery
Visa tai - ne sapnas. Parodos, skirtos Jonui ir Adolfui Mekams
All this is no dream. An exhibition dedicated to Jonas and Adolfas Mekas
Keturi tūkstančiai kilometrų iš tamsos į šviesą
Su Jokūbu Vilium Tūru kalbasi Irena Alperytė
Four thousand kilometres to onself
Irena Alperytė interviews director Jokūbas Vilnius Tūras
Kiek žingsnių nuo Varėnos iki Avinjono?
How many steps from Vilnius to Avignon
Eilėraščiai
Poems
Pažinti naujaip
Idealistas, kuriam iš tikrųjų rūpi visuomenė
Antano Mockaus fenomenas
Idealist that truly cares for society
Phenomenon of Antanas Mockus
Erotinis kapitalas
Erotic capital
Europos istorijos
Postfeodalinė Vengrija neoliberalizmo ir komunizmo sankirtoje
Su Jody Jensen ir Ferencu Miszlivetzu kalbasi Tomas Kavaliauskas
Postfeudal Hungary between neoliberalism and communism
Tomas Kavaliauskas interviews Jody Jensen and Ferenc Miszlivetz
Retrospektyva
Litvakų pėdsakai Paryžiuje: naujas žvilgsnis į Chaimo Soutine'o kūrybą
Footprints of Litvaks in Paris: A new glimpse at soutine's art
Pro publico bono
Vertybių filosofija
Philosophy of values
Kelionė kaip intelektualinis nuotykis
Isano akmenys. Khmerų kultūros pėdsakais Šiaurės Rytų Siame
Stones of Isaan. Footprints of Khmer culture in northeastern Siam
Istorijos puslapiai
1923-iųjų sausis, Klaipėdos krašte dar prancūzai...
January 1923, French are still in Klaipėda's region...
Apie knygas
Vilniaus miesto teatro epopėja
The history of Vilnius Theatre
Visai nejuokingi skaitiniai
Prieštvaninis Seimo kermošius
Bazaar in parliament before a deluge