7-8/2012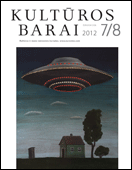 Summary (en)
Problemos ir idėjos
Technogeninė visuotinio legalumo karalystė
Technogenic kingdom of total legality
Šiuolaikinė visuomenė: autentiškumo stoka ir imitacijų aukso amžius
Contemporary society: A lack of authenticity and the golden age of imitation
Rūpesčiai ir lūkesčiai
Tapatybės trajektorijos, (savi)kūros mechanizmai ir herojų skurdas
Trajectories of identity, mechanisms of (self)creation and the poverty of heroes
Kūryba ir kūrėjai
Eilėraščiai
Poems
Platesnis požiūris ar dar viena subjektyvi versija? "Lietuvos dailė 2012: 18 parodų"
A serious outlook or just one more version. Lithuanian art 2012: 18 exhibitions
Prieš ir po: laiko matavimas pagal Eugenijų Varkulevičių
Before and after: Time parameters. About an exhibition of Eugenijus Varkulevičius-Varkalis
Stilius be stiliaus. Dariaus Basčio tapybos paroda
Style without style. Darius Bastys presented in Lietuvos aidas gallery
Kūrybos ir komunikacijos erdvė. Tarptautinis tapybos pleneras Kaune
The space of creativity and communication. International painting plennair in Kaunas
BB7: aktyvistinio meno spektaklis "Atsikratykite konformizmo baimės"
BB7: The performance of activist art: "Get rid of the fear of conformism"
Apie laiką, skaičiuojamą kitaip. Iš atsiminimų apie Algimantą Švėgždą
About time that is counted in a different way. From the memoirs of painter Algimantas Švėgžda
NDA'12: kitoniškumas ir keblus žodis, prasidedantis "a" raide
NDA's otherness and a strange word that starts with "a"
Miesto festivalis: tarp valdžios ambicijų, publikos simpatijų ir teatro vizijų
City festival: Between ambitions of power, symphaties of audience and theater visions
Edeno sodai ir pragaras: Gruzija
The gardens of Eden and hell: Georgia
Manoji Odisėja
My Odyssey. From the memoirs of actor Jurgis Mikelaitis
Savitumo estetika
Džiaugsmas ir nerimas. Lietuvos Vakarų krašto dainų šventė Klaipėdoje
Joy and discontent. The festival of songs of Western Lithuania in Klaipėda
Priežasties pasekmė kaip žodžio sėkmė
The consequence of the cause as a success of the word
Kelionė kaip intelektualinis nuotykis
Budos šypsena Sukotajaus šventyklų griuvėsiuose
Buddha's smile in the ruins of the temples of Sukhothay
Praeities dabartis
Ką mato jūreivis?
Sailor, what do you see?
Reminiscencijos
Apie meilės svarbą mūsų profesijai
About the importance of love in our profession
Istorijos puslapiai
Kaip galime suvokti Kryžiaus karus?
How can we understand the Crusades?
Apie knygas
Autentiškos (at)minties beieškant: apie Česlovo Kavaliausko teologinį palikimą
Searching an authentic memory: About the theological legacy of Česlovas Kavaliauskas
Visai nejuokingi skaitiniai
Marsiečių godos
Dreams of Martians