6/2012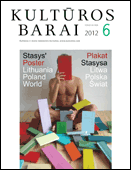 Summary (en)
Problemos ir idfojos
Rūpesčiai ir lūkesčiai
Ar žaidžiame nepriklausomybę?
Are we playing independence?
Nuomonės apie nuomones
Moralizavimas kaip neišvengiama politinės kritikos ypatybė
Moralizing as inevitable feature of political criticism
Ar verta aklai sekti paskui tuos, kurie eina priekyje?
Should we blindly follow those who lead?
Paveldas ir paminklai
Lietuvos intelektualinės ir meninės vertybės atveriamos pasauliui virtualioje erdvėje
Lithuania's intellectual and cultural treasures are about to open to the world in virtual space
Kūryba ir kūrėjai
Muzika yra ne tik natos, bet ir prasmė, slypinti už jų.
Jaunųjų kompozitorių apklausa
Music is not only tunes but meaning that streteches beyond them as well.
A questionnaire to young composers
Vaizduotės kalnai ir slėniai
Hills and valleys of imagination
Lietuvos revoliucijos. Karolio Jankaus epas apie kultūrinį maištą
Lithuanian rouault. In memoriam Vydas Pinkevičius
Lietuviškasis Rouault
In memoriam Vydui Pinkevičiui
Tapyba kaip mitologinis pasakojimas
Painting as mythological storytelling
Sala veidmainystės jūroje. Saulės Kisarauskienės "juodasis kvadratas"
An island in the sea of hypocricy. "Black square" by Saulė Kisarauskienė
NDA'12: kitoniškumas ir keblus žodis, prasidedantis "a" raide
NDA' 12: Otherness and dodgy the word from the letter "a"
Strindbergas -- vedlys po beprotišką pasaulį
Strindberg -- a guide through the mad world
Retrospektyva
Muzika, matanti spalvas, tapyba, įsiklausanti į garsus. Žvilgsnis į M. K. Čiurlionį, atsikračius senų prietarų
Music that sees colors, painting that hears sounds. A glimpse of M.K. Čiurlionis without old prejudices
Pokalbiai apie tęstinumą
"Inteligentijos pesimizmas ir pasyvumas man nepriimtinas."
Su Julium Šalkausku kalbasi Edita Degutienė
"I do not share pesimism and pasivity of inteligentsia".
Edita Degutienė interviews Julius Šalkauskas
Savitumo estetika
Pasaulėvaizdis, kurį atveria kalba
A worldview that is opened by language
Laikai ir žmonės
Kaip "kavinių riteriai" tapo "didmeistrių siaubu".
Lietuviai pirmosiose šachmatų olimpiadose
How "knights of cafes" became "horror of the masters"
Istorijos puslapiai
Kaip galėtume suvokti Kryžiaus karus?
How we can understand wars of the cross?
Visai nejuokingi skaitiniai
Pranašiški sapnai
Prophetic dreams