5/2012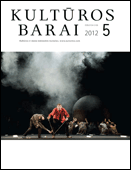 Summary (en)
Problemos ir idfojos
Ideologija neturi pabaigos. Su Danieliu Chirot kalbasi Almantas Samalavičius
No End To Ideology. Daniel Chirot talks to Almantas Samalavičius
Baudžiamosios teisės paskirtis ir negalia
The Function and Disability of Criminal Justice
Rūpesčiai ir lūkesčiai
Socialinės šizofrenijos industrija Demokratiją jau pakeitė mediakratija?
The Industry of Social Schizophrenia. Is Democracy Replaced by Mediacracy?
Šiuolaikiniai herojai, mesijai ir netikri pranašai
Contemporary Heroes, Messiahs and False Prophets
Nuomonės apie nuomones
Balsas iš nacionalinės etikos griuvėsių
A Voice from the Ruins of National Ethics
Kūryba ir kūrėjai
Eilėraščiai
Poems
Spektaklio sielos galia. Eimunto Nekrošiaus "Dieviškoji komedija"
The Power of Play's Soul
Ar ilgaamžiai "Arabiškos nakties" kerai? Postdraminio teatro bruožai "Cezario grupės" kūryboje
Are Charms of 'Arabian Night' Long Lasting? Features of postdramatic theatre in the works of Cezaris group
Nekovojanti su drobės paviršiumi, arba Kodėl Rūtos Katiliūtės tapyba erzina vyrus?
No Fight with Canvases Surface or why Paintings of Rūta Katiliūtė Tease Men?
Modernizmas galimas. Audriaus Novicko paroda "Galimas modernizmas" Šiuolaikinio meno centre
Modernism is Possible. Exhibition by Audrius Novickas "Possible Modernism" in Contemporary Art Centre
Sistemos klaidos ir tvarkos mitas. Ar Laimonas Zakas sugriaus Facebook?
System's Mistakes and the Myth of Order. Will Laimonas Zakas destroy Facebook?
Literatūrinės perspektyvos: Flandrija
Savitumo estetika
Prigimtinė kultūra ir prigimtinės vietos
Culture of Birth and Places of Birth
Paveldas Ir Paminklai
Tekstas paskelbtas, vadinasi, išgelbėtas. Diskusija
The Text Was Published i. e. it was Saved
Apie knygas
Sapiegų palikimo žymės Lietuvoje
The Signs of Sapieha Legacy in Lithuania
Istorija kaip intelektualinis nuotykis
Tiesos sakymo būdai: "grynasis" ir su "priemaišomis"
The Ways of Telling the Truth: "Pure' and 'Mixed' Ones
Laikai ir žmonės
Vinco Uždavinio nuopelnai, nuoskaudos ir skaudi lemtis
The Deeds, Pains and Fate of Vincas Uždavinys
Visai nejuokingi skaitiniai
Ad leones (Liūtams sudraskyti)
Ad leones