3/2012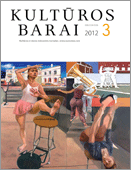 Summary (en)
Problemos ir idėjos
Nacionalinės etikos griuvėsiai, arba Kaip nužudyti valstybę jos intelektualų rankomis
The ruins of national ethics or how to kill the state using the hands of intellectuals
Vieno žmogaus istorija
The history of one man
Rūpesčiai ir lūkesčiai
"Padedame prancūzams atrasti ir suprasti Lietuvą." Su Lietuvos Respublikos ambasadore Prancūzijoje Jolanta Balčiūniene kalbasi Giedrė Pranaitytė
"We help french people to discover and understand Lithuania". Lithuania's ambassador Mrs. Jolanta Balčiūnienė is interviewed by Giedrė Pranaitytė
Juozas Valčiukas: "Misiją Sibiras" pavadinčiau atminties projektu
I would call "Mission Siberia" a project of memory. Žana Jermakovaitė interviews Juozas Valčiukas
Nuomonės apie nuomones
Vytautas Didysis -- Rex electus?
Vytautas Magnus -- rex electus?
Kūryba ir kūrėjai
Eilėraščiai
Poems
Kokių paskirčių būna atsitiktinis neorenesansas?
What functions has accidental neo-renaissance?
Ten būti čia, arba Sveiki atvykę į tikrovės teatrą
To be there is here or welcome to the theatre of reality
Kliautis savo vizija. Apie Marijai Teresei Rožanskaitei skirtą albumą ir parodą
To rely on one's vision. About the exhibition of Marija Rožanskaitė in the gallery Kairė-dešinė & book on the artist
Pradėti gyvenimą daug gražesnėje šviesoje
In memoriam Audriui Naujokaičiui
To start life in a more beautiful light
In memoriam artist Audrius Naujokaitis
Kieno miške kankorėžiai?
Aistės Kisarauskaitės juvelyrinių objektų paroda galerijoje Argentum
Who's cones are in the forest?
Review of Aistė Kisarauskaitė's objects of jewelry in the gallery Argentum
Mirabile visu. Apie dailės muziejaus rinkinius ir šiuolaikines muziejaus funkcijas
Mirabile visu. About collections of art museum and contemporary functions of museums
Tuštuma kaip įkvėpimas. Algimanto Puipos "Miegančių drugelių tvirtovė"
Emptiness as an inspiration. The citadel of sleeping butterflies by Algimantas Puipa
Alternatyvos. Svarbiausia -- jokio talento
Alternatives. The most important thing is to have no talent at all
Dar vienas pasaulio pabaigos scenarijus. Vertėjos post scriptum
One more scenario of the end of the world. Translator's post script
Laikai ir žmonės
Tylos ir garsų kodas. Valerijai Vaitkevičiūtei atminti
Code of silence and sound. In Memory of Valerija Vaitkevičiūtė
Pažinti naujaip
Protestas paraštėse. Dailininkų Alfonso Vilpišausko ir Mikalojaus Šalkausko veiklos ir kūrybos kontekstai
Contexts of work and art of artists Alfonsas Vilpišauskas and Mikalojus Šalkauskas
Apie knygas
Keletas "protingo" elgesio patarimų, arba Kaip "užmuilinti" sovietmetį
Some advice of "clever" behaviour or how to silence the soviet period
Apie rašytojo, tapusio politiku, ambicijas ir iliuzijas
Writer's tragedy in politics
Viena suasmeninta istorija ir trys jos perskaitymo būdai
One personalized story and three ways of reading it
Visai nejuokingi skaitiniai
Nei nuoga, nei apsirengusi
Neither naked nor dressed