4/2009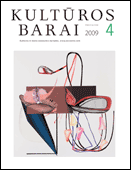 Rūpesčiai ir lūkesčiai
"Go west..." -- skirtingi moteriškumo mitai, feminizmo utopijos Rytuose ir Vakaruose
"Go west..." -- different myths of femininity, utopias of feminism in the east and the west
Problemos ir idėjos
Prancūzų sąjūdis už ekonomikos mažinimą La Décroissance
The French movement for slowing economics Le Décroissace
Europos istorijos
Atminties geopolitika
The geopolitics of memory
Paveldas ir paminklai
Stiklo spindesys ir skurdas
Radiance and poverty of glass
Nuomonės apie nuomones
Dėl prisitaikėliškumo. Atsakant į straipsnį "Žvilgsnis į sovietmetį iš aukštai"
In quest of conformity
Kūryba ir kūrėjai
Teodicėja
Theodicy. Mini-drama
Erdvių burtininkas
"Alternatyvus vizijos ir fantazijos pasaulis". Iš Geraldo Matto pokalbių su Žilvinu Kempinu
Pro metų miglą -- morenų ugnys. Poeto Kazio Bradūno dosniai paberti grūdai
Throught the mist of years -- lights of Morenas
Teatras ir cenzūra -- nenutrūkstamas ryšys
Theatre and censorship -- relations that are never broken
Tuštumos ilgesys? Iš meno klajūno dienoraščio
The longing for emptiness? From the diaries of an art wanderer
Apie moralę mene ir gyvenime. Rolando Rimkūno kūrinių paroda "Akademijos" galerijoje
Is morality in art and life the same thing?
Avangardas kaip nuolatinė būsena. Valentino Antanavičiaus kūrinių retrospektyva
Vanguard as a constant state. The retrospective of Valentinas Antanavičius
Iš rankraščių ir archyvų
Iš diplomatijos šefo Stasio Lozoraičio laiškų, rašytų karo metais (1942-1945)
From the letters of Stasys Lozoraitis, chief of Lithuania's diplomacy, written in 1942-1945
Mūsų istorijos puslapiai
Klaipėdos krašto praradimas: tarp iliuzijų ir Realpolitik
The loss of Klaipėda region: between illusions and realpolitik
Laikai ir žmonės
Tūkstantis šv. Brunono metų
One thousand years of St. Bruno
Retrospektyva
Kas tarpukariu siejo tautinę lietuvių istoriografiją, lietuvių christianizaciją ir "lenkų apaštalus"?
What were the relations between national Lithuanian historiography, Christianization of Lithuania and "Polish apostles" during the interwar period?
Kelionė septynmyliais batais po Europos peizažus
A journey through the European landscape in seven mile boots
Apie knygas
Istorikų situacija sovietmečiu: prarastoji karta?
The situation of historians in soviet times
Prisimenant religijotyrininką Gintarą Beresnevičių ir jo darbus
Remembering scholar Gintaras Beresnevičius and his works
Visai nejuokingi skaitiniai
Protokolas
Protocol