2/2015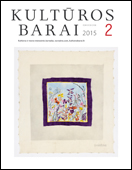 Summary (en)
Problemos ir idėjos
Postmodernioji tapatybė postmodernėjančios tikrovės fone
Postmodern identity in the context of postmodern reality
Ekranas, žiūrintis į mus
The screen looking at us
Ar Europa sugebės grįžti prie krikščioniškųjų kultūros šaknų?
Will Europe ever turn back to its roots of Christian culture?
Nuomonės apie nuomones
Kada išnyks Treniotos randas?
When will the scar of Treniota be healed?
Apie kai kurias analogijas
About some analogies
Anketa Kultūros barų autoriams ir skaitytojams
Let us think together. A questionary to the authors and readers of Kulturos barai
Visiems "liaudies teismo" prokurorams ir advokatams
A reply to all prosecutors and advocates of the "People's Court"
Trumpai ir piktai apie Žaliąjį tiltą
In short and in an angry way about the green bridge
Kol neišsivėdinome smegenų, Žaliojo tilto skulptūros turi likti ten, kur jos stovi
Until we clean our minds, sculptures of the green bridge should remain where they are now
Kūryba ir kūrėjai
Eilėraščiai
Poems
Pasirinkimo kontrabanda, arba Kaip įveikti būtinybę
Contrabanda of choice or how to overcome a necessity
Vieta, tapatybė, mirtis
Rimanto Plungės fotografijų paroda Reverse
Place, identity, death
A photo exhibition reverse by Rimantas Plungė
Ar "Styga" dar kada nors suskambės?
About musical The String of Arūnas Navakas and Gintaras Samsonas
Prasmės logika, logikos prasmė. Audriaus Janušonio keramikos paroda "Čia kaip visur"
Logic of meaning, meaning of logic
About exhibition of ceramics by Audrius Janušonis
Išminties verpstė. Eglės Ridikaitės tapybos paroda "Palikimas (Bobutas skarialas)"
The instrument of wisdom. About the exhibition of Eglė Ridikaitė
Minimalistinė akademinės muzikos roko "žvaigždė"
Minimalist academic rock "star"
Stebuklai ir marmeladas mažiesiems kritikams
Tarptautinis teatro festivalis vaikams ir jaunimui "Kitoks"
Miracles and marmalade to the little critics
International festival for children and youth different
Kaziuko mugė. Divertismentas
Kaziukas Fair. Divertisement
Praeities dabartis
Apie Vilniją ir kresų fenomeną
Tadeusz Konwicki: Memories of Vilnius region and thoughts about phenomenon of Kresy
Apie knygas
Po bijūnų krūmu rasti raštai ateičiai
Su Vytene Muschick kalbasi Viktorija Ivanova
Writings to the future found under the bush of peony
Vytenė Muschick is interviewed by Viktorija Ivanova
Sąlytis su Donelaičio laikais
A link to Donelaitis' times
Paminklas gimtinei
A monument to the birthplace
Laikai ir žmonės
Apie pilietinius nuopelnus, ypatingą sąžiningumą ir depresyvias nuotaikas
Jonas Basanavičius Bulgarijoje 1892–1905 m.
About civic virtues, consciousness and depression
Jonas Basanavičius in Bulgaria in 1892-1905
Kelionė kaip intelektualinis nuotykis
Smiltainis ir Buda "beždžionės kiaušinyje"
Sandstone and Budha in the monkey's egg
Visai nejuokingi skaitiniai
Keršto pornografija
Pornography of revenge