10/2015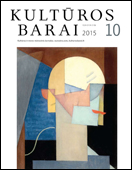 Summary (en)
Problemos ir idėjos
Issues and ideas
Universitetas ir verslas: pavojingi ryšiai?
University and business - Dangerous liaisons?
Rūpesčiai ir lūkesčiai
Concerns and expectations
Kultūra tarp akcijų ir distribucijų: atradimų džiaugsmas
Culture between actions and distributions: The joys of discovery
Lietuva kaip "Dievo bausmės" objektas. Kodėl gi ne?
Lithuania as an object of "God's Punishment". Why not?
Nuomonės apie nuomones
Opinions
Prievartinis iškraustymas. Farhud
Enforced displacement. Farhud
Kūryba ir kūrėjai
Creativity and developers
I. Tarp dviejų knygos meno penkiasdešimtmečių
II. Jei drebulė nebūtų išdavusi tėvo?
I. Between two fifty year anniversaries of book art
II. What might have happened in case Aspen would not betray her father?
Didelis vardas+mažos gudrybės=šiuolaikinio meno bienalė
Big name plus clever attitude makes contemporary biennial
Juodas triukšmas. "Dailės edukacija ir DADA" Alytaus kraštotyros muziejuje
Black Noise. 90th anniversary of DADA, two exhibitions and international conference art education and DADA in Alytus
Ambicijos, nuolankumas, laimė. Apie tiriamąją grožinę ir dokumentinę literatūrą
Ambitions, faitffullness, happiness. About analytical fiction and docummentary prose
Ar didis blogis, kad teatras nuogas?
Is it so bad that theatre is naked?
(Naujojo) cirko gentis: dresuoti žmonės ant bedugnės (kėdės, spintos, virvės, šaukštelio) krašto
The tribe of (new) circus
Menas pagal Šlipą, arba Laiškai iš praeities
Art According to Šlipas - "Letters from the Past"
Jums nepavyks manęs įžeisti. Klaudijaus Petrulio pomirtinė tapybos paroda Vilniaus rotušėje
You will not manage to insult me. Posthumous exhibition of Klaudijus Petrulis' paintings in Vilnius townhall
Adomo Matuliausko Vilniaus miesto ženklų ir simbolių poetika
Poetics of Adomas Matuliauskas' signs and symbols of Vilnius city
Vilties giesmė
Chant of hope. Fragment of a novel
Apie knygas
Dėl skolintinių žodžių vartojimo ir vertinimo
In quest of using and treating the borrowed words
Praeities dabartis
Past present
Antisemitizmo transformacijos
Chaging face of anti-Semitism
Iš kultūros istorijos
Meno aristokratas. Vytautui Kairiūkščiui - 125
Art's aristocrat. 125th anniversary of artist Vytautas Kairiūkštis will be celebrated in November
Pirmojo pasaulinio karo dailės pėdsakais
Footprints of art of WW I
Iš rankraščių ir archyvų
Tikėjimo teisė ir laisvė sovietmečiu
The rights and freedom of belief in Soviet era
Laikai ir žmonės
"Kad visi piliečiai būtų karaliais". Kazio Griniaus slapyvardžiai ir "laisvės saikai"
"For All Citizen to Become Kings". Pseudonyms of Kazys Grinius and "times of freedom"
Apie gyvenimą tų, kuriuos medžioja
About the life of those who are hunted
Natūralioji dešimties įsakymų istorija
The natural history of the ten commandments
Visai nejuokingi skaitiniai
Septyni Putino stebuklai
Seven wonders of Putin