5/2015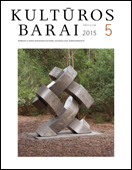 Summary (en)
Problemos ir idėjos
Procedūrinė "demokratija"
Procedural "democracy"
Bilbao efektas ant bedugnės krašto
Su architektu Malcolmu Millais kalbasi Almantas Samalavičius
Bilbao effect while looking into an abyss
Architect and engineer Malcolm Millais in conversation with Almantas Samalavičius
Rūpesčiai ir lūkesčiai
Vienintelės ir nepakartojamos amžinybės serialai
Covers of the only and unrepeatable reality
Nuomonės apie nuomones
Kas įžiebia nepasitikėjimą praktiniu protu
What sparkles distrust in practical reason
Du praktinio proto priešai
Two enemies of practical reason
Kaip pagauti dailės kritiką?
Kelios padrikos mintys apie mūsų dailės kritikos funkcijas
How to catch art criticism?
Some thoughts on the changes of function of our art criticism
Kūryba ir kūrėjai
Eilėraščiai
Poems
Imitatio Christi, arba Trys teatrinės kančios pagal Mayenburgą
Imitatio Christi or Three Theatrical Pains According to Mayenburg
Mokymasis plaukti, piktnaudžiaujant grožiu
Learning to swim, making use of beauty
Pilnatis, tvarka ir kantrybė
Su dailininke Birute Vaitiekūniene kalbasi Kristina Stančienė
Fullmoon, order and patience
Textile artists Birutė Vaitiekūnienė interviewed by an art critic Kristina Stančienė
Ką naujo duoda ir ką negrįžtamai keičia kultūros globalizacija
What does globalization provides and what does it change irreversibly?
Tikrasis išsivadavimas dar ateityje
Vido Simanavičiaus glostinukų paroda "Užlaikyta tėkmė"
Real freedom is still ahead
Review of an exhibition of sculptor Vidas Simanavičius
Švytintys, pjaunantys, dūžtantys
Baltijos šalių stiklo meno paroda: edukacinis aspektas
Shining, cutting, breaking
Review of Baltic art of glass art: An educational aspect
Paslaptingos akies mirksėjimas
Blinking mysterious eye
Saviapgaulės jaudulys. Igno Krunglevičiaus paroda "Vartų"galerijoje
Anxiety of cheating oneself
Review of an exhibition of Ignas Krunglevičius in Vilnius Vartai gallery
Andrzejaus Wajdos kinas – į praeitį žvelgianti dabartis
Films of Andrzej Wajda - Present looking into the past
"Nėra nieko laikino"
Faustas Sadauskas: "There is nothing ephemeral"
Kelionė kaip intelektualinis nuotykis
Sutemos ir šviesa Katmandu slėnyje
Darkness and light in Katmandu Valley
Laikai ir žmonės
Gydytojai ir šundaktariai, arba Kaip kūrėme valstybę
Medical doctors and specialists of whichcraft or how we were building our state
Vardai ir namai, įrašyti mūsų biografijoje
Profesoriaus Vlado Žuko 90-mečiui
Names and houses inscribed in our biography
On the occasion of the anniversary of librarian prof. Vladas Žukas
Apie knygas
Tylaus darbo vaisius
A fruit of silent labour
Visai nejuokingi skaitiniai
Politinė somnolencija
Political somnolentia