3/2014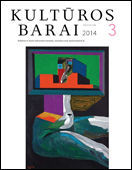 Summary (en)
Rūpesčiai ir lūkesčiai
Ukraina – atgal į ateitį
Rusija – pirmyn į praeitį
Ukraine – back to the future
Russia – forward to its own past
Problemos ir idėjos
Realybė, fotoatvaizdas ir pinigų spindesys
Reality. Photographic image and glimmer of money
Nuomonės apie nuomones
Dar kartą apie Lukiškių aikštę
Once more about Lukiškės Square
Kūryba ir kūrėjai
(Ne)būtinybė: kaip atsimename 1991-ųjų Sausio 13-ąją?
(Not a) necessity. How we remember January 13, 1991
Gebėjimas judėti: choreografiniai stebėjimai mobiliais laikais iš mobiliosios zonos vidaus
Aptitude for movement: A choreographic observation from inside a mobility zone in a mobile time
Žingsnis į muzikos idealizmą
Su Donatu Katkum kalbasi Rūta Gaidamavičiūtė
A step from music to idealism
Rūta Gaidamavičiūtė interviews Donatas Katkus
Menas be taisyklių prieblandos valandomis
Vinco Kisarausko parodos VDA galerijose "Akademija" ir "Titanikas"
Art without rules during the twilight time
Exhibition of Vincas Kisarauskas in galleries Academy and Titanic
Re(z)ginys. VDA Medijos katedros studentų paroda "Titanike"
Net of images. Exhibition of media department of the Academy of Fine Arts
Donatas
Donatas
Priklausau lietuvių literatūros vertėjų bendrijai
I belong to the community of translators of Lithuanian literature
Lietuvių literatūros klasikos kūriniai arčiau kiekvieno
Lithuanian literary classics is closer to everyone
Jono Vaičio dangus virš Brazilkos
Jonas Vaitys (1903-1963) in the eyes of his time and contemporary criticism
Dervišas iš Kauno. Romano ištraukos
Dervish from Kaunas. An excerpt from the novel
Praeities dabartis
Kodėl želia rutinos piktžolės, keroja užgaidų brūzgynai. Užrašai paraštėse 3
Why routine continues to dominate, why whims are winning? Notes on the margins
Ką byloja vieniši kryžiai
What crosses speak out
Iš rankraščių ir archyvų
Literatūrologijos milžino paunksmėje. Profesorių Wolfgangą Iserį prisimenant
The shadow of the giant of literary theory. Remembering professor Wolfgang Iser
Laikai ir žmonės
Kazys Grinius – politikas iš reikalo, gydytojas iš pašaukimo
Kazys Grinius – Politician because of necessity, medical doctor because of calling
Pasikėsinimo į Joną Basanavičių mįslės
The riddle of attempt to murder Jonas Basanavičius
Gombrowicziaus pusseserė iš Ščecino
Gombrowicz's cousin from Szcecin
Visai nejuokingi skaitiniai
Trumpa kaikarizmo istorija
Concise story of capitulation