10/2013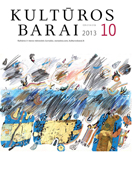 Summary (en)
Rūpesčiai ir lūkesčiai
Pasirengę rytojui? Keletas įžvalgų iš konferencijos apie Europos kultūros ateitį
Ready for tomorrow? Some insights from the conference on the future of European culture
Kalbos klaidų didybė
The greatness of language mistakes
Apie manipuliacijas ir savigyną
About manipulations and self-defence
Nuomonės apie nuomones
Heroizmo hierarchija
The hierarchy of heroism
Kūryba ir kūrėjai
Teatras – publika – kritika. Keletas poleminių pastabų
Theater-Audience-Criticism. Polemical notes
Jobo stalas. Premjera Vičencoje
The table of job
About the play The Book of Job staged by Eimuntas Nekrošius in Teatro Olimpico at Vicenza
Be teisės į tragediją. "Mūsų klasė" NDT
Without a right to tragedy
About the first night of "Our Class" staged by director Yana Ross in Lithuanian national drama theater
Akis už akį, dantis už dantį. Mindaugo Navako "Trys dalykai"
Eye for an eye, tooth for tooth
About the exhibition of Mindaugas Navakas three things
Dailininkas, pakeitęs suvokimą apie šiandienines vaizduojamojo meno galimybes
Artist who changed the understanding of the possibilities of contemporary art
Save visur nešamės su savimi. Ivaną Marčuką kalbina Gedmintė Samsonaitė
We take us everywhere we go
Festivalio Aura'23 misija – griauti stereotipus. Ar jie sugriuvo?
The mission of Aura' 23 is to destroy stereotypes. But where they destroyed?
Londonas – tinkama vieta lietuvių dizainui
London – a right place for Lithuanian design
Liūdnoji Nida
Sad Nida
Writer's essay
Stirna. Dokumentinė drama
Roe. Docummentary drama
Praeities dabartis
Nacionalinė muzika versus muzikinis nacionalizmas: sovietų ideologijos spraga
National music vs musical nationalism: a breach in Soviet ideology
Istorijos puslapiai
Nepriklausomybės blokada
Blocking independence
Laikai ir žmonės
Vienas iš nenugalėtųjų. Labai subjektyvus Kęstučio Jokubyno portretas
One of the uncaptives. A very subjective portrait of Kęstutis Jokubynas
Iš ciklo "Nenugalėtieji"
From the cycle "The uncaptive ones"
Paveldas ir paminklai
Palinkėjimai Bernardinų sodui
Homage to Bernardinai Garden
Retrospektyva
Moteris, prikalta prie savo pačios nepasitikėjimo kryžiaus. Artiomas Inozemcevas apie Moniką Mironaitę
Woman on the cross of her own lack of trust in herself. Artiom Inozemcev about Monika Mironaitė
Visai nejuokingi skaitiniai
Politinė providencija
Political providence