7-8/2015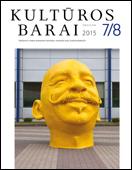 Summary (en)
Lietuvos Nepriklausomybės 25-mečiui
Mąstykime kartu
Į KB anketą atsako ekonomistė Margarita Starkevičiūtė ir chemijos profesorius Vytautas Daujotis
Let's think together
Economist Margarita Starkevičiūtė and chemicist prof. Vytautas Daujotis reply to the journal's questionaire discussing 25 years of Lithuania's independence
Problemos ir idėjos
Liūtas narve. Kas ta Europos finliandizacija
A lion in a cage. On the finlandization of Europe
Apie Sofi Oksanen
A short introduction to Sofi Oksanen
Žvelgti į ateitį, pasikliaujant sveika nuovoka. Su teologu ir etiku Williamu T. Cavanaugh kalbasi Almantas Samalavičius
To look into the future relying on common sense. Theologian and ethicists William T. Cavanaugh, professor of DePaul University at Chicago in conversation with Almantas Samalavičius
Propagandinė meno galia, arba Karas ir taika Eurovizijoje
The propaganda qualities of art or war and peace in Eurovision
Rūpesčiai ir lūkesčiai
Vizualumo režimas, arba Visa reginti akis ir vaizdų alkis
Regime of visuality or hunger for images and the eye
Ką galime prarasti? (Ne)internetinės draugystės privatumas
What is there to lose? Privacy in offline and online friendships
Nuomonės apie nuomones
Filosofinė agorafobija. Klaustrofobo atsakymas oponentams
Philosophical agoraphobia. A reply to the opponents
Kaip pagauti dailės kritiką?
How to catch an art criticism?
Kūryba ir kūrėjai
Eilėraščiai
Poems
"Daužti" laikai: apie ką pasakoja "negyvai užkutenti" angelai?
Crazy times: What do "Angels That Are Tickled to Death" tell us today?
Šokio politikos link. Lietuvos šokio ir informacijos centrui - 20
A step toward politics of dance. Twenty years anniversary of Lithuanian Dance Information Centre
Kuratoriaus užrašai: 99 ir vienas kuravimo pasiūlymas Venecijos meno bienalėje
Curator's notes: 99 and one suggestion of curating at Venice Art Biennial
Sėkmės formulės sandai. ES programos "Kūrybiška Europa" bendradarbiavimo projektų apžvalga
The formula of success. An overview of EU projects of co-operation Creative Europe
Gyvenimas kaip menas ir atvirkščiai
Life as art and vice versa
Vilkpėdės 7. Aistės Kisarauskaitės galerija nuosavame bute
Vilkpėdės 7. Gallery of Aistė Kisarauskaitė in her private flat
Popartas atėjo visiems laikams!
Pop art came here to stay
Prahos kvadrienalė ant kėdės
Prague quadriennial on the chair
1926. Operetės libretas
1926. Libretto of operette
Istorijos puslapiai
Lietuvos valdžia ir lenkų autonomijos problema
Lithuanian government and the problem of Polish authonomy
Kelionė kaip intelektualinis nuotykis
Aukštai pakilęs drakonas
Soaring dragon
Laikai ir žmonės
Nelikti už sienos
Not to remain behind the wall
Apie knygas
Liberalizmo mutacijos
Mutations of liberals
Atminties bendruomenė: ką šiandien reiškia sovietiniai laikai
The community of memory
Įvairenybės
Dukart nemirtingas. Philidoro tarnystė Kaisei ir Euterpei
Twice immortal. Service of François André Philidor for two muses
Visai nejuokingi skaitiniai
Norėti nedraudžiama
Want not prohibited