3/2013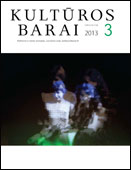 Summary (en)
Problemos ir idėjos
Issues and ideas
Urbanistika, padedanti įveikti baimę
Su urbaniste, miestų antropologe Nan Ellin kalbasi Almantas Samalavičius
Urbanism that enables to overcome fear
A conversation with urban planner and urban anthropologist Nan Ellin
Architektūros kritika ir miestų raidos perspektyva
Su architektu, urbanistu ir rašytoju Witoldu Rybczynskiu kalbasi Almantas Samalavičius
Urban thinking and prospects of urbanity
A conversation with architect, urbanist and renown architectural writer Witold Rybczynski
Rūpesčiai ir lūkesčiai
Pralošta šachmatų partija
Game of chess lost
Nuomonės apie nuomones
Skaistybės kermošius moralinio nuopuolio fone
The festival of chastity in the context of moral degradation
Mandagūs svečiai ir malonūs šeimininkai
It is wonderful that contemporary state develops metaphor of itself as family
Kūryba ir kūrėjai
Eilėraščiai
Poems
Visuomenės priešas: teatras kaip viešoji sfera
Public enemy: Theater as public sphere
Vizualinis posūkis. Šarūno Nako muzikinė ir vizualinė kūryba
Visual turn. Musical and visual creation of composer Šarūnas Nakas
Vienišųjų miestas, arba Sąmoningos visuomenės drama
Gretos Grendaitės ir Tomo Vosyliaus paroda "Persirengimai"
The city of loners. Or drama of conscious society
About the exhibition of Greta Grendaitė and Tomas Vosylius "Redressing"
Tuštoka postidėja. Paroda Titanike lyčių nelygybės tema
A rather empty post-idea. An exhibition about inequality of genders
Apie "paršų bankus" ir lapės laisvę vaikytis vištas
Su rašytoju Nicholasu Bradbury 'u kalbasi Almantas Samalavičius
Rinkos ūkis, arba Kaip lapės užlaužė paršų bankus
Market Farm. Excerpt from the novel
Ar Prahos deklaracija pabudins Europos sąžinę?
Su Ladislavu Cabada ir Ji?í'u D?dečeku kalbasi Tomas Kavaliauskas
Will the Declaration of Prague reach the consciousness of Europe?
Tomas Kavaliauskas interviews Ladislav Cabada and Jiri Dedecek
Harmoningas žvilgsnis į pasaulį
Leopoldo Surgailio tapyba
Harmonious view of the world
Paintings of Leopoldas Surgailis
Pažinti naujaip
...Ir kaip mus palieka tekstas
And how the text leaves us
Homo interneticus, kitaip tariant, ar esate prisijungęs?
Homo interneticus or are you connected?
Laikai ir žmonės
Augustinas Voldemaras - mokslininkas, virtęs politiku
Augustinas Voldemaras - a scholar who became politician
Stanislovo Dagilio įnašas lietuvybei stiprinti
The impact od Stanislovas Dagilis to Lithuanianness
Istorijos puslapiai
Kaip keitėsi Lietuvos Didžiosios Kunigaikštystės vakarinių sienų samprata XIII-XVI a
How the notion of western borders of Lithuanian Grand Duchy changed in XIII-XVI centuries
Apie knygas
Socialinių ir literatūrinių plotmių tarpusavio priklausomybė
The interdependence of social and literary dimensions
Visai nejuokingi skaitiniai
Lašas, perpildęs Vilties taurę
Drop that overcrowd the hope cup