2/2014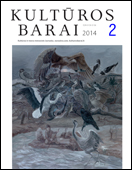 Summary (en)
Istoriją rašo nugalėtojai?
Su Andrium Martinkum kalbasi Tomas Kavaliauskas
History is written by the winners
A conversation with Andrius Martinkus conducted by Tomas Kavaliauskas
Garsinė invazija į viešąsias erdves
Invasion of sound into public spaces
Privaloma muzika
Compulsory music
Ar Lietuvos intelektualai pražudys valstybę?
Will Lithuanian intellectuals destroy the state?
Eilėraščiai
Poems
Neišvengiamybė
Inescapability
Susikertančios žvilgsnių perspektyvos
Neregių bendruomenė fotografų Romualdo Požerskio ir Mindaugo Kavaliausko akimis
Perspectives of crossing eyes
The community of the blind through the lenses of photographers Romualdas Požerskis and Mindaugas Kavaliauskas
Žvėrelių takais
The paths of small animals
Teatro vaikams pamokos – kam?
Mintys po festivalio "Kitoks teatras vaikams' 14"
Lessons of theatre for children – to whom?
Thoughts after the festival "Different theatre for children'14"
Visi keliai veda iš Lietuvos
All roads lead from Lithuania
Apie meilę Islandijai, "Sielos krantus" ir kitus apreiškimus
About love of Iceland, "The shores of soul" and other revelations
Kūrėjų pagundos. Užrašai paraštėse
Creators temptation. Notes on the margins
Apie mano mokytoją
About my teacher
Paulavos respublika
Republic of Paulava
Turistai, bendruomenė ir Tytuvėnų vargonai
Tourists, communities and organs of Tytuvėnai
"Vokietis" Vasario 16-osios gimnazijoje 1959–1966 m.
A "German" in the gymnasium of February 16th in 1959-1966
Klaipėdos krašto prijungimas prie Lietuvos. 1923 m. sausio 15 d. paminėti
Klaipėda region's connection to Lithuania. Historical publication
Ką apie Bernardą Brazdžionį sužinome iš laiškų
What do we learn of Bernardas Brazdžionis from his letters
Egoistų tango
Egoists dancing tango