3/2015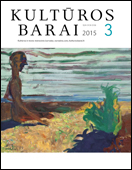 Summary (en)
Lietuvos Nepriklausomybės 25-mečiui
Mąstykime kartu
Į KB anketą atsako Atkuriamojo Seimo Pirmininkas, profesorius Vytautas Landsbergis
Let us think together
Former chairman of the Supreme Council of Lithuania, Professor Vytautas Landsbergis replies to the questionary of Kultūros barai reviewing Lithuania's developments of the last 25 years
Problemos ir idėjos
Kokia žodžio laisvės ir europinės demokratijos ateitis?
Su politologu Casu Mudde'u kalbasi Almantas Samalavičius
What is the future of the freedom of speech and democracy in Europe?
Political scientist Cas Mudde replies to the questions of Almantas Samalavičius
Modernaus pasaulio neišgelbės nei greitis, nei skaitmeninė narsa
Su Kennethu Framptonu kalbasi Almantas Samalavičius
Modern world won't be saved neither by speed nor digital bravery
Internationally renowned architectural theorist and critic Kenneth Frampton replies to the questions of Almantas Samalavičius
Klimato kaita. Akimirka, kai teks sušukti: "O, velnias!"
Climate change: The "Oh Shit!" moment
Rūpesčiai ir lūkesčiai
Vaiduoklių šešėliai: prestižas, privilegijos, dykinėjimo laisvė ir pasekmės kultūrai
Shadows of fantoms: Prestige, privileges, freedom to waste time and its consequences to culture
Nuomonės apie nuomones
Kada nors mums bus gėda
Some day we'll be ashamed
Debesėlis kelnėse
Atsakymas socialiai atsakingam industrinės visuomenės menininkui Redui Diržiui
A clowd in the pants
A reply to a socially concerned artist of the industrial society Redas Diržys
Kūryba ir kūrėjai
Vyganto Paukštės ir Broniaus Gražio iššūkiai sau
Aktualūs 9-ojo dešimtmečio lietuvių tapybos tęsiniai
Challenges to themselves by Vygantas Paukštė and Bronius Gražys
Topical continuations of the Lithuanian painting of the nineties
Krystian Lupa: nesuprantu laiko ženklų
Su lenkų režisieriumi Krystianu Lupa kalbasi Audronis Liuga
Krystian Lupa: I don't understand signs of our time
Polish theater director Krystian Lupa is interviewed by Audronis Liuga
Horizontalė ar vertikalė
Jūratės Stauskaitės "Judesiai" galerijoje "Titanikas"
Horizontal or vertical?
About the exhibition "Movements" of Jūratė Stauskaitė at Titanikas Gallery
Žuvies akys. Dviejų veiksmų farsas
The eyes of a fish. A play in two parts
Tiesos išklotinė. Osvaldo Juškos "Atsiskyrėlio užrašai"
Horizontal of truth. Experience and movement in the painting of Osvaldas Juška
Peizažas kaip gimtinė. Algirdo Petrulio fenomenas
Landscape of native land. Phenomenon of Algirdas Petrulis
Mirties šokis – kūno judesių teatras
Aliutė Mečys vokiečių naujojo realizmo kontekste
The dance of death – Theatre of bodily movements
Aliutė Mečys in the context of German New Realism
Magiški ryšiai
Magical ties. An artist's essay
Rusų demokratas Lenkijoje
A Russian democrat in Poland
Laikai ir žmonės
Miłoszas ir vieta
Miłosz and the place
Apie knygas
Kontekstai. Pasvarstymai atsigręžus
Contexts. Thoughts looking backwards
Memelenderio pasakojimas apie Klaipėdą
Memelander's stories of Klaipėda
Visai nejuokingi skaitiniai
Pasėjęs vėją, pjausi audrą
When you start and go on you'll get back