10/2014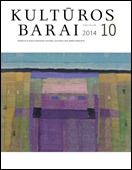 Summary (en)
Rūpesčiai ir lūkesčiai
Žvilgsnis į Lietuvą iš kontinento, kuriam nepatinka liūdesys
Į Kultūros barų klausimus atsako rašytojas Antanas Šileika
A view to Lithuania from the continent that does not like sadness
Fiction writer Antanas Šileika replies to the questions of Kultūros barai
Problemos ir idėjos
Praktikos vieta tarp filosofijos ir išminties
The place of practice between philosophy and wisdom
Nuomonės apie nuomones
Kantiškoji dilema. Haneke's "Meilės" motyvais
Kantian dilemma. On the motifs of Haneke's "Love"
Kūryba ir kūrėjai
Giedanti gaidžio galva
The head of a cock that sings [Poems]
Apie grynuosius ir negrynuosius menus
Zinaidos Vogėlienės paroda "2 viename"
About pure and impure arts
Review of the exbibition of Zinaida Vogėlienė Two in One in Titanikas gallery of Vilnius Arts Academy
Atmintis ir laikas fotografijos mene
Memory and time in photo art
Tobuli narstiniai. Apie Vaclovo Krutinio skulptūrų parodą
Perfect sculptures. About Vaclovas Krutinis' exhibition
Minčių palapinės. Naujojo cirko savaitgalis
Tents of thoughts. A weekend of new circus
Dervišas iš Kauno
Dervish from Kaunas
Praeities dabartis
Lietuva Rusijos vesternizacijos verpetuose
Lithuania in the whirlwind of Russia's westernization
Istorijos puslapiai
Lenkų autonomijos problema. 1990 m. pavasaris–vasara
The problem of the Polish autonomy. Spring-summer 1990
Retrospektyva
Gerő Daday: "Esu pamišęs tik dėl paties meno"
Gerő Daday: "I am mad only for art."
Laikai ir žmonės
Smuikininkas iš Vilniaus pastogės. Litvakų sugrįžimai. 5
Violinist from Vilnius. Returns of Litvaks. 5
Apie knygas
Išsaugojęs negęstančią žiežirbą
Dailininko Emanuelio Katiliaus viltys ir likimas
A man who maintained his spark
Fate and hopes of the artist Emanuelis Katilius
Pirmapradžiai šaltiniai
Primordial sources
Iš kultūros istorijos
Praeities šmėklos Paragių dvare
Fantoms of the past in Paragiai Manor house
Iš praeities įvairenybių
Ką mato šachmatininkas, nežiūrėdamas į lentą?
What does a chess player see when he looks at the chess-board?
Visai nejuokingi skaitiniai
Šaltakraujiškumas
Presence of mind