Krytyka Polityczna 35-36 (2013)

35-36 (2013)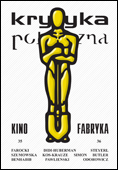 Summary
/
Streszczenie
Kino-Fabryka
Cinema–Factory
Kino, czyli przemysł
Cinema=Industry
Wyjście robotników z fabryki
Workers leaving the factory
Wyjście robotników z fabryki
Workers leaving the factory
Praca w jednym ujęciu
Labour in a single shot
Lud statystów
People exposed, people as extras
Kino-historia proletariatu
Cinema-history of proletariat
Od walki klas do "schindleryzmu"
From class-struggle to "Schindlerism"
Czy muzeum to fabryka?
Is a museum a factory?
Fabryki kultury
Factories of culture
text: Salvatore Lacagnina
photos: Rafał Żwirek
Sztuka protestu
Protest-art
Komu jest potrzebna sztuka protestu?
Who needs protest-art?
Sztuka polityczna
Political art
Poszerzenie pola walki
Extension of the battle-field
O kino trzeba się kłócić
We need to quarrel over the cinema
Gdynia? Była martwa, jest żywa
Gdynia Film Festival? It was dead, now is living
Nie lubię bezczynności
I don't like being idle
Nie zarabiam na filmach
I don't earn money on films
Semafor: Jesteśmy w czołówce
Semafor: We are ahead
Nie interesuje mnie pozór partnerstwa
I'm not interested in faking partnership
Przegapiamy historię
We are missing our history
W Polsce nie ma rynku na autorskie scenariusze
Poland is no country for screenwriters
Nie warto rozmieniać się na drobne
It's not worthy to dumb yourself down
Produkcja filmów to jest przemysł
Film producing is a real industry
Popiół i diament w Biafrze
Ashes and diamonds in Biafra
Osiem lat PISF-u
Eight years of Polish Film Institute
Comic
story Maurycy Tryuk-Moczulski i Jaś Kapela
images Ryszard Dąbrowski
Idee
Czy można wieść dobre życie w złym życiu?
Can one lead a good life in a bad life?
Etyka bez normatywności i polityka bez historyczności
Ethics without Normativity and Politics without Historicity
Stare miasto
Old city
text Joanna Erbel
photos Marcin Kaliński