Krytyka Polityczna 34 (2013)

34 (2013)
Special Edition: What's next for German Europe?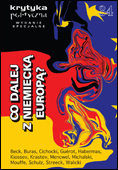 Summary
/
Streszczenie
Co dalej z niemiecką Europą?
What's next for German Europe?
Listy z Europy
Letters from Europe
List pierwszy. Z podróży
1st Letter. Travelling
List drugi. Ulica Graniczna.
2nd Letter. Border st.
List trzeci. Wielki Humphrey
3rd Letter. The Great Humphrey
List czwarty. Pytanie o siłę
4th Letter. The question of power
List piąty. Dzieci Abrahama
5th Letter. Children of Abraham
List szósty. Festung Europa
6th Letter. Fortress Europe
Europa na rozdrożu
Europe at the crossroads
Dezintegracja europejska?
European disintegration?
On a damaged EU. Why is it impossible to recreate the integration scenario anno 1988?
Europo, co dalej?
Europe, what now?
What now? Can the monopoly money work its magic and buy us a couple more years of the status quo?
Ile dywizji ma Unia Europejska?
How many divisions does the EU have?
The EU possesses enormous economic potential, it has the power to push for decent fiscal and banking standards.
Europa w pułapce
Europe in the trap
Can the EU overcome the crisis with purely political means?
Przyszłość Europy. Podejście agonistyczne.
An agonistic approach to the future of Europe
It would be naďve to expect people to abandon their national identities in order to become "post-national Europeans". How can we then build a common vision for Europe?
Europa 28 pań Thatcher
A Europe of 28 Mrs Thatchers
In the past, when there were 12 European leaders sat at a table -- 11 out of 12 worked together to strengthen Europe. The 12th was Mrs Thatcher. Now, however, we're stuck with 28 Mrs Thatchers around the table.
Niemiecka Europa
The German Europe
Kosmopolityczny naród i nowa architektura Europy
The cosmopolitan nation and the new architecture for Europe
"I am in fact German, German to the core, yet in an older, better way and remain cosmopolitan from the depths of my heart".
Niemcy duszą się na kontynencie
The Germans are suffocating on the continent
Contemporary Germany is torn between "an exit from Europe" and remodelling its own standards.
Demokracja, solidarność i kryzys Europy
Democracy, solidarity and the crisis of Europe
Germany holds the key to the future fate of the EU. If there's one government among the member-states able to take the initiative, and revise the treaties -- it's the German one.
Inna niemiecka Europa?
The other German Europe?
Are we witnessing the demise of "German Europe", built so carefully during the crisis years?
Kiedy system dochodzi do ściany, potrzebujemy idei
When the system reaches its limits, we need ideas
From the outside, Germany seems to be winning, but here comes the paradox: the Germans think of themselves as losers
Idee
Ideas
Wielogłos nowoczesności
The polyphony of modernity
One can presume that this obsession with parting with the past, so popular among Russian and Polish radicals, is a sort of "Eastern problem", connected to backwardness. It could be, if it wasn't for Mark Twain's A Connecticut Yankee in King Arthur's Court.
Modernizacja to nie tylko ekonomia
Modernization is not just an economic matter
If I were Russian, I would have, after reading this nonetheless impressive work, said that it fails to declare the purpose of Russian history and does too little to probe the values which determine policy making. Andrzej Walicki on Boris Kagarlitsky's Empire of the Periphery.
Nie wierzę w autonomiczną nowoczesność
I don't believe in autonomous modernity
There's a theory saying that there are plenty of ways toward modernity. I, however, don't trust any of the autonomous tracks.
Pożegnanie
Parting
Sens bez ciągłości
A sense of discontinuity
Marci Shore, in memory of Krzysztof Michalski.
Nasi autorzy
Our authors