Kritika & Kontext 44 (2011)

44 (2011)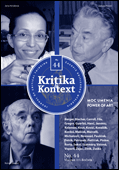 Moc umenia
Art Power
Úvodník
Editorial
Diskusia o sile umenia
Conversation about the power of art
Otázka
The question
Umění a životní styl ve společnosti zjitřených smyslů
Art and lifestyle in a society of exacerbated senses
Život ako hudba?
The life as music?
Umenie v ultimátnej dobe
Art in the final period
Uměníjako nezbytná zbytečnost
Art as a necessary needlessness
Umenie: dôvod, prečo (ešte) nie sme (ako) stroje
Art: the reason we are not (yet) (like) machines
Vol'ba nepriatel'a
The choice of the enemy
Eseje
Essays
Umenie: raz silné, inokedy slabé, no vždy v pohybe
Art: Once strong, another time weak, yet always in the move
Umenie, reprodukovanie a neistá emancipácia
Art, reproduction and uncertain emancipation
Aura a pravda umeleckého diela v dobe neurčitosti
Aura and truth of artistic piece in the era of uncertainty
Umenie v digitálnom cunami
Art in digital tsunami
New media art power
The Hackabily memorandum
Telesnost' a znakovost'
Body language and marking
Kol'ko umenia znesie mozog?
How much art can the brain take?
Koláč pre mysel' Stevena Pinkera
Steven Pinker's cheesecake for the mind
Nepopísaná tabul'a
The blank slate
Rorty a román ako demokratická sila
Rorty and the democratic power of the novel
Plameň života
The fire of life
Autori
Authors
Aforizmy