Index on Censorship 2/2013

2/2013
The multipolar challenge to free expression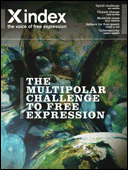 Editorial: Uncertain terrain
Special report: The multipolar challenge to free expression
Maverick cause
A call for public order
Hope on the horizon?
No knight in shining armour for digital rights
A brand new world
Spotlight: France
Opening up the neighbourhood
Spotlight: Brazil
News in monochrome
Journalism in India
Shaking up the anaconda
Spotlight: China
Uphill challenge
Protect the journalist
Why can't we tell the truth about climate change?
Dirty tactics alter the facts
Autocracy rising: the internet in a multipolar world
Tools for control
South Africa and national security
Spotlight: South Africa
Hear our voices
Art in the multipolar world
Land of the free?
Spotlight: USA
From perestroika to persecution
Spotlight: Russia
No substitute for freedom
Dissent under fire
On the ground: In Mexico City
Global view
'Defamation is being used to intimidate the press and to jail journalists'
Interview
Index Awards 2013
Honouring the shining stars of free expression
In Focus
The landscape for religious freedom in the new Egypt
Can minorities make their voices heard?
Narratives of hate
Fundamentalist Buddhism
Prising open free speech in the 'pearl of Asia'
Cambodians are speaking up
Free to be fair: Italian journalism in the spotlight
The Italian media
Aiming for the golden thread: free speech and the MDGs
Millennium Development Goals
Burma's transition
What's next for artists and activists?
The problem child of the dictatorship
Working under censorship in Burma
Trouble at the border: China's internet
No magic formula
Protecting speech online
Turkey's media: a polluted landscape
A culture of censorship
Voice of the republics
Independent journalism in the North Caucasus
Should there be limits on hate speech?
Index around the world
Belarus, Burma and digital freedom
Culture
South African lives / A piece of me / The last three months before dying
Photography, poetry and powerful memoirs
Operating on a Dog
A nod to Bulgakov

Dirty Work
The poetry of human rights

Erotic Fantasies
Satire from Turkmenistan
Modern woman
A short story from Afghanistan
On the ground
In New Delhi
Social and personal
The internet age