Index on Censorship 2/2015

2/2015
Fired, threatened, imprisoned: is academic freedom being eroded?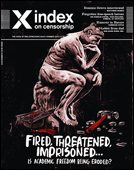 Editorial
Special Report
Fired, threatened, imprisoned: is academic freedom being eroded?
Silence on campus
How a Turkish historian got death threats for writing an exam question
Universities under fire in Ukraine's war
Why scholars are being divided into separatists and terrorists
Industrious academics
Ireland's universities under commercial pressures
Stifling freedom
One hundred years of attacks on US academic freedom
Stripsearch
Students gagged on graduation
Ideas under review
How the Indian government is undermining universities' autonomy. Plus Meena Vari on artists under pressure
Girls standing up for education
The struggles of female students in Uganda, Nigeria and Pakistan
Danger faced by African environmental journalists
Litvinenko's legacy
Index talks to wife of killed Russian agent
God complex
Polish Catholic church's Winnie the Pooh crisis
Mexican stand-off
Academics and students facing death threats, harassment and beatings
Return of the Red Guards
The risks faced by students and teachers criticising the government line in China
Global View
Measuring silenced voices
In Focus
Pride and principles
Former UK attorney general Dominic Grieve interviewed
A letter from Ken Saro-Wiwa
Nigerian activist's son reflects
Hunt and trap
Zuma calls media "unpatriotic"
South African journalism under pressure
Dangers of blogging in Bangladesh
Murders of writers continue
Comedy of terrors
Zimbabwean satirists challenge power
Print under pressure
Culture
The pain of exile
Uzbek author's previously unpublished story
Eye of the storm
British poet writes verses on academic freedom
The butterfly effect
Angola author reveals his little-known poems
Listening to a beating heart
Exiled author publishes Love History
Index around the world
Update on Index on Censorship's work
Battle of the bots
Fake social media accounts on the attack
Difficulties facing the media in Botswana
On forgotten free-speech heroes
Writers nominate those who merit more credit
Head to head
Do taxpayers need to see academics' emails?