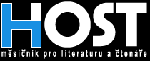 6/2014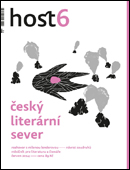 Osobnost
Personality
Diogenem bych být neuměla
S historičkou Milenou Lenderovou o její poslední knize, české minulosti i současnosti a sexu v 19. století
I couldn't be Diogenes
With historian Milena Lenderová on her last book, Czech history and present, and on sex in the 19th century
Glosa
Zdenka Rusínová's Linguistic Commentary
Na čem pracuji
What I am working on
Baťa, šéf pro všechny
Bata, boss for all
Komentář
Commentary
Zbyňku…!
Zbyněk…!
K věci
Ad rem
Láska je věřit, že láska je
Nad novými sbírkami Petra Cincibucha, Petra Skarlanta a Karla Sýse aneb Generace pětatřicátníků po dalších pětatřiceti letech
Love is to believe that love is
On Petr Cincibuch's, Petr Skarlant's and Karel Sýs new poetry collections or thirty-five generation after next thirty five years
Názor
Opinion
Hrnečku, vař?
Cup, cook?
Kalendárium
Calendarium
Proč se nečte Josef Kopta?
Why nobody reads Josef Kopta?
Český literární sever
Czech literary north
Země pustá, nesličná? Severní Čechy v kontrastech nejen literárních
Desolate and not charming country? North Czech in (not only) literary contrasts
Sever – na úd hever. Běsy a krásy českého severu
North - on limb with jack. Demons and beauty of Czech north
Sliboval hory, splnil doly. Severočeské střihy
He promised the moon, brought mines. North Czechs shots
Vědomí viny. Krajina v uhelném obklíčení
Consciousness of guilt. Landscape in coal encirclement
Severočeský globetrotter
North Czech globetrotter
Dialog s haldou
Dialogue with heap
Trauma vyměšování
Trauma of excretion
Pitoreskní nuda
Picturesque boredom
Čelem k horám. Anketní rozprava na téma sever
Facing a mountains. Survey on north
Rozhovor
Interview
Kniha je město vztyčené z trosek
S Danielem Hradeckým o nerozpoznaném bláznovství, právech autora a nekonečném, dobrodružném Ústí
Book is city, that erected from debris
With Daniel Hradecký on unrecognized foolery, author's rights and neverending, adventurous Ústí
Dokument
Document
Anarchista ve službách státu
Anarchist in service of state
Esej
Essay
Kolik jmen má růže? Na okraj aktualizace Jména růže
How many names has rose? A note on updates of The Name of the Rose
Historie
History
Pravnučka žalmistů. Černá labuť Else Lasker-Schülerová
Great-granddaughter of psalmists. Black Swan Else Lasker-Schüler
Kritiky a recenze
Critiques and reviews
Čtení na duben
Reading for June