76 (2007)
Across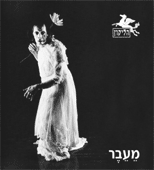 The new Helicon issue reviews boundaries in and through art: On revolutionaries, saints, lunatics, and lovers; broken boundaries and identities; radical art; social limits; and the profane and the sacred.

Poems by Roni Somek, Sharon As, Hedva Harkavi, Amir Or, Natali Brown, Noam Wohl, Oded Pelod, Miron Azikson, and more.

Articles by Nakamura Fumiaki present the radical thought behind the Japanase Butohh dance. Seamus Heaney writes about breaking barriers of culture, geography, and religion in "Something to talk about". Meir Aharonson writes about art as a method of crossing borders.

Visual art by Moshe Shimoni, Pinhas Cohen-Gan, Yaakov Mishori, and Al Lisizki.