Greek Political Science Review 32 (2008)

32 (2008)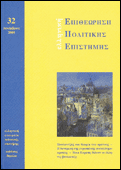 ΠΕΡΙΛΗΨΕΙΣ
/
Abstracts
Mε τη σκέψη στο έργο του Πουλαντζά. Για την ανάγκη ανασυγκρότησης μιας θεωρίας του καπιταλιστικού κράτους
A tribute to the memory of Poulantzas
Ποια Ευρώπη θέλουν οι έλληνες βουλευτές;
What kind of Europe do Greek members of parliament want?
H ευρωπαϊκή σοσιαλδημοκρατία σε κρίση; Η εξέλιξη των εκλογικών μεγεθών (1950-2007)
European social democracy in decline? The development of electoral results 1950-2007
Μη κυβερνητικές οργανώσεις και κοινωνικά κινήματα βάσης: Θεσμικοί και συγκρουσιακοί προσανατολισμοί
Non-Governmental Organisations and grassroots movements: Institutional and confrontational orientations
"Κοινωνικότητα" και "κοινωνία αλληλεγγύης" στην περίπτωση ενός εθελοντικού σωματείου
"Civil sociality" and "a society of solidarity" in the case of a voluntary association
Μετεμφυλιακές πολιτικές συμπεριφορές και εθνοτική ταυτότητα στον Nομό Kαστοριάς
Political choices and ethnic identity in post-civil war Kastoria
KATAΘEΣEIΣ
Τύποι ηγεσίας στον Πολιτικό του Πλάτωνος
Types of leadership in Plato's Politicus
BIBΛIOKPITIKEΣ
Α. Χουλιάρας, Richard Gunther, P. Nikiforos Diamandouros, Dimitri A. Sotiropoulos (επιμ.) "Democracy and the State in Southern Europe"
Παρουσίαση Διδακτορικών Διατριβών