1/2012
Arktis [The Arctic]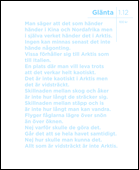 Jag ville jag kunde annektera stjärnorna
I wish I could annex the stars
Var ligger Arktis?
Where is the Arctic?
Amatörglaciologiska reflektioner
Reflections of an amateur glaciologist
Ljumhetens epok
A lukewarm era
Fem argument för att Arktis bör bevaras
Five arguments for the preservation of the Arctic
Arktis framtid är vår
The future of the Arctic is ours
Red doc >
Red doc >
För en ny arktisk mytologi
Towards a new Arctic mythology
En resa till norra Quebec
Journey to the North of Quebec
De avlägsna öarnas atlas
Atlas of remote islands
Istället för Beringa
Instead of Beringa
Kom in i mörkret
Come into the dark
Krig i Arktis?
War in the Arctic?
Kapten Borschts öga
Capten Borscht's eye