4/2013
TV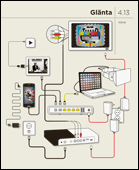 Inledning
Introduction
Att undvika smärta till varje pris
Avoiding pain at any cost
Är du vaken?
Are you awake?
Drömmer barn om barnsliga krig?
Do children dream of childish wars?
Lullaby of realityland
Lullaby of realityland
Deus Economicus
Deus Economicus
Nigerianska testbilder
Nigerian test TV
Syrien, serien och striderna
Syria, the series and the struggles
Fjärrkontroll: om zappande, närkontakt och reklamavbrott
Remote control: on zapping, close encounters and the commercial break
Tv har alltid varit fienden
TV was always the enemy
Ostankinotornet Olympiatornet Avalatornet Miladtornet
The Ostankino tower the Olympia tower the Avala tower the Milad tower
Hur många gånger föddes Ceausescu?
How many times was Ceausescu born?
Det lacanska tv-experimentet
The Lacanian TV experiment